One of the winningest coaches in NFL history recently made a commitment to continue his career with the Kansas City Chiefs.
Throughout his 18 years as an NFL head coach, Andy Reid has stood on the sidelines after a game victorious on 184 separate occasions, which ranks 10th all-time in NFL history.
And over the past four years, Reid has not only led the Chiefs to the greatest single-season turnaround in franchise history in his first season—going from two wins in 2012, to 11 in 2013, but he's also put together four-straight winning seasons, and three playoff trips during that time as well.
On Monday, Chiefs' Chairman and CEO Clark Hunt spoke about the process behind recently extending Reid's contract.
"Head coaches are a whole lot easier to evaluate than general managers because every year they're adding to their resume," Hunt explained in an exclusive interview. "If you look at the four years Andy has had with us, one of the best, if not the best, four-year records we've had, and winning the division last year—those were all very tangible reasons to extend him.
"But beyond that, I just also admire the way that Andy manages the team. There's always something new or a curve ball that's coming as the head coach of an NFL team, and Andy is unflappable. He just manages through that and does a great job keeping the locker room focused.
"So, I had a pretty good idea coming out of the season that I wanted to extend him, but I intentionally waited until the end of the offseason, the end of OTAs, to get into those discussions. I just felt that was the right time to do it."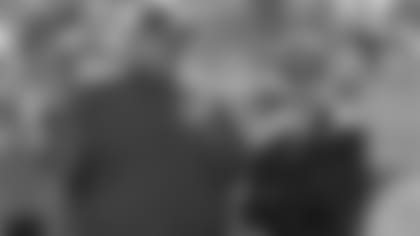 Hunt went on to explain the simplicity behind the process of negotiating with Reid.
"You know, both times we signed Andy, originally four-plus years ago, and then this year, it's been the easiest negotiations I've had," Hunt added. "That's not to say Andy hasn't asked for a lot because he has. Organizationally, we always work with the individual, we don't work with the representative, so those conversations were between us.
"The great thing is he wanted to be here, and we wanted him here, so that makes the negotiation easy."
After his press conference to open training camp on the campus of Missouri Western State University, Reid also took the time to explain why he wanted to stay in Kansas City.
"I think [Hunt] is a top owner in the National Football League," Reid explained. "I have been very honored and privileged to have worked for him, and continue to work for him and his family. You have an opportunity to win football games here, and a championship. You've got a great fan base to support you. All of that is what's important—just give us an opportunity to strike.
"Listen, I feel like the luckiest guy in the world. I mean, I'm one out of 32 people in the whole world who has an opportunity to do this.
"It's an honor, and I love every minute of it."
"[Reid] and I are on the same page," Hunt added. "He's been doing this for a very long time, and to some degree, I know he wants to keep doing it because he wants to win the Super Bowl as a head coach. That's where we come from as an organization as well.
"That's our number one goal."
The process of building towards that goal begins this week at training camp.
"The drive up here (to training camp)—man, I was fired up," Reid laughed. "I felt like I could run up here. I still have that energy."