"Every win you get in the National Football League is a good win. We rallied in the fourth quarter and did some things that were better than we had done early. However, the two touchdowns were very important. It was a great interception and a long haul there; we did a nice job there. And then we had the fumble recovery, which was great. There are a lot of things we can improve on. We were out-gained by a ton, but the turnovers and the score are kind of the important things. Turnovers, either created or lost, really, that's what the game came down to."
Have you had many games like this, over the years, where you did most of your scoring on defense?
Coach Reid: "We've had a couple this year. That's how it goes. We're not going to make excuses for it. We're pretty happy that we got the touchdowns. We'll take them any way we can get them."
On the upcoming bye week:
Coach Reid: "Everybody's got one. This comes, I think, at a reasonable time. The guys have been going for quite a bit of time with training camp and the nine games here. So, I don't think it's a bad time. We've got a mature bunch and I think they'll handle it the right way. I think it is okay."
Did you feel like you would need points on defense to win this game?
Coach Reid: "I can tell you this, I think Doug [Marrone] is a heck of a coach. He's got a great staff and I knew they had a great defense coming in, if not the best one we've played thus far, surely one of the best ones. So, I knew everybody was going to have to contribute, both sides of the ball and special teams. Everybody did that. I'd tell you that once we were in the red zone, I'd want to come out with touchdowns and not field goals. So, we've got to make sure we do a better job there. I've got to make sure I put the guys in the right position to make plays."
On interception return for a touchdown:
Coach Reid: "(Sean Smith) did a nice job with that, making a good catch and then scoring. That's a long haul; that's a long run and he was able to get himself in the end zone. I thought the guys around him protected well. And at that point, we needed it. We needed that score and it came at the right
place."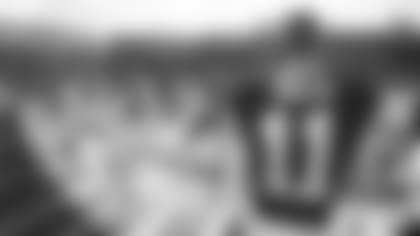 As a defense, you kept having the ball today, you kept getting the ball and Buffalo had to keep going on the field.
ALEX: "Yeah, I think between some extended drives by them and then a few of our, our defense scored a couple times. Especially in the second half, it felt like we didn't have the ball much, most of the time we had it was in the fourth quarter and a couple of those were four-minute drives. So, unusual game to say the least."
Things were kind of uneven in that first half for you; you had a few drops on you, you had a few open guys, just talk about that first half and why you couldn't get going.
ALEX: "I think you kind of hit it right there, moved the ball at times really well, but just couldn't finish any drives. We kind of all had our shot, had our hand in it, between penalties and just throws and some drops on the off side. That's the type of defense and the way they were playing; I think if you hit a couple of those, you really change the game, because they would have been big, big plays, but there you go. What can I say, you've got to hit them. You've got to hit them. The defense stepped up; I mean the hundred, I don't know how long that was, the 100 yards approximately interception for a touchdown, that's a 14-point swing. That's a momentum changer, I mean that changed the game.
Are you frustrated at all by these little things?
ALEX: "I mean, you are frustrated, there are little things in every game. I don't care how well you play, there are little things in every game that you always want back and you want to do again. The great thing is finding a way to win. No, I am thrilled our defense got two scores, especially down there in the goal line stand, when they had to, then returned for 100 yards for a touchdown. I mean, those are, I mean when you are on the other side of that, those are tough to overcome. So, I am really happy for Sean (Smith) and Sean buckling down there and making that play. You know, for us, no question, we have to be better but they are always easier after a victory."
As a guy who has played for a playoff team the past couple of years, do you have to win games like this?
ALEX: "Absolutely. This is a really good football team and a tough environment. At this point, you are going to get everybody's best shot. I thought they played really well and offensively, we didn't make it easy on ourselves; we kind of shot ourselves in the foot a couple of times. Once again, I think during the fourth quarter, when we had to get points to seal that game, to make it a two-score game, we did it. Once again, kind of on the back of the offensive line, those guys made holes when they had to late in the game, really kind of putting their will in the game and really getting the yards, the tough yards, when we had to get them."
You've kept your focus, kept winning games, with so much national media talking about the game coming up against the Broncos; how excited will you be to go out there, because this really is two of the best teams in the AFC, right now?
ALEX: "Yeah, I mean, like I said, we haven't talked about it at all, haven't even looked at it. The talk was to go one and zero this week and that's the truth. We have a bye coming up, a chance to kind of catch our breath a little bit and then we will start talking about the Broncos."
What does it say that you didn't look ahead and didn't get caught here today?
ALEX: "I think that is the reason we are sitting here, where we are. The reason that we have been able to pull out these games is because we haven't looked past anything. I think we did a great job preparing as the week goes on and going out there on Sunday and compete."
What was your view of that 100 yard touchdown? Did you have a good seat for that?
ALEX: "Yeah, I saw Sean (Smith) drop off and the quarterback didn't see him and hit him and then to see him take off and kind of zigzag a little bit, got a great block, I thought, that was Derrick (Johnson) right out in front blocking. Like I said, those are so hard to overcome if you are on the other side of that, that's potentially a 14-point swing, minimum of 10 probably, so it changed the game. That, in my mind, was the play that changed the game."
I don't know if you could tell but Stevie Johnson was wide open and he apparently didn't see him. As a quarterback, when you go back and look at a play like that, what do you think; could have had six and it goes six the other way?
ALEX: "Like I said, those are tough to overcome, tough to get out of your head, you know, because what if I had just done this differently and it would have changed the game? So, as a quarterback, those are tough, they haunt you a little bit."