The Martin Luther King, Jr. Legacy and Scholarship Awards Committee, along with the Olathe, Kansas Branch of the NAACP, hosted the 10thannual Martin Luther King, Jr. Legacy and Scholarship Awards Dinner on Monday evening.
"This is the 10-year anniversary of this event and every year we award different people in the community for their work in living and preaching the doctrine of Martin Luther King," Henry E. Lyons, President of the Olathe Branch of the NAACP, explained. "We also provide scholarship money to three students who have submitted an essay on a topic, which we select. Over 5,000 students entered their essays this year. This event not only honors those in the community but the students as well."
During the event, the students who received scholarships read their essays and were recognized with their award. The event also featured the Diversity Advocate Awards, honoring those in specific fields who have shown leadership and distinction in promoting respect for diversity.
This year's recipients of the Diversity Advocates awards included Steve Menke, Chief of the Olathe Police Department, Lewis Diuguid, columnist for the Kansas City Star, Allan Gray, Lees Summit City Councilmember, and Lane Green, Director of Athletics and Activities of Olathe School District.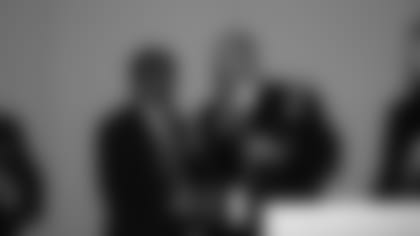 Chiefs head coach Andy Reid was honored with the Diversity Advocacy in Sports Award, an award that recognizes those in sports who honor Martin Luther King's principles.
"Every year we look for someone who looks at someone's abilities, not their race and if you look at Coach Reid's history, he does what's good for the team, without looking at race or religion," Lyons commented. "He has been a leader in sports and we wanted to recognize all that he has done for the community."
Coach Reid was thrilled to be a part of the event and was honored that the NAACP chose to recognize him.
"It's a great honor to receive this award," Coach Reid said. "This is an award that says we all appreciate each other, we work together and achieve, which is everything that the NAACP is doing, their efforts are tremendous."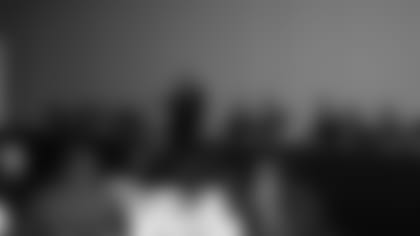 The event was an incredible way to honor Dr. King's Legacy, while recognizing those continuing his efforts.
"To me, this event is a great way to honor the students and those in the community who still live by the doctrine of Martin Luther King," Lyons noted. "We've honored the Chiefs throughout the past ten years, including Carl Peterson and Tony Gonzalez. I truly think the Chiefs organization is really an example of what the NFL should be like."
The Chiefs are thankful for the awards throughout the years and Coach Reid is extremely grateful for the Diversity Advocacy in Sports Award and the continued efforts from the NAACP.