The Kansas City Chiefs wake up to a light rain and overcast skies this morning for what will be their 13th practice on the campus of Missouri Western State University, before finishing training camp on Wednesday, with an 8:15 AM CDT practice.
Regardless if the weather has been beautiful, or less than ideal, the offense, defense and special teams have continuously been trading "back-and-forth" practices, as Chiefs head coach Andy Reid alluded to in the above video.
Whether it's 90 degrees, sunny and humid, or 72 degrees, with a light morning rain, the Chiefs players are reminded of the importance of hydration and recovery.
Nobody in league emphasizes hydration more than coach Reid, who is often heard reminding the players to "water up" constantly during practice. Following the more than two-hour practices each day, the players can't walk off the field without passing by a cooler packed with ice-cold Gatorades, to help replenish lost fluids, electrolytes, etc.
Once the Gatorade and/or water is in hand, players make the walk up the hill to the locker room, where twenty yards away stands a cold tub, which the players are encouraged to use by Chiefs head athletic trainer Rick Burkholder.
"They come right off the field and we want them right in there, instantly" Burkholder said.
"The cold tub allows their blood vessels to constrict and slows down all of the microtrauma and helps them recover for the next day. The other thing it does is it gives them a little social gathering to cool down before they have to come in the locker room and do their next thing."
The cold tub is pool-like, measuring 48 inches high by 18 feet wide and filled daily with ice blocks to keep the temperature at a bearable 52-56 degrees. 
"We have somebody come up and clean it," Burkholder says. "It's a saltwater pool, so the salt also has a little healing effect for them.
Chiefs CB Dunta Robinson has used cold-pool therapy for years and is trying to get all his teammates to buy in, regardless of the initial discomfort.
"I'm used to it," Robinson said.
"Any soreness, any kind of pain, ailments that you have after practice, you get in that cold tub and it flushes whatever's bothering you out of your legs. I live by it, it's great. 'Ten minutes of pain for three hours of pleasure'; that's what I tell guys."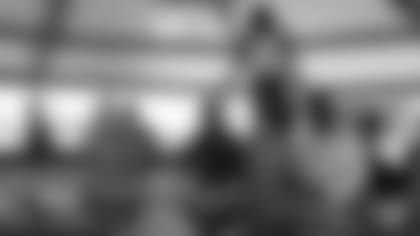 Another proponent of the cold tub is Chiefs WR Dexter McCluster.
"I do use the cold pool," McCluster said. "It's very convenient. You can come right out of practice and jump right in and feel refreshed. I think it was a good move to put it out here; it can fit a lot of people in there and get good results. The cold pool definitely rejuvenates you."
Chiefs rookie FB Toben Opurum is also a fan.
"It gets your legs back underneath you," Opurum said. "We do a lot of running out here and it takes a toll on your body, so you have to do what you can to take care of it, outside of what they ask us to do. The cold pool is one of those things."
While the cold tub provides benefits, Opurum admitted his first thought upon stepping into the chilly water.
"How long I don't want to be in there," Opurum said. "My legs feel better, though. You have to sit in there for a little while until your body goes a little numb, you kind of forget how cold it is, but initially, it's a terrible feeling."
Opurum's teammate, Chiefs CB Sean Smith agrees.
"Words can't explain it," Smith said. "It's something that players definitely don't enjoy doing, but it's definitely a necessity, you have to do it. You're still a little numb after getting out, but it's just relief. There's nothing like being in there."
Since joining the Chiefs from the Miami Dolphins in the offseason, Smith has also come to really appreciate the mastermind, who brought the team-sized cold tub idea to KC.
"Rick is cool," Smith said.
"He teaches you how to take care of your body on your own. I think players nowadays, definitely rely on the trainers to take care of them and kind of baby and pamper them in a sense, but he's shown us how to prevent your body from getting injured, certain stretches and other techniques you can do on your own time that will prevent some of these injuries from happening, so that way you're not always in the training room."
Besides the physical benefits the cold pool provides to the players now, come late November and into December, when the temps drop, the Chiefs can think back to August, when they braved the depths of the cold water, making the challenge of playing in sub-freezing conditions feel like a walk in the park.