Much like the pace of Thursday's combine events, Friday was no different and headlined by the QBs, WRs and RBs. However, prior to many of the athletes' press conferences, Chiefs general manager John Dorsey addressed the media, including the latest information on the team's pending free agents.
"We have ongoing conversations with all of our unrestricted free agents," Dorsey said. "We've had conversations with Branden (Albert's) representatives. That's the beauty of the combine is those guys are here and we'll continue that conversation with those representatives as the combine passes."
Dorsey was also asked to evaluate the play of the Chiefs WRs in 2013.
"I think (Chiefs WRs coach) David (Culley) did a nice job in their first year," Dorsey said. "They grew; they matured as the season went along. Of course, we expect them to mature and grow in the second season of this offense, and with this coaching staff, I have no doubt that they will."
Headlining the player interviews on Friday was Texas A&M's Johnny Manziel, who assessed his college career, both on and off-the-field.
"I think you look at on-the-field stuff, from freshman year, until what I was this year, I tried to really hone in on some things this year, get better in the pocket and continue to develop as a passer," Manziel said. "Off the field, some scrutiny off the field, but continuing to learn, continuing to learn from my mistakes and continuing to grow up, I have an opportunity now moving into a professional phase.
This is life now; this is a job for me and I'm taking it very seriously and I'm really excited about the future."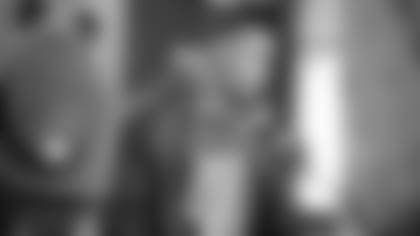 Among the wide receivers who entertained reporter questions on Friday was Vanderbilt's Jordan Matthews, who described his biggest strengths as a player.
"I think my competitiveness," Matthews said. "Being at Vanderbilt, we had a lot of adversity; we had a lot of change. We had three head coaches, six different quarterbacks, three offensive coordinators, three wide receivers coaches. I think a lot of guys, around the country, played with a little more stability, but I was able to adapt to change and I feel like I was able to come out and be one of the top in my fields. So, I feel like that is something different about me. I feel like that is something that carried me the whole time was always my competitiveness, the way I came to practice every day and the way I had that chip on my shoulder, all the way from high school. I think that has carried me and will help me out moving to the next level too."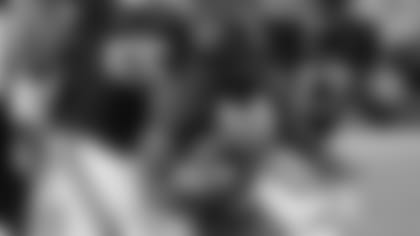 As for the RBs at the combine, Missouri's Henry Josey was asked how playing in the SEC has helped prepare him for life in the NFL.
"It did a whole lot for me, especially with my body-wise," Josey said. "The SEC is very tough, very physical and running the ball the way we did this year was just amazing for me, getting me ready, playing against some big-time opponents. The guys I trained with, I played against, it's just great to have that type of competition to go against. That just boosted up my confidence so much more just playing against thosetough guys, and then competing the way I did and also excelling with it."
The QBs, WRs and RBs will move from the press conference podiums to meetings with NFLPA on Saturday, as well as more interviews, following their 225-pound bench press test.
Also scheduled for Saturday, the on-field workouts begin for the special teams players, offensive linemen and tight ends, while defensive linemen and linebackers will undergo weigh-ins, medical examinations and media interviews.