One in four women will experience domestic violence during her lifetime and more than 3 million children witness domestic violence in their homes every year.
The stats are overwhelming, which is why Hope House serves as a safe haven for prevention, education and support for thousands of people traumatized by domestic violence every year.
On Wednesday, the Chiefs Women's Organization (CWO) visited the women and children at Hope House to host a holiday party for those currently residing in the shelter.
"The reason for visiting Hope House was to help these children forget about their circumstances and their situation and instead focus on the joy of the holidays and the blessings in their lives," Tammy Reid, wife of head coach Andy Reid, noted. "For years back in Philly and currently in Kansas City, I've been involved with domestic violence shelters, so I've seen the impact something like this can have on families and I know that any little bit that we can help will go a long way."
The CWO provided cookies for the children to decorate, helped with arts and crafts and led the group in some Play 60 activities.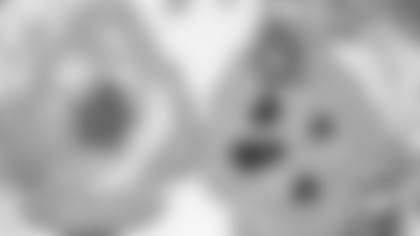 "It means the world to these children and their mothers to know that the CWO decided to take time out of their day to come and spend an afternoon with them," Brandi Bair, Volunteer Programs Manager with Hope House said. "They get the chance to be a kid and enjoy fun activities, worry free. It's a chance to forget that they're in a shelter and helps bring joy to their day."
Just over 35 women are living at the facility, with about 27 children. The shelter provides a secure home for women and their children, along with daily therapy sessions and group support sessions.
"The goal of Hope House is ultimately to break the cycle of domestic violence," Bair explained. "We are here to provide support, services and empowerment to the women and children who we are serving in shelter or through our outreach services. We want to provide them with the tools and resources to live a life free of abuse."
Hope House also has some incredible community partnerships with local volunteers, including a dentist that offers dental services three or four times a month, as well as a partnership with a few local salons that spend once or twice a month providing free haircuts for the women. Recently, they created a sewing room to teach women how to sew and to provide a therapeutic activity.
The shelter is also constantly in need of donations. Currently, their urgent needs list includes: Ibuprofen (Motrin), cold and flu medications (adult/children/infant), women underwear (all sizes), underwear for children (boys, girls - all sizes), women's socks, washcloths, large bath towels, standard pillows, toilet paper, paper towels, baby wipes, oil sheen, pink oil moisturizer, twin sheets, twin comforters, cough drops and non-alcohol cough syrup.
To find out more on how you can donate, call 816.461.4188 or email Angie at atuck@hopehouse.net.