Earlier this week, the Chiefs Women's Organization (CWO) volunteered at The Culinary Center of Kansas City to prepare meals for families at the Ronald McDonald House.
The Ronald McDonald House serves as a "home away from home" for families, while children are receiving medical care; they have two houses in the Kansas City area, as well as a family room at Children's Mercy Hospital.
"These families have a child going through chemotherapy, or a child in the ICU, or a child who needs a heart transplant; they have a lot to deal with on a daily basis," Emily Gretzinger, Marketing and Events Manager at The Ronald McDonald House explained. "A warm meal is a chance for these families to relax, take a breather and get their mind off of what's going on with their child at the hospital."
Part of the CWO's efforts included a culinary team-building experience through the The Culinary Center's All Hands for Hunger program, serving to help the Kansas City community
"All Hands for Hunger is a corporate team-building model that we designed to give organizations in the area a chance to come and make fresh dinners to donate to a charity of their choice," Tony Bien, Instructor at The Culinary Center, noted. "The charity will then pick up the food and serve it that night or freeze it and serve it the next day."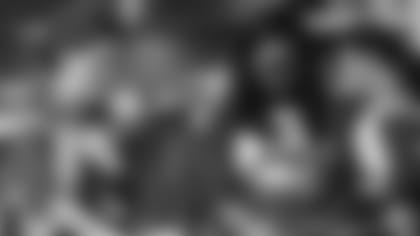 The women prepared 40 quarts of chicken tortilla soup and over 100 servings of chicken and cilantro lime rice.
"These families have a child at the hospital, with no time to prepare meals, they're not at home, and sometimes at that point, you just need a good home-cooked meal," Rita Hunt said. "This is a great opportunity to take some of the stress away from families and provide them with a home-cooked meal and a chance to relax."
All Hands for Hungry is an event that is open to the public and registration is available now. To get involved and find out more information, visit kcculinary.com.
"The Culinary Center and the Chiefs have always been great partners of ours and we are so thankful for the food that is being prepared for our families," Gretzinger commented. "We operate on $1,000 food budget for the whole year, so it is always such a blessing to have volunteers help feed our families."