The sun had just barely peeked over the horizon when they made their way into the Arrowhead Stadium parking lot on Monday morning as a crowd of eager supporters came into view.
These were the very first moments of a truly demanding journey, but for the dozen or so cyclists that peddled into the Truman Sports Complex on this warm September morning, the daunting trek ahead couldn't be more worth it.
This was the beginning of a three-day, 225-mile commute from Kansas City to Indianapolis as part of the annual "Coast 2 Coast 4 Cancer" ride across the country to support the V Foundation for Cancer Research. These riders were tasked with completing the fourth of seven legs required to navigate the nearly 3,000-mile long journey that began along the shores of Oregon and that will end in New Jersey, all in the name of defeating cancer.
The riders, who are all employees of the pharmaceutical company Bristol-Myers Squibb, each had their reasons for embarking on this trek - from a personal battle with cancer to losing a loved one to the disease – but regardless of their varied backgrounds, their collective goal of finding a cure becomes all the more possible with every mile.
"Our mission is to achieve victory over cancer, and we do that with help from our supporters like [these riders]," said Sherrie Mazur, Senior Vice President of Communications at the V Foundation. "We award 100 percent of the direct donations that come into the V Foundation to our research programs, so you all that are raising this money – over $1 million – will see it put right back into research. This is helping to make that research possible."
Each of the riders is responsible for rallying funds toward the cause in addition to completing their portion of the trek, with one of Monday's participants raising more than $28,000 alone.
It's real money that's funding vital research all over the country, including right here in Kansas City. In fact, the V Foundation – in partnership with the Kansas City Chiefs and The University of Kansas Health System – has provided a research grant to a young investigator at The University of Kansas Cancer Center in each of the last two years.
"We really appreciate these efforts for our cancer patients as the V Foundation has grown into one of the most important funding agencies in the United States," said Dr. Roy Jensen, Director of The University of Kansas Cancer Center. "Less than one out of every 10 grants that we send to the [National Institute of Health] is funded, so alternative sources of cancer-research funding are absolutely critical. We're very grateful that investigators at The University of Kansas Health System have been funded by this organization and, specifically, this ride."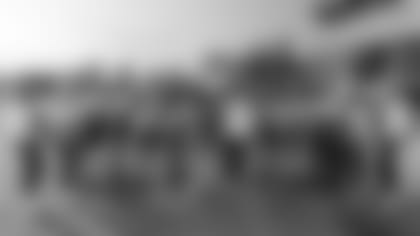 The dedicated cyclists that rolled into the Arrowhead parking lot on Monday morning are part of the reason that funding exists, and before they took off for Indianapolis, they were reminded once more of what they're representing along the way.
"We know you're about to face some challenges. It's going to be hot, there could be cross winds – who knows what's in front of you – but I'll tell you, there is symbolism in your ride," said Marty Whalen, Head of Oncology Sales at Bristol-Myers Squibb. "The pain and struggle that you'll experience symbolizes what cancer patients go through, making this so much more than just a bike ride. Never forget who you're riding for."