It's one of the most used clichés in all of sports and said by all coaches at every level, that "it's about the name on the front of the jersey and not the one on the back."
That's the way coaches preach humility.
It's effective and it's almost always true.
But for Kansas City Chiefs rookie linebacker D.J. Alexander, the story behind the name on the back of his jersey isn't one of self-promotion. It's to honor a man who helped get him to where he is today.
It's an honor D.J. will once again be able to share in person this weekend as that man makes his first trip to Arrowhead Stadium.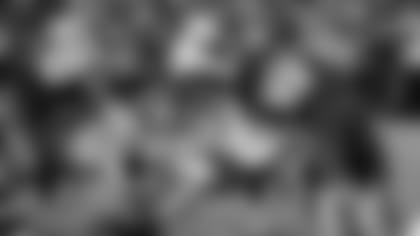 He didn't always go by D.J. Alexander.
He was born D.J. Welch—the name he went by all throughout his teenage years back at Palm Desert High School in California.
D.J. is the youngest of five with two brothers and two sisters on his stepfather's side of the family. He also has a brother and sister on his mom's side, along with a couple of other siblings on his biological dad's side of the family.
His stepfather, Pete, is the one who raised D.J. from the time he was 1 year old.
Pete is the one who talked D.J. into playing football in high school, supported him throughout all the trying times and ultimately shaped him into the man he is today, showing D.J., his brothers and his sisters a sense of family in the process.
"We were always together," Pete explained. "We went fishing together. We went shopping together. I wanted them to feel that family atmosphere growing up.
"That's the way I was raised, so that's what I wanted them to feel."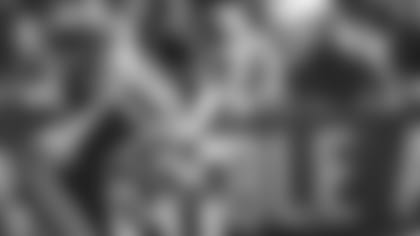 It's something D.J. did feel, so much that he wanted to honor his stepdad in the best way he knew how, which came after he developed into a standout linebacker at Palm Desert High School and earned a scholarship to play football at Oregon State.
"I treated him like a dad and he treated me like a son from a very young age," D.J. explained. "Growing up, I always wanted to give him his credit or his due. I talked to my mom about wanting to change my last name.
"I thought college, once I started playing and started kind of establishing a name for myself in football, I said, 'This is a perfect time to acknowledge him for all that he's done for me to get me where I am today.'"
D.J. was excelling in the sport that Pete had initially got D.J. interested in as a kid, and he chose the game against BYU in 2012 to properly honor his stepdad.
Going into that game Pete had no idea what was happening.
"I wasn't planning to go to the game until the last minute," Pete explained. "My wife had told everybody what was happening. I mean, she told friends of mine in Texas. Everybody knew about it and I didn't.
"So we drove down to the game and we got there at like 5 o'clock in the morning. When we got ready to leave the hotel room, my wife told her friend, 'Grab a box of tissues.'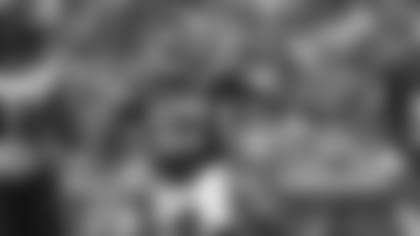 Once they got to the stadium that day, Pete said the friends they were with were doing everything they could to keep him from seeing D.J. until the moment they wanted him to—the moment that was planned and that everyone from the producer of the local CBS TV broadcast, the staff at BYU and the entire football staff already knew about.
"The guys were out on the field doing their calisthenics," Pete said with a laugh. "We were all looking at the TV of them doing that and a friend of mine came over and was like, 'Hey come over here!'
"He was trying to get me away from the TV."
Pete explained what happened after that.
"We run up to get to our seats and they have this bridge that goes across like a tunnel where the players come out. The players are coming out and my wife said, 'Come here!' and pulled me to the front.
"DJ was coming out and he looked at us, then turned to show the back of his jersey."
For the first time, the back of his jersey read "ALEXANDER."
"It's just the ultimate payoff for him—to give him that respect," D.J. explained.
Pete, who was the only one who didn't know this was the reason they were at the game and in this particular spot to watch them come out of the locker room, was taken aback by the moment.
"All I saw was how much he cared about me," Pete explained. "That's all I could think about was how much he cared about me to do that.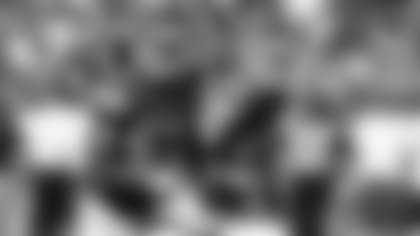 While it may have been the name on the back of D.J.'s jersey, the embroidery is more a show of respect for the man who showed him what family, love and respect is all about.
"I learned not to be selfish from him," D.J. explained. "I try to help as much as I can whenever I can. He's just taught me not to fall short of helping people if you can. When we used to take road trips and saw somebody broken down on the road, he would pull over and help. To this day, I still do it.
"He's just taught me to be kind and courteous to everybody."
For D.J.'s mother, the honor was something she had wanted as well.
"She was excited because she kept pushing it," D.J. explained. "She loved it and she was with it the whole way. She was excited the day I finally did it."
D.J. wasn't able to legally change his name until shortly before the NFL Draft, when the Kansas City Chiefs selected him in the fifth round.
Through six games this season, *Alexander *has played 138 snaps for the Chiefs, all of which have come on special teams.
He's found a niche on Dave Toub's group.
And this Sunday against the Pittsburgh Steelers, Pete and the family will once again get to see Alexander on the back of D.J.'s jersey, but for the first time in person, they'll see it on his NFL jersey.
It'll be all the emotions for a dad who remembers sitting and watching football with his son more than two decades ago.
"We'd sit in the stands and he'd always ask me when he's going to be able to play," Pete recalled. "I told him to wait. Just wait.
"One day, you'll be able to play."
Back then he was a Welch. Now he wears "Alexander" on the back of his jersey at the highest level of football in the world, and he honors his stepdad every time he puts it on.