After an 11-day vote, the fans of the Kansas City Chiefs have spoken.
"Hey Kansas City!" by David George and a Crooked Mile has been selected as the new Chiefs touchdown song, and George, a fan of the team since the days of Hank Stram and quarterback Len Dawson, could not be happier.
"I can't even grasp it yet," George explained in a phone interview Wednesday. "It's an honor, above and beyond, but it's something that I just can't put my finger on right now. It's a weird feeling."
George said that he realized his fantasy could become a reality during the middle of the vote, when his nephew saw an update on the Chiefs Twitter account.
"It showed me winning the lead and I thought this could actually happen."
When the vote closed, "Hey Kansas City!" earned 45.9 percent of vote.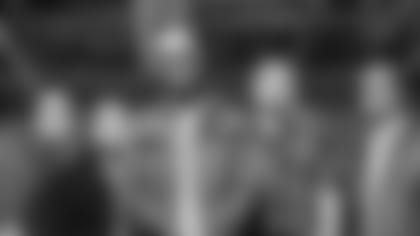 "It was overwhelming," George said. "I was excited and proud, and not to sum up my life's work into a minute-and-30-second song that will be played after a touchdown, but it kind of gave everything I've done weight. It's built up to this moment and it was this wave of pride."
As part of the touchdown song change, the Chiefs have always recognized how important maintaining the "You, You, You" chant was to fans.
"Much of the feedback we received from Chiefs fans was that they wanted to retain the feeling and intimidation factor that comes when 75,000-plus fans chant in unison," Chiefs president Mark Donovan said. "Because the fan chant is not part of the Gary Glitter song and was added by Chiefs fans, we asked David George to incorporate that element in the beat of the new song. We think this addition to the new touchdown song will deliver that traditional aspect of Arrowhead touchdowns that our fans love."
George was happy to oblige.
"It's all about the fans," he said. "When it became the possibility that this was going to happen, I started talking with the band about how to incorporate this and it just fits right over the drumbeat just like the old song did and it seemed like second nature to put it right in there."
When asked which player he believes will score the first ever touchdown incorporating the new song, George predicted it would be tight end Travis Kelce, who scored 2 of them in Week 1 against the Houston Texans.
If that were the case, odds are he would have a worthy approach to commemorating the new sound.
---
Fans can listen to how the chant will be incorporated to the new touchdown song***here***.
David George and A Crooked Mile will perform a free concert for Chiefs fans in the Ford Fan Experience at 4:30 p.m. on Thursday, September 17, before kickoff