It was Sunday, Week 1 of the 2014 regular season, and linebacker Derrick Johnson, the play caller of the defense and the Chiefs' locker room leader, couldn't get up.
It was the strangest thing. No one had touched him.
By now, the story is well known. As time ticked away in the second quarter, the Titans' Jake Locker dropped back and Johnson went into pass coverage. Eyes on the quarterback, he back-pedaled at first and then shifted to his right.
That's when he fell in a heap to the ground. He had ruptured his Achilles tendon.
What made the moment such a remarkable sight was watching as Johnson rode off in a cart. This was Derrick Johnson. And he was helpless.
Fast-forward more than seven months later to Monday at the University of Kansas Hospital Training Complex, and the magic of time proved astounding once again.
This scene was vastly different.
Johnson stood upright at the podium in his red, team-issued "Work to Win" T-shirt looking thin and healthy, and his appearance came with the feel of a man reenergized to get back to the office after much too long a vacation.
"I'm feeling great," he enthusiastically told the media. "I've been out for a while. Very excited to be back with the guys.
"It's one thing to be healthy and having all your strength, but the camaraderie that you have with the guys, your brothers, your teammates, that's even better to be back with them."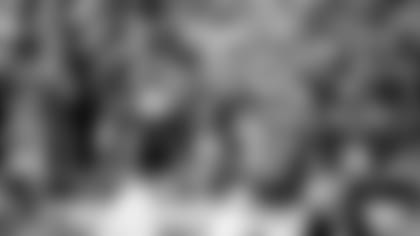 Of course, Johnson, and it's amazing to say now (but it's true), was lucky in a way that's been well cited. During the season-long rehab process, he wasn't alone.
On the same day he ruptured his Achilles tendon, his teammate and someone whom he commonly refers to as a "brother," defensive lineman Mike DeVito, suffered the same fate.
That camaraderie that Johnson spoke of was thus one of the rare things that weren't lost in a small sense, and he explained how much that part of it helped.
"[DeVito is a] big part of the reason why I'm here right now," Johnson admitted. "You definitely don't want to see another guy go down like that … But to have a guy of that caliber, mindset-wise, to actually be in an out of rehab with me every single day, I got even closer with him, his faith through God and everything that he brings to the table on and off the field.
"It wasn't as hard as people thought it was being with Mike DeVito."
DeVito, up next at the podium, mimicked Johnson's feelings, even going as far as admitting he may have considered retirement without Johnson.
He too used the word, "brother."
"It made all the difference," DeVito said of their relationship as they rehabbed together. "That became our battle. Football was over and now it was about getting back … We were brothers before, but we really built that bond even more so. You really know the person that you're with when you face adversity with them, so it was awesome. Somebody I've always had a ton of respect for.
"But again, I don't know if I would've made it to this point right now had I not been working with DJ."
Even while rehabbing a season-ending injury, Johnson displayed his leadership ability.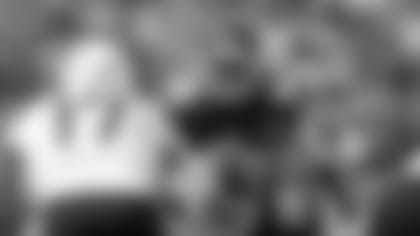 One of the more incredible points Johnson made during the press conference regarded the perspective he had of last year.
A frequent question among reporters was "Exactly how tough was this?"
To that query, while acknowledging the adversity, Johnson wisely brought up something that to him became the worst experience of his career in 2009.
"I've been through something harder than this," he explained. "When I didn't start that one year, my fifth season (2009), that was harder than this."
The reason being that during that time, his body was perfectly fine, but the coaching staff chose not to play him.
For Johnson, he'd be the first to admit that last year was difficult, no doubt, but he always maintained control.
Every day was a step closer to that podium and now that he's made it there, the steps he's taking transition to those along his journey back to the playing field.
"It's one of those things where it was really hard to deal with going to the games all the time, looking at the guys having fun," he said of last year. "It was very hard, very hard for me. But I knew I had to go through this time, get back to where I need to get to."
Johnson, back from injury, says he's currently at 95 percent, a figure he expects to increase to 100 when he can began playing tackle football.
Ahead of him, he has a team to lead, a franchise tackle record to break and naysayers to prove wrong.
"I haven't been on the decline yet, so it's going to be a great opportunity to show everyone I've still got it.
"It's a lot to prove this year, so it'll be great."
Top shots of the Chiefs LB, Derrick Johnson from the 2013 season.