The Kansas City Chiefs brought the spirit of Red Friday to the Ronald McDonald House on Tuesday, as linebacker Derrick Johnson and wide receiver Tyreek Hill visited with the kids staying at the facility for an afternoon of games and crafts.
The two players chose to spend their day off from practice by brightening the day of some of their youngest fans.
"To come out here and see these special kids - it brings joy to my heart," Johnson said. "Just to see their smiling faces and making their day - that's what it's all about."
The Ronald McDonald House exists as a place for families to stay while their children are sick. The facility served over 7,000 families just last year.
The son of a school-teacher, Johnson has made working with kids a priority throughout his time in Kansas City.
"My passion is working with kids," Johnson said. "They're our future. They see us on TV, so for us to come into their lives and actually shake their hands and do activities with them, that's a pretty cool experience."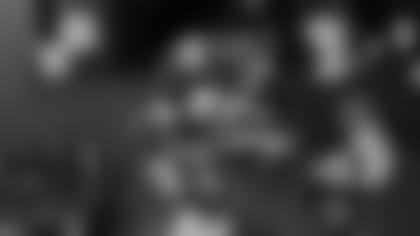 While Johnson was scheduled to appear at the event, the residents were in for a surprise when Hill, who volunteered to appear just a few hours prior, walked through the door.
"I think doing stuff like this is big because it's all about next generation," Hill said. "That's why I wanted to come out here and meet these kids and these families. If I was in the same situation, I would want professional athletes to come see me too."
Johnson and Hill's efforts went a long way for the families in attendance.
"It's been so fun for me today just to see the wonder in our families' eyes," said Tami Greenberg, the CEO of Ronald McDonald House Charities of Kansas City. "It really is a gift for the players to let our families know that they're thinking about them and that Chiefs players are rooting for them."
As the festivities wore down, Johnson and Hill helped unveil a new Chiefs-themed area in the facility's basement.
"We really wanted to spice this area up for our families, and the best way to do that was to bring in our partnership with the Chiefs," Greenberg said. "I want the people here to really know they're in Kansas City and to feel the support of the whole community while they're staying at the Ronald McDonald House."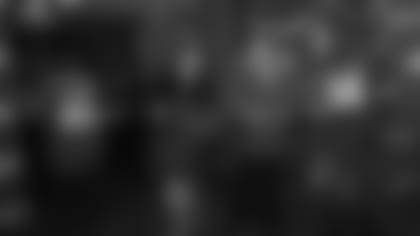 The event served as a kickoff for a week-long edition of Red Friday heading into Kansas City's home opener this weekend against the Philadelphia Eagles at Arrowhead Stadium.
The Chiefs will once again be all over town selling "Chiefs Kingdom" flags to fans this Friday, and for a fourth year in a row, all net proceeds of the flag sales will benefit Ronald McDonald House Charities of Kansas City.
Flag sales raised nearly a quarter of a million dollars for the organization last season, and donations are expected to surpass that figure this year.
Though it's been a success in terms of financial donations, the relationship between the Chiefs and the Ronald McDonald House goes even further than that.
"Our partnership with the Chiefs is outstanding, and it's not just about the financial results, it feels like a partnership every day," Greenberg said. "It's a year-round partnership. We have members of the Chiefs family and Chiefs Kingdom who really feel like they are part of the family here at Ronald McDonald House all year long. Red Friday is just one example of that."