They call him "The Hulk" for a reason, and it's not just because of his superhuman-like presence on the field.
For Kansas City Chiefs veteran defensive lineman Allen Bailey, there's an easy connection with him to the big green destroyer of everything, but there's also an equal connection to the Bruce Banner side.
Bailey is as unassuming of a person you'll find when speaking with him or watching his mannerisms after a big play is made. He doesn't talk much. He doesn't yell or scream a whole lot on the field. He's a self-described "put my head down and work" kind of guy.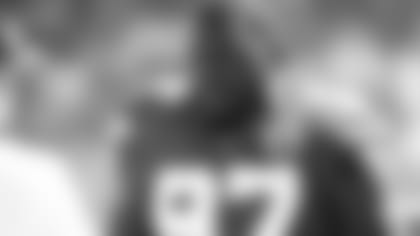 "He's kind of a gentle giant," veteran linebacker Derrick Johnson explained. "You know not to mess with him, but at the same time, he's very approachable. He laughs and jokes with me all the time.
"I'm glad he's on my team."
And through three games this year, Bailey has shown that he's completely recovered from a torn pectoral muscle that cost him most of the season. He ranks sixth on the team with 12 tackles and two sacks, which puts him on pace to shatter his personal career bests in tackles (41) and sacks (5).
And his return is welcomed by those who benefit from what he brings.
"He's a guy who makes my job easier," Johnson added. "I mean, I can't tell you enough words to express how much Allen Bailey means to the defensive line and to our defense. Seeing that guy, before you even snap the ball, people are looking at him like, 'Ok, we've got something on our hands.'"
(Check out the Emmy-Award-Winning video on Bailey and his hometown of Sapelo Island)
Bailey is in his seventh NFL season after being drafted by the Chiefs in the third round (No. 86 overall) of the 2011 NFL Draft out of Miami. He has played in 75 career games for the Chiefs, amassing 102 tackles and 13.5 sacks.
And much of what Bailey does up front goes unnoticed to those who aren't specifically looking for it, but he was every bit as motivated this year to show he's back and ready to contribute to a team with high expectations.
"I feel like I had a slow start last year," Bailey added. "So, I've just been focusing on starting fast. And coming off an injury, you're always a little more motivated because you missed so much time."
"He's got tremendous power and he's got great athleticism and quickness," Chiefs' defensive coordinator Bob Sutton explained of Bailey. "He's been very effective, and in our terms, he's done a great job of affecting the quarterback."
While linebacker Justin Houston and defensive lineman Chris Jones have received plenty of praise for their ability to sack and affect quarterbacks so far this year, the truth is nobody has more quarterback hurries so far this season than Bailey, who has seven through three games.
It's part of his game that he's not necessarily known for, but upon further review of the game film, his presence is felt there in ways that aren't always noticed the first time around.
"He's just one of those guys that's a really good football player that maybe not a lot of people know about," Sutton added.
It's easy to see what he can do on plays like the one above in which he uses an offensive lineman as a means to make a play—tossing him back into the quarterback for the sack.
"Sometimes it's easier just to throw them," Bailey laughed of his affinity for throwing guys around to make plays. "As the game goes on for four quarters, we're supposed to be more conditioned, right? So, when they're tired and we've got a little extra juice, if you just toss them in there he's either going to fall down or fumble.
"So, yeah, it's pretty cool."
When he's not tossing lineman into quarterbacks and running backs and he's more so in his Banner-mode, Bailey is one of the quiet guys in a room that isn't necessarily quiet anymore.
A few years ago in a room with guys like Jaye Howard and Dontari Poe—both quieter guys, the vibe was different than it is now with guys like Chris Jones and Rakeem Nunez-Roches.
"You've got a room full of different characters," Bailey laughed. "It used to be [Dontari] Poe, who isn't a morning person, he wouldn't say anything until about 11:30 in the morning. Now the room is loud as soon as you walk in because those are the personalities we have."
That said, those guys listen to Bailey when he speaks. He's been around and knows what it takes to be a professional and play at this level.
"I think it's a good group and I think [Bailey] and (veteran) Bennie Logan have had a lot to do with that room," Sutton explained. "They're the kind of, to me, the guys who direct that group. Those other two guys (Jones and Nunez-Roches) are vibrant personalities, but I think it's a good combination.
"They get along really well, push each other and support each other."
Bailey currently leads all Chiefs' defensive lineman with 177 snaps played this year, which accounts for more than 78 percent of the total plays. It's not a position he's found himself in the past, as Poe dominated snap counts during his time in Kansas City.
But Bailey believes that this group is special. They have four guys playing most of the reps in Jones, Bailey, Nunez-Roches and Logan, and a fifth in Roy Miller, who is grabbing some reps here and there as well.
"The rotation is good for the long haul," Bailey explained. "We're rotating and not losing a beat with the guys right now, and that's why I think this is the most talented room we've had since I've been here."
And much of that actually has to do with him, the guy who brings a mini replica Hulk figurine with him on the road to put in his locker before every game, which only clarifies the dichotomy of Bailey—part big green monster, and part mild-mannered Banner.