One of the stories—for the most part—has reached a conclusion. The other has barely begun.
For Kansas City Chiefs head coach Andy Reid, the journeys of the only two quarterbacks he's ever had selected in the first round in his 17 years as an NFL head coach—Donovan McNabb and Patrick Mahomes—began with entirely different fanfare.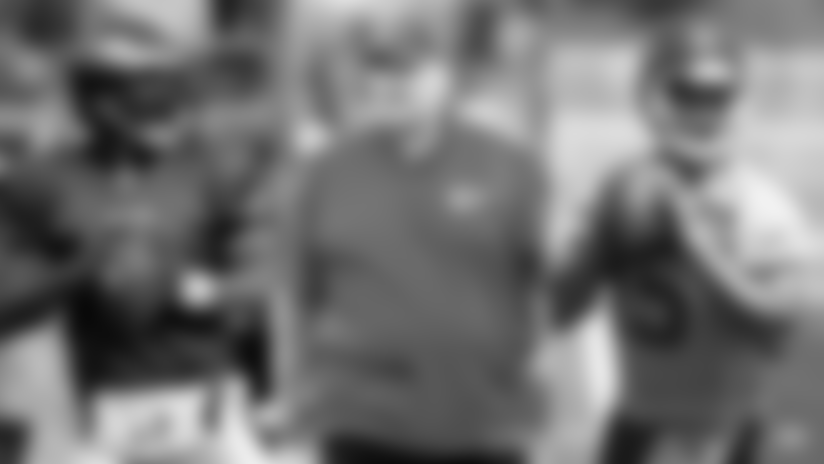 McNabb put together a career that had him nominated for the Pro Football Hall of Fame this past year, while Mahomes is currently working on simply spitting out the play calls McNabb first made famous in Reid's verbose and demanding offense.
They are two stories with antithetical beginnings, but a common connection in Reid.
---
The piercing sound of boos were immediate and filled the room.
It's a moment that has lived in NFL draft allure, the 30 or so fans of the Philadelphia Eagles brazenly voicing their displeasure of the selection of Syracuse quarterback Donovan McNabb with the No. 2 pick in the 1999 NFL Draft.
These were the fans who wanted Texas running back Ricky Williams, and ironically, many of them would spend the next decade celebrating McNabb as arguably the best quarterback in franchise history.
But the new quarterback wasn't the only one who had his doubters.
Reid, who a few months earlier had become the first NFL head coach hired in more than a decade who hadn't previously been a coordinator, was now symbiotically and irrevocably tied to McNabb.
Two men, initially challenged and opposed, would be forever connected at the onset of achieving the highest level of competition in the world in their given sport.
"Once I was drafted, everything that I went through, he was going through himself," McNabb explained of his relationship with Reid. "From even before the pick was in, callers were calling in, and then [Reid] was receiving negative messages once I was drafted because they thought it was a bad pick.
"But we turned it into something special."
Over the next decade, these two would help lead the Eagles to five conference championship games, including four straight between 2001-04, and the franchise's first Super Bowl appearance since 1980 in 2004.
McNabb had a career that now sees his name and jersey alongside eight others in the rafters of Lincoln Financial Field. He's the franchise's all-time leader in yards, completions, attempts and touchdowns, amassing a record of 99-49-1 with Reid during their run together between 1999-2009.
There will never be another No. 5 in Eagles' history.
"It's sort of like that father figure where you keep in contact with your son," McNabb, who tried to articulate a dynamic that's largely defined his path and career, explained. "It's just I was a little older when he finally decided to adopt me as I was coming out of college. We've had a lot of success together and we've also built a bond and a relationship off the field.
"When I got married to my college sweetheart, [Reid] was there. My wife and Tammy [Reid] have a built a relationship as well. I always had Andy there by my side anytime I needed information, was stuck in a bind, had a personal issue or whatever it may be. He was there."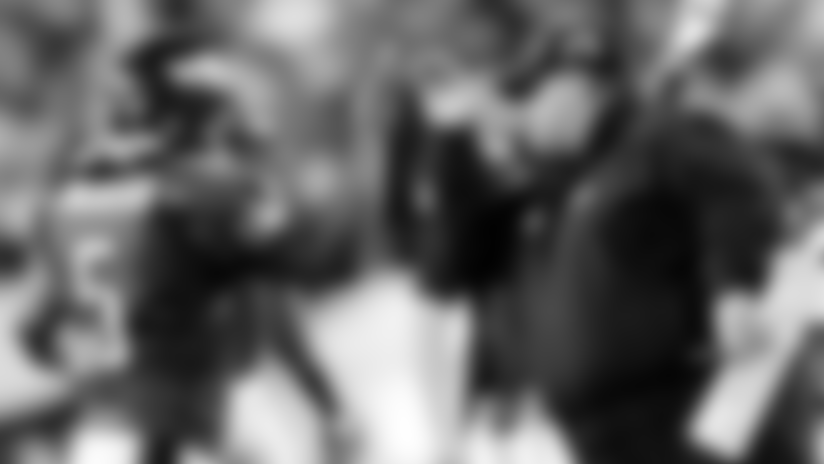 It was a relationship that helped define the careers of them both in many ways, and 18 years later, Reid now begins a journey with another young and talented quarterback in Mahomes, who has his doubters, but one who began his career with a little more fanfare.
---
The cheers echoed and rattled throughout the 26-year-old tin building which houses the Chiefs' indoor practice field.
The few thousand fans in attendance at the Chiefs' draft party, many of whom had waited 34 years for this night to come, witnessed the franchise move up 17 spots to select a quarterback in the first round for the first time since 1983.
Patrick Mahomes had become the answer to a trivia question far too many Chiefs fans knew by heart and would recount every spring.
The realization of fans not having to live with that timeline anymore, along with seeing the talent the team acquired, created an atmosphere that couldn't have been more different from what McNabb experienced almost two decades prior.
That said, McNabb himself sees what Reid saw in Mahomes.
"[Mahomes] kind of reminds me of a young Brett Favre," McNabb explained. "He can throw a ball through a car wash and it won't even get wet. He's one of those guys, arm strength-wise, is off the charts.
"And for a talented division in the AFC—with defensive ends that can get up field quickly, you need a quarterback that when things break down, he can tuck that ball and pick up 10-15-20 yards, then come back and throw a 30-yard strike to hit a receiver on the run. Mahomes has that talent."
Last year at Texas Tech, Mahomes helped guide an offense that put up ridiculous numbers, which were required if they were to try and win a game.
The Texas Tech defense ranked last in the country by allowing more than 43 points per game.
In trying to help his team win a game, Mahomes did everything he could and led the nation in passing by averaging more than 420 yards per game, adding 41 touchdowns and just 10 interceptions.
As Mahomes makes the transition to the NFL game, which will take some time, McNabb explained what his experience was like playing for Reid and what Mahomes can look forward to.
"I think it's important that when you draft a young guy, to simplify it enough to where you can eliminate him from thinking so he can just go out and play," McNabb explained. "For all coaches, they want to get the guy they've watched film on and have seen throughout his college career. They don't want a robot out there that's trying to do everything that the coach has said all throughout the week and is second-guessing himself and is losing confidence in himself.
"The important thing with Andy [Reid] and myself when I was drafted, was that he allowed me to be myself. Once he could tell I was comfortable with what we were doing, he would add more. I just felt like anything he threw out on my plate, I was ready to eat."
One of the reasons McNabb was ready to eat is that he had a mentor who was willing to help in Doug Pederson, who had previously been with Reid and signed as a free agent with the Eagles after Reid was hired.
(From left to right - McNabb, Pederson, Brad Childress, Koy Detmer)
Pederson, who returned to the Eagles two years ago as their new head coach after seven years as an assistant under Reid, began that 1999 season as the Eagles' starting quarterback.
"Doug was very important," McNabb explained. "He was my mentor. I watched how he came to meetings: he always brought his notepad, his pen, and he was always prepared and always writing notes and asking questions. Doug had been in that offense for years before when he was backing up Brett [Favre] with Reid in Green Bay.
"Doug would be in watching film after practice, so I was there with him watching film. I wanted to know what he was looking at, why he was looking at it and what he was getting out of it."
Luckily for Mahomes and his situation, there's a seasoned starter in Kansas City already in veteran Alex Smith, who has put together a 41-20 record and led the Chiefs to the playoffs in three of the last four years, which ranks among the best in the league over that time.
Smith has already reached out to Mahomes to say he's going to help him in every way that he can, which means getting him comfortable in this offense.
McNabb, who took over as the starting quarterback for the Eagles in the middle of his rookie season, didn't feel comfortable with Reid's offense until his second season.
Reid recently said he thinks it takes three or four years for a quarterback to fully grasp his offense. 
"In the first year, you're learning the basic parts and you're still trying to go out and make plays," McNabb explained. "You come semi-robotic. You want to be perfect. I wanted to be perfect in everything that I did. Andy would always tell me, 'Hey, I know you're a perfectionist but you're going to make mistakes. Just understand that it's going to happen. What I want to see is how you're going to overcome it and still be able to lead this team.'
"So, it was the early part of year two when things started to click and I knew everything that was going on around me. That's when I started finishing [Reid's] sentences. I knew what he was thinking, I knew what he wanted and knew what he expected. From that point on, I was ready to roll."
McNabb said Smith, who is "fundamentally sound" and that "Andy trusts him," is a great mentor for a young quarterback.
And when it comes to advice for Mahomes working with Reid, specifically, McNabb, who would know better than anyone, said the most important thing is humility, while at the same time, never losing confidence.
"Take in all of the information that he gives you," McNabb said. "[Reid] is going to make it fun for you, but keep a pen and paper ready to write down each and every word because it's all going to come back to you, whether it's in the beginning of the season or in the middle of your career—things are going to come back to you. He's been there, he's done that, and he understands what is best for you.
"Finally, just be patient. That's the main thing that happens with a lot of these young guys that come from these programs where they're forced to get out there quickly. Now you are going to have to sit there and learn. Guys can't take that. They're so used to people patting them on the back and telling them they're the best and calling them 'the guy.'
"Now you're just another guy until you can prove that you can play the game, but never lose confidence in yourself."
---
Two men, who began their careers with vastly different ovations, will be forever connected as Reid's "first-round quarterbacks."
One of the stories has reached a conclusion, at least on the field.
McNabb, who maintains "frequent" communication with Reid to this day, had his number retired by the Eagles at halftime of a Thursday night game in 2013, poetically, on the night of Reid's return to Philadelphia, where the Chiefs won, 26-16.
(McNabb interviewing Reid after a Chiefs game in 2015)
This pairing helped launch the career of a man who currently finds himself ranked among the best to ever coach the sport, and a quarterback who now finds himself as a nominee for the Pro Football Hall of Fame.
Reid, with 183 career wins, is currently tied for 10th on the NFL's all-time wins' list with Bill Parcells. More than half of those wins came with McNabb under center.
The other story, the one in which Reid is currently adding chapters but has barely gotten past the preface, is full of promise and intrigue.
Mahomes, by all accounts, has all the necessary tools to be a fantastic NFL quarterback, and for him, there's peace in knowing the guy leading him has done this before.
So, whenever Mahomes' time comes, McNabb already knows he'll be ready.
"Andy has been there, and he's done that," McNabb concluded. "He understands what's best for you, and he's going to put you in the best situation possible." After all, he would know.