"You've got to be a dog. You've got to be a man."
That's how Kansas City Chiefs defensive lineman Dontari Poe explains what it takes to play in the trenches in the National Football League, and few would know better than him, as the two-time Pro Bowler has shown throughout his four-plus years in the league that he's among the very best to do it.
He's earned a reputation for being one of the best interior defenders in the league.
"You can't let nobody push you around," Poe added. "You've got to be the hammer—not the nail. So you've got to take that mentality every play. You've got to be the one that's initiating the aggression."
Last Sunday against the Houston Texans, Poe took that aggression and was credited with five tackles and two quarterback hits, although his impact went far beyond a few numbers in a box score.
"I thought [Dontari] Poe had his best game of the year and maybe I'd consider one of his better games from the last two years," Chiefs coach Andy Reid proclaimed on Monday.
"I think it was all right," Poe said of his performance. "I feel like I can get way better from it. Hopefully, I'll show that in these next couple of weeks, but at the same time, we've got to get a win. That's the most important part."                                                               
Poe was everywhere for the Chiefs defense last Sunday, eating up blockers and generally making things tough for the Texans offensive line.
"That's a rough spot to be in—you're going to get double-teamed just about every play," Reid explained. "I thought [Poe] did an exceptional job of penetrating and splitting the doubles. He played relentless football. Not that he normally doesn't, I just thought he went beyond that and continually provided pressure up the middle.
"That added pressure makes it tougher when the quarterback needs to move up in the pocket and it allows your outside rushers to get a tighter lane going."
"It makes everything on our end, especially the back end, it makes everything easier just because of his presence up there," safety Eric Berry explained of how Poe affects things behind him. "As a safety, you know you want to get to the ball on runs, but if he's in the backfield—just causing mayhem—it's like you're running to the ball but you can save a little more energy because he's making the play in the backfield."
"When [Poe] is dominating up front, the offensive linemen aren't getting up to me or the secondary," inside linebacker Justin March added. "So Poe being a force on the inside lets me and [Derrick Johnson] run make plays. He played a great game (against the Texans) and was disrupting about every play and every snap."
After a defensive performance against the San Diego Chargers in Week 1 that wasn't up to the standards this group has set for themselves, Poe said the difference last week against the Texans was about staying true to their responsibilities and playing within the scheme.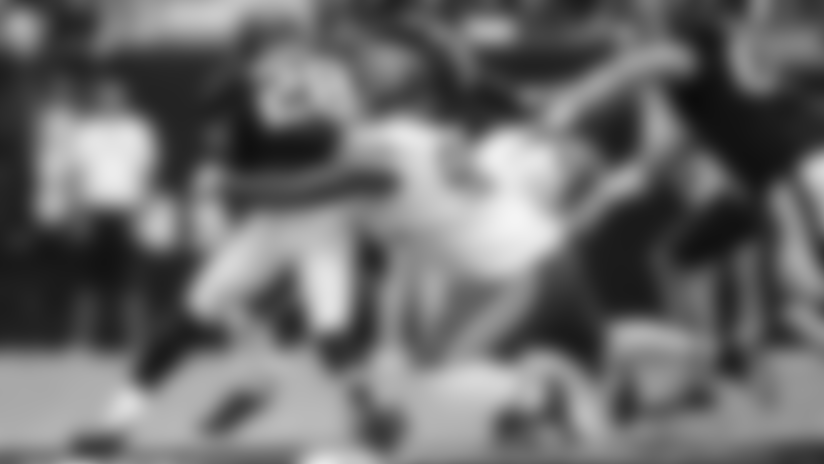 Last Sunday, the Chiefs defense held Texans running back Lamar Miller to an average of just 3.3 yards per carry and kept its offense out of the end zone on four different red zone trips.
"We just had to go out there and not do too much," Poe explained. "Not overthinking everything. Just do what we do best and that's just play team defense. We had to bounce back and show everybody that's not who we are.
"You know everybody's got each other's back on that defense. As long as we're playing together, being physical and aggressive, it will turn out well for us."
It doesn't get any easier this week as Poe and company face a potent Jets offense, led by veteran running back Matt Forte.
Over the first two weeks of the season, Forte, who signed this past offseason with the Jets after spending the first eight years of his career with the Chicago Bears, has carried the ball 52 times, which is the third-most in the NFL, and racked up 196 yards with three touchdowns.
The 30-year old Forte has been a workhorse for the Jets, who lead the NFL with 35 offensive plays of 10-plus yards.
This commitment to the run has allowed the Jets to dominate the time of possession battle through the first couple of weeks of the season, allowing opposing offenses to have the ball for just an average of 22:58 through two games.
For them, the success up front starts with a seven-time Pro Bowler, center Nick Mangold, who will line up across from Poe this week.
"He's real good," Poe said of Mangold. "I like him. I've been watching him since before I got to the league. So you know about Nick Mangold when you come and play nose tackle in the NFL. He's a physical guy and I feel like he's going to bring out the best in me, so I'm looking forward to that challenge."
When asked how he feels about the challenge of facing a team that's shown through two weeks a concerted commitment to the run and controlling the clock and line of scrimmage, Poe welcomed the opportunity to go up against that group.
"I love it," he explained. "It's a challenge. Like I say, they're trying to run and we're trying to stop them from running. Do what they do, and we'll do what we do and see who comes out on top."
Should the Chiefs come out on top this week—when it comes to getting some credit after the game—don't count on Poe standing out front pounding his chest.  
"A lot of other guys get the hype—the wideouts, quarterbacks, or whoever it may be," Poe explained. "I'm not big attention guy, but everybody knows how important the job is of the linemen, so I love it exactly the way it is.
"It's depending on us whether we win or lose. So I like that pressure, personally. But at the same time, they can have the cameras and the rest of it."