On Monday, Madison Occhipinto (21) and Kaden McKenna (13) checked off another item on their bucket list: attending Chiefs training camp and meeting the players following practice.
Both Madison and Kaden are avid Chiefs fans battling cancer. They had wished for the opportunity to be a part of training camp and meet the players to receive autographs and photos.  
"Through the 3 Little Birds 4 Life organization, my wish was to be at training camp for an exclusive experience and possibly meet the players," Madison said. "Wishes came true. I grew up a Chiefs fan so this is definitely an awesome wish come true."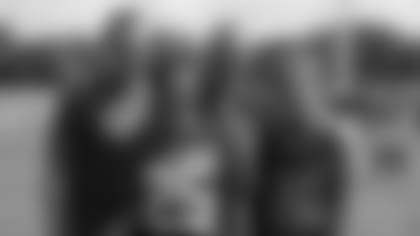 Madison was diagnosed with a rare form of bone cancer called Ewing's sarcoma in August of 2012, just two days after her 19th birthday. She has since had to undergo chemotherapy and reconstructive surgery to help save her life and treat her tumor. She is currently in remission and tests results have been positive.
"I've had two scans since September and everything has come back perfectly fine," Madison noted. "I went through chemotherapy until September of last year and once I began to recover, 3 Little Birds wanted to help make my wish come true."
Kaden was also a guest at training camp today. He is 13 years old and loves sports. In January, doctors discovered he had osteosarcoma, a bone cancer, in his maxillary sinus.
Kaden had surgery earlier this year for the doctors to remove the bone and teeth from his left side of his face, along with a skin graft from his leg. They were unable to remove all the cancer because there was a location on his brain that was too difficult to operate on and the risk was too high.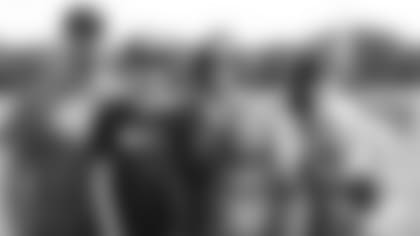 He was fitted with an obturator, which is a prosthesis that closes up the opening on the inside of his mouth from where the bone was removed. He has had a difficult time adjusting to the prosthesis and has been on a liquid diet since the surgery, but is still staying strong amidst the turmoil.
"It means so much to us that the Chiefs invited us out to training camp," Stacey McKenna, Kaden's mother, said. "This has been a very difficult time for him. He doesn't get to play football this year, which has been hard. Being at training camp though and meeting the players was great. He was so excited; it made me cry to see how happy he was to meet these players."
The Chiefs community relations staff was thrilled to host Kaden and Madison at training camp. Following practice, staff members patiently waited for the players to walk off the field and requested that they stop by to meet the two young fans. The Chiefs players were sure to say hello, sign autographs and take photos.
"Our players do such a great job of reaching out and engaging our fans, especially those that might be dealing with challenging circumstances," Chuck Castellano, the Chiefs community relations manager, said. "I think it really speaks to the family approach that Coach Reid has instilled within the team, that so many players came over to visit with both Kaden and Madison after practice."