It was all smiles at Arrowhead Stadium on Friday as Kansas City Chiefs' punter Dustin Colquitt, safety Eric Murray and the Chiefs Community Caring Team hosted a TeamSmile event that provided free dental care to over 300 local kids.
"I think dentistry is kind of largely overlooked," Colquitt said. "We look at total body health, but it's really the most important thing to be healthy as it affects everything else."
Colquitt was in attendance for the 12th consecutive edition of the event, which offered a wide range of dental services to kids that otherwise might not be able to afford it.
It was all a part of "Kansas City Oral Health Day" in conjunction with The United Way and TeamSmile, which uses sports as a vehicle to foster positive change in the lives of young people.
"TeamSmile is a unique dental outreach program that combines the power of sports with the dental industry to impact the lives of young people that are genuinely in need," said TeamSmile Executive Director John McCarthy. "The very first program started here with the Chiefs in 2006, and now we've done over 125 programs, impacted over 25,000 children and given over $15 million in free dental care to children."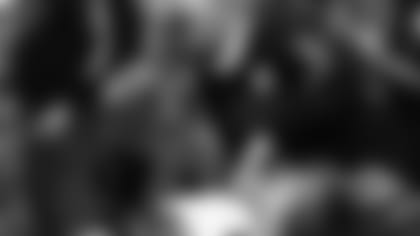 What began as a collection of volunteers in the stadium parking lot over a decade ago has evolved considerably in the event's 12-year history.
"It started outside in a parking lot with 30-35 children and now we're looking at 300 children today alone," McCarthy said. "Between the dentists, dental assistants, hygienists and our community volunteers, we have over 200 volunteers here today. To be honest, we had to cut off volunteers about a month and a half ago."
"That's a good issue to have."
Those volunteers closed down their personal practices for a day in order to help those that needed it.
"These people could be working in their offices making money today and instead they're here to serve the children in this community," McCarthy said. "We do full dental work, including, X-rays, cleanings, screenings, we'll fill cavities and extract teeth, perform a root canal, - we do full body dental work right here. It's a wonderful service for children who otherwise couldn't afford it."
The event has always been of particular interest to Colquitt, who was around for its beginnings way back in 2006.
"They called me because my wife was enrolled in UMKC dental - she was going to be a dentist," Colquitt said. "My mom was actually a dental assistant too, so dentistry kind of runs in my family, and when they asked if I was interested in doing an event that helps out kids in this community, I said absolutely and it just ran from there."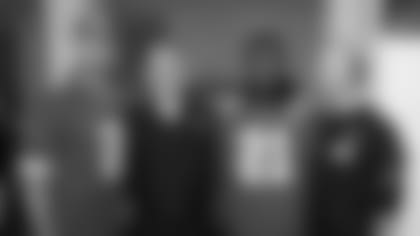 Twelve years and thousands of kids later, Colquitt is still showing up.
"It's been such a great event, I love catching up with some of the kids," Colquitt said. "When you come to an event like this and you're preaching to kids about dental health and full body health and exercising for 60 minutes a day and eating well, I think they'll listen to an NFL player, and God gave me that light and I have to use that."
That impact was felt throughout the event.
"Honestly, those are special people right there, in addition to being outstanding athletes," McCarthy said. "They got up after a game on the road, literally on the other side of the country, to be here with the children of Kansas City. Man, people like Dustin Colquitt, that's special people right there."
Memebers of the Chiefs Community Caring Team, led by punter Dustin Colquitt, joined with United Way to host a TeamSmile event for underserved children in the KC area at Arrowhead Stadium.