Reid said there were no new injuries to report.
"Everyone practiced, Donald [Stephenson] included. We did a 10-10-10 [practice], so it wasn't all that strenuous, but it was enough to where the guys got out and ran around a little bit."
Reid made it clear that the team has moved on from Thursday's loss to the Broncos.
"We've kind of moved on, so that's where I'm at. If you're still on that game, you and I are in different places. We're deep into the Packers and getting ourselves ready there."
Reid spoke about Eric Berry's return to Arrowhead Stadium.
"That's a great story and most of all I think it's a great tribute to him and his family on just believing that he was going to get better. His doctors, his primary doctor that took care of him, and the nurses, everybody else... there were a lot of people that that affected. Most of all, it's just great that he's alive and he can play. It's a beautiful thing."
Reid talked about the tight end sets with Travis Kelce, Demetrius Harris and James O' Shaughnessy.
"I think throwing different personnel groups out there is a good thing as long as they're capable players, and those guys, the three of them, do a nice job. They work well together in both the run and the pass game. They do a nice job."
Reid spoke specifically about rookie James O' Shaughnessy's development.
"He went to a little bit smaller school. He made it through training camp, which was a good thing. He pushed himself through. You go through there and your legs get tired. Your body, your mind, everything's tired. He battled through that and he's come out on the other end of that now. He looked like he played fast in the games and had some productive plays."
With the next game not coming until Monday against the Packers, Reid explained the practice schedule for the Chiefs this week.
"What we've got is tomorrow will be like a Monday, so they'll have tomorrow (Tuesday) off. Then we're right back into the regular week. Tomorrow will be a Tuesday, then Wednesday they'll be in and do film and lift and all of that. Thursday will be like a Wednesday and so on. Just all the way through."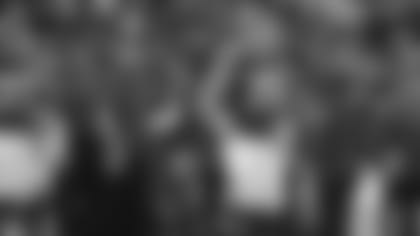 Reid said Eric Fisher would be at the right tackle spot when they practice on Thursday.
"[Fisher] did good today. He's feeling better, so he'll be in at right tackle spot and we'll just see how he does. I want to see how he does once we get rolling here. Today it was better. This bit of a rest has helped him out and it looks like he's headed in the right direction. We'll see how he does on Thursday, which would be a Wednesday practice. We'll just see how he does there." Reid talked about the challenge of playing at Lambeau Field.
"It's similar to Arrowhead. It's one of those places that made the NFL the NFL and what this league is. Both places are part of history in this league. So there's that element, but you really focus in on the football team. When you're playing a team there, that's what you do. When you're coaching a team there, you're not really worried about 'This is Lambeau,' you're worried about that opponent coming in and trying to get ready. It's vice versa when you're on the other side of it."