The speculation began to build as time ticked by.
Somebody was coming – and while nobody knew who exactly was stopping by Central Middle School on this Tuesday afternoon – this was clearly not going to be an ordinary day.
Soon enough, curiosity transformed into disbelief as 12 familiar faces started to pour into the classroom.
Linebacker Tanoh Kpassagnon was first, followed by wide receiver Marcus Kemp and linebacker Anthony Hitchens. Eight more players, along with President Mark Donovan, followed close behind, and in the blink of an eye, a fifth of the Kansas City Chiefs' roster was standing in front of the class.
Defensive tackle Allen Bailey, safety Eric Berry, kicker Harrison Butker, wide receiver Chris Conley, defensive tackle Joey Ivie, safety Jordan Lucas, offensive tackle Mitchell Schwartz and defensive tackle Xavier Williams rounded out the group.
The excitement amongst the two dozen middle schoolers was palpable.
"It was awesome. You could just see pure excitement on their faces," Williams said. "When someone is that happy to see you, it makes you even happier to see them."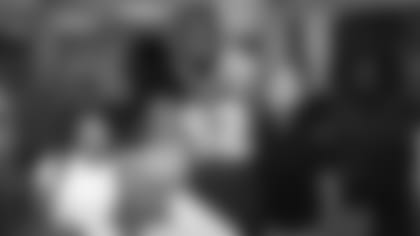 One kid threw her hands in the air while another pumped his fist. The elation was real.
This well-executed surprise was just the beginning of the "4th Quarter Program," a player-driven initiative designed to address social justice focus areas of particular interest to the players themselves.
The visit marked the "first quarter" of the program, which sought to emphasize the importance of education.
"Education is a priority for me personally because it's something that was always harped on in my house growing up. Regardless of what it was you wanted to do or what goals you had, education was always at the center of our household," Conley said. "School is where you're interacting with people, you're creating relationships and you're learning what it is you want to do [in your life]."
The players conveyed that message on Tuesday by helping each student craft tangible reflections of their goals and interests on "vision boards." Whether it be through magazine clippings or drawings of their own, the intent was for the kids to create reminders of what they want to accomplish in their lives.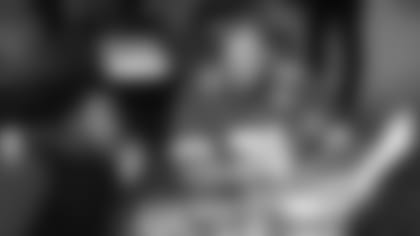 It was a creative and fun way of explaining a critical message.
"I saw a lot of smiles on their faces. One of the kids in my group said that she hadn't smiled like that in a long time," Hitchens said. "Being here just means a lot. I wrote down goals when I was their age, I kept doing it in high school and I still write down goals today. You never stop making goals for yourself – once you hit a goal, you make a new one."
And while the students adorned their pieces of cardboard with dreams and aspirations, the players had a chance to learn a thing or two themselves.
"One of the kids was explaining his vision board to me, and some of the stuff that he was saying was kind of profound," Conley said. "I just sat back for a minute and thought, 'Man, he gets it.' That's cool. That's always a great interaction to have when you can just bounce things off of each other."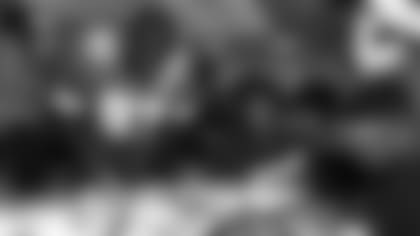 The visit was made possible through a partnership with City Year Kansas City, an organization of full-time tutors and mentors working in public schools with the goal of pushing kids towards graduation.
Before heading into the classroom, a handful of City Year representatives met with the players and explained the enormous impact that they were about to have on some young lives.
"I encouraged them to be advocates for urban youth. I talked about giving back to urban youth and helping out with the school system," said De'Artez Grace, a City Year representative. "My message to them was to give these kids an opportunity that the players may have never had growing up."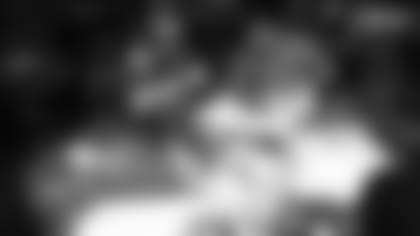 That message seemed to resonate with each of the players in attendance.
"I was in a similar situation as a lot of these kids, so anytime I have a chance to give back, I'm all for it," Hitchens added. "It was just a great day, and I'm looking forward to doing [things like this] again."
Williams, who grew up in Kansas City, echoed something similar.
"[Looking up to the Chiefs] had a big impact on me when I was a kid. Just seeing guys live out their dreams gave me something to strive for," Williams explained. "Hopefully, I can be that guy for some of these kids. I can let them know that it's possible to make it and live out their dreams."
And as each group presented their vision boards in front of the class, it appeared as if that intended effect was realized.
"Something as small as just showing up can seem insignificant, but it can put a smile on someone's face and it can really make them think, 'Man, they would take the time to come here and sit with me, and they're pretty cool. They're not this mythos of what an athlete is,'" Conley said.
"These kids encouraged me today, and I'm hoping that we encouraged them, too."
Chiefs players and staff, including Chiefs' President Mark Donovan, the Board Chair of City Year Kansas City, spent the afternoon with students and teachers from Central Middle School.