One week they force eight turnovers and absolutely dominate their opponent.
The next week it's the total opposite: they give up 43 points in a blowout loss on national television.
It's the curious case of the Kansas City Chiefs defense, which over the past few seasons has proven to be one of the elite groups in the NFL.
Since 2013, they have given up an average of just 18.4 points per game, which is second best in the league over that time, although that's not what anyone is talking about right now because that's not what's fresh in everyone's minds.
In the four games this year, the Chiefs have allowed 27, 19, 3 and 43 points, respectively.
It's been an up-and-down ride, but regardless of whether or not things are going well, the players aren't afraid to let each other know how they feel about their performance, even if that means calling out a teammate.
"We always talk about having skin like an armadillo," safety Eric Berry explained. "You've got to be tough. The things we say to each other, it's only to bring out the best in each other. At the end of the day, we all want to win, and so we hold each other accountable.
"We hold ourselves to a high standard and if somebody's not getting to the ball, or somebody's not carrying out their job, you call them out."
The players aren't just running around criticizing each other whenever they have an opportunity, but there's a bond and a closeness that allows these guys to speak freely with one another without the ramifications of thinking it'll be taken the wrong way.
They trust one another and it's understood they're all working towards the same thing.
"That's one thing we talk about as a group," defensive coordinator Bob Sutton explained of the armadillo skin. "You have to have that ability on the sidelines during games. There's emotional things going on and if somebody is coaching you hard or you're coaching a guy that's getting upset, you can't get in the fray from that moment."
Sutton explained that it's more than just handling criticism and not taking it personally, but that oftentimes there are messages that need to be understood in the heat of the moment.
It takes a strong foundation of respect to acknowledge these things when the pressure is on and the lights are shining.
"The truth is everyone probably wants to hear the message, but human nature says, 'If I feel like I'm under siege, a lot of times I'll bristle up. I don't care what you're saying, I'm not hearing that right now.'
"To me, the ability to hear the message in that moment is fundamental to being successful. Especially in an emotional game like this, you've got to hear the truth and you've got to hear what's being said. It's one thing to listen, but you've got to really hear it."
The defense's up-and-down performances so far this season have provided situations in which these conversations have to take place, both during the game and also when they're watching film in the days after.
"We've shown signs of being a great defense, and we've shown the opposite as well," Berry added. "We're very honest with ourselves when we watch the tape."
Berry explained that the communication works both ways.
"If I'm doing something wrong, Ron (Parker) doesn't hesitate to say something to me," Berry added. "It's just having that type of bond and type of relationship that you can take criticism from your brother that's playing next to you."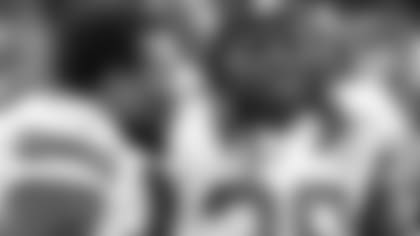 Veteran linebacker Derrick Johnson agreed.
"You can't take it personal," Johnson explained. "That's the accountability part you need to have with your teammates. We have a lot of high expectations and when things break down like they did in the Pittsburgh game, that's not allowed.
"We all know where we want to be. The goal is to win it all and you can't do that with selfishness or a prideful attitude."
It doesn't take much to find a symbol on that Chiefs defense of how to handle adversity.
Johnson explained that during the comeback win over the Chargers in Week 1, which proved to be the greatest in franchise history, he remembered looking over and thinking about the things Berry had to overcome the past couple of years to find his way back to the field—a cancer diagnosis, chemotherapy treatments and a long, tough road back through rehab.
Suddenly a 17-point deficit with less than 10 minutes remaining didn't seem so difficult.
"What he's been through off the field, this is easy," Johnson recalled telling himself in the midst of the 33-27 comeback win in overtime.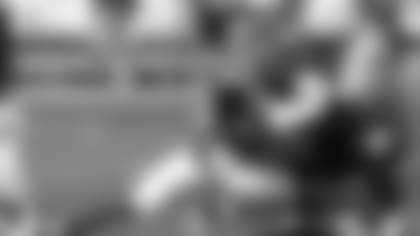 Berry, the NFL's reigning Comeback Player of the Year, understands that what he's gone through over the past couple of years gives him another platform to be heard, another reason to be respected.
He was named to the All-Pro team just 397 days after originally being diagnosed.
"I just have to remember there are certain things I know, and certain things I've learned that I need to share with my teammates," Berry explained. "Things like coming back in a game or coming back during a season, I've done things with my life on the line."
Sutton is still enamored with everything Berry has done.
"I marvel at it," Sutton, who was wearing a red band on his right wrist in honor of Berry, explained. "That's why I keep his band on, because I think what he did was amazing. And like he would tell you, the appreciation for the moment is much greater now, so I think players naturally drift towards him if they ever have issues.
"That wisdom—that experience, is something he has that very few people have. It's just the truth."
The truth, much like the armadillo skin, is often tough to deal with, but necessary to protect what's most important.
In the case of the Chiefs, that's picking up a win on Sunday over the Oakland Raiders, and there's every reason to believe they'll be ready to play.