It's back to work for the Kansas City Chiefs, who return to the practice fields today at 1:20 PM CDT.
During Monday's press conference, Chiefs head coach Andy Reid said his staff had already begun preparing for this week's matchup against the 3-1 Tennessee Titans and the players' work would begin today.
"We'll enjoy it for a day until the players get back in," coach Reid said on Monday. "As coaches, we jumped back in and our enjoyment part of it (Sunday's victory) is over, and we're getting ready for Tennessee. They're a good football team."
Much of the team's 4-0 start is due to the way it has embraced the 'hard-hat, blue-collar' work ethic, exemplified by Chiefs S Eric Berry's postgame interview.
"We're very excited," Berry said. "We felt pretty good, going into the game, but we just have to keep working though. It's a great feeling, but we're just going to keep building on top of this; we'll see what we can do next week."
Berry was part of the Chiefs defense that allowed just one early score by the Giants in Sunday's 31-7 win.
"Everybody steps up in the secondary," Berry said. "We have players, who are back-ups, but they're really starters and you're a starter, when you get on the field; that's our mentality. We just went out there and played ball. Everybody in our secondary, we compete and we talk about that every day. Next man up and that's how we go, each week."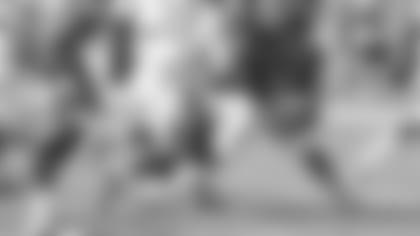 During "EB's" postgame interview, I asked him how long the guys would enjoy the win.
"We got (Chiefs strength and conditioning coach) Barry (Rubin)," a smiling Berry said. "Barry's going to make us come in and get our lift in. We'll come in and get a lift and just keep working. Everybody's still hungry and so, we're going to keep working."
Coach Reid spoke to the impact Rubin and his staff, as well as Chiefs head athletic trainer Rick Burkholder and his staff, has on the team's hot start.
"Barry (Rubin) and his crew do a great job of getting the guys in shape," coach Reid said on Monday.
"This isn't something that just takes place right now, but it's taken place all the way through the offseason and this allows you as a coach to be functioning at a high level, throughout that fourth quarter. Then you add the trainer (Burkholder) into the mix; it's a group effort. It's the players and their want to do those things and to listen to those guys and train themselves right; then they maintain that focus and that confidence, once you get into the fourth quarter, that you know you have some juice left, especially in a hard-fought game. That (31-7) score was a little crazy; that really doesn't tell you the full story, all the way to that fourth quarter, that was a battle. The guys maintained their presence and played at a high level."
Chiefs CB Dunta Robinson spoke to the team's win, but like his teammates, maintained proper perspective.
"It's a wonderful feeling," Robinson said. "You can never get too high and too low in this game. 4-0 is a great start, after four games, but we have a lot of football left to play and we just have to keep coming out and working hard."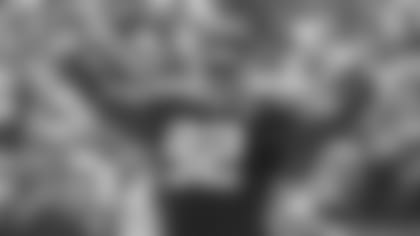 Dontari Poe fittingly summed up the Chiefs defense in 2013.
"We have a defense that calls for each player to play a certain style, to make plays," Poe said. "As long as plays are being made, we don't care who it is; we're just playing team defense."
Poe also smiled and described the Arrowhead crowd's role in Sunday's win.
"Electric," Poe said. "You can feel it in your lungs, when you get tired, they give you an extra breath and it's the best feeling in the world."
Chiefs fans hope their team's defense is just part of another three-phase effort this Sunday, playing to the tune of another win, this time in Tennessee.