It is Christmas night, and raindrops pelt down on the Arrowhead Stadium grass.
Pregame warm-ups are over, but one Kansas City Chief remains.
He is on one knee in the west end zone, peering out into the distance. The attendance for the game is officially listed as 76,671, but in this particular moment, he may as well be the only person in the stadium.
Number 29 is visualizing; number 29 is grateful.
"I do that all the time, even in walkthroughs," Chiefs safety Eric Berry said, describing a habit that perhaps contributed to the third first-team All-Pro campaign of his career. "Just going through everything, like you can pretty much have a limit on physical reps, but mental reps and visualizing and just really painting that picture on how you want to play the game, that plays a big role in what you actually really do, so I like to do that, and also, I just like to appreciate the moment and just take it all in, and go from there."
If there is one player in the entire league who understands how delicate those moments are, it is Berry, who had it all—his health, life and career—taken away from him when he was diagnosed with Hodgkin's lymphoma in December of 2014.
But there he was in the end zone, nearly two years later to the date, ever thankful to be able to feel the rain.
And now, as the Chiefs enter what could be described as their most promising championship opportunity in more than a decade, he has become their reason to believe.
"This morning, Eric Berry got up and made a speech," rookie defensive lineman Chris Jones said Wednesday afternoon. "[Berry said] you have to believe it in your heart, and that it all comes from within. If your heart believes, then your mind and body will follow. That touched me and made we want to play [right now]. It was like one of those Ray Lewis speeches.
"When that guy talks, he grasps everybody's attention."
In other words, Berry's message carries to those on the other side of the football.
"I'm sure Berry is a big leader on the defense, but I consider him a big leader in the locker room, period," offensive lineman Laurent Duvernay-Tardif explained. "He's one of those guys that will always do the talking before the game and he's just always able to find the right words. Sometimes he doesn't say much, but it's the intensity and the way he said it that gets you pumped up.
"When you're on the sideline, you look at him play and the way he plays and he goes with so much intensity. He's chopping people, blocking people, tackling and making big plays—we saw it in the Falcons game."
The Falcons game that you could say was the most meaningful of Berry's career—one in which he recorded eight points via a pick-six and the first pick-two in league history in his hometown of Atlanta, at a Georgia Dome just walking distance from where he defeated cancer.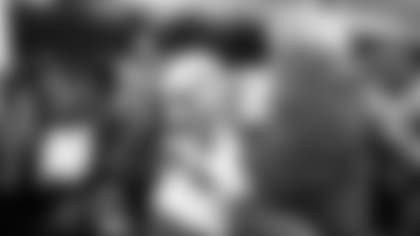 That game occurred just three weeks prior to that pregame visualization on Christmas night, right before the Chiefs would knock the defending Super Bowl champions out of the playoffs with a convincing 33-10 victory.
Berry picked Trevor Siemian off on the final play of the game.
Minutes later, he addressed every member of the team.
"What he said after the game was that, 'We're supposed to do this,'" kicker Cario Santos recalled. "'We're supposed to beat these guys and we're supposed to win and be this great.'
"That's great, because we were all celebrating and were happy for this achievement, but he reminded us not to be surprised by this. We're supposed to be this great."
"For me, he's always been a guy that has a different perspective on things," Alex Smith added. "The one thing that I appreciate is that it always comes from the heart with EB, and obviously with his message being about heart, it's always sincere.
"He doesn't do it unless there's something he wants to say. He's not a guy that always gets in front of the room."
On Wednesday morning, before the Chiefs began this critical practice week, Berry spoke again.
"You just don't want to take this for granted," Santos said of Wednesday morning's speech. "His point was that you can focus on getting your mind right and getting your body right, but if you get your heart right, that'll take care of everything."
Maybe Berry knows something everyone else doesn't; maybe he realizes this is the Chiefs' best chance in 14 years.
No matter what it is, for whatever reason, the Chiefs do too.