There's not a single ounce of disingenuousness in him.
It's not a facade—what you see is what you get with Kansas City Chiefs safety Eric Berry, who recently signed a multi-year contract extension to keep him in Kansas City.
Berry, whose story is right out of a Hollywood movie, spoke with the media on Tuesday afternoon with his two biggest supporters—mom and dad—flanked on each side of him.
While he'll say what he means and mean what he says, which is often thought-provoking and properly illustrates why he's revered amongst his teammates, Berry himself puts faith in things that aren't as palpable or tangible as his character, and those "signs," as he describes, have long pointed him to staying with Kansas City.
"I actually knew a long time ago that I'd be here," Berry explained. "It was out my control, it was out of the Chiefs' control as well—I just felt like it was inevitable from the signs of the past. There were too many things lining up—my high school team was the Seminoles and ended up playing for the Chiefs—just little things like that."
But what happened following a game two years ago—not long after his first interception of the year against the Pittsburgh Steelers and in the midst of a franchise-best 11-game winning streak—was perhaps a bigger sign to him than a connection between team names.
"I lost my dog tag (during a game), which is really precious to me," Berry explained. "I lost it and (team security manager) Brian (Shafar) and [stadium services manager] Rocco (Mazzella) and his staff ended up finding them after a game, separated the tag and the chain.
"I was like, 'Well, it must be meant to be.'
"I lost my chain, and it was buried at Arrowhead, and I get it the next day—it was resurrected."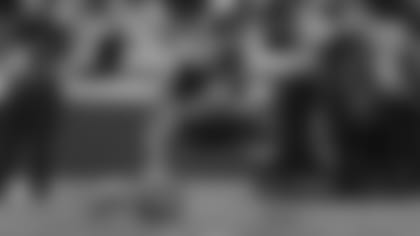 For someone as deep a thinker as Berry, the symbolism wasn't lost upon him. He had been through so much over the previous couple of years and the goal was always to fight his way back onto that same field.
At that point, Berry knew there were signs pointing him to being in Kansas City—not only because of what the situation with his dog tags symbolized, but also because of the staff's interest in helping him find something that meant a lot to him.
Initially, the necklace portion was found after the game before Berry had said anything, and when the necklace was returned, Berry said he was also missing the dog tag portion.
That's when the grounds crew went out and searched the field, and ultimately found them.
"I just put faith in little things like that," Berry added. "All in all, I just felt like this was the right place to be."
During his presser on Tuesday, the "family atmosphere"—a phrase often overused by many and ranking up there with all-time clichés—couldn't have been a more apt description in this case of what Berry said is special and was important in his decision to staying with the organization that originally drafted him in 2010.
"Chemistry and consistency," Berry explained of why he wanted to stay with the Chiefs. "I know what I'm going to get every time I walk into the building. I'm comfortable here and I have a good feel for it. I didn't want to rebuild all of that—even though I felt like I could have.
"At the same time, why do it when I have everything I need right here? Why do that when you have people here that genuinely care about you as a person? I know everybody in the building. I know what desserts are going to be in the building from chef Erin (Wishon), I know we're going to have wings every Thursday. And if there's something that we don't like in the cafeteria, we can talk about it and get it done. That's just a part of it.
"I hear other things around the league and it's not always like that, so why risk that and go somewhere else when you have to rebuild that chemistry and you already have it with the people you work with?"
Berry knows what's important to him.
"My dad tells me that all of the time," Berry explained. "Know thyself and stay true to that. I don't have to go out here and try to be somebody that I'm not."
For Berry, that's why he's as beloved as he is, not only for the player he's proven to be on the field—a first-team All-Pro and one of the premier defensive players in the league, but also for the man who knows everyone in the building by their first name.
From the cafeteria workers to the custodians to the groundskeepers and office staff—Berry is a player who has transcended the sport and shown everything good about what it can be.
After his press conference on Tuesday afternoon, Berry even took the time to thank a handful of Chiefs staff members who came to his presser.
"It's about character and consistency," Berry concluded. "You can have all the talent in the world, you can jump through the roof and run a 4.2, but if you don't have good character and consistency, it's not going to take you far.
"I try to bring that to every aspect of life."