It's one of the best stories in all of football this season.
Kansas City Chiefs safety Eric Berry overcomes cancer and returns to the field just nine months removed from his initial diagnosis.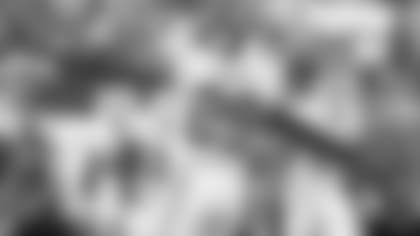 The story doesn't get old, and with every passing week, Berry does something to add another chapter into the story that'll eventually be told for generations to come.
Berry added another "best" on Sunday in the form of one of the best tackles from a Chiefs defender this season.
Early in the second quarter, Berry made a play on second-and-10 on a quick pass from quarterback Philip Rivers to receiver Stevie Johnson on the outside.
What Berry did was unbelievable, or quite believable for those who have watched what the three-time Pro Bowler has done this season.
"That tackle he made on the quick screen I thought was a superior play," Reid said on Monday. "You just don't see that very often where he goes underneath an offensive lineman, pops up and makes a tackle on a screen.
"I mean that was ninja-esque."
There have been hundreds of words used to describe Berry's impact, personality and character through everything he's endured over the past year, and now the word "ninja" can be added to the growing list of terms.
Berry finished the game with 8 total tackles, second on the team only behind linebacker Derrick Johnson, who had 9.
He played 55 of the possible 60 snaps for the defense.
After the game, Reid spoke about the man he sees out on the field now compared to the man he saw during his treatment.
"It was hard to believe at that time from what my eyes were telling me," he explained of Berry's insistency that he'd be back, "but what your eyes tell you and what your heart tells you are two different things sometimes.
"In my heart, I was hoping that that would happen, and he's done that. He's come back, and every week he's gotten a little bit better and he's playing really good football right now.
"He's playing with great energy and just playing good football. You felt like it was going to get here. You just felt like his mindset gave you that confidence that it was going to get to where we're at right now."
Berry's mindset has helped this defense look truly elite over the past six games, during which they've allowed a league low of just 12 points per game on average.
Photos from the Chiefs Week 11 matchup against the Chargers