There couldn't be a better story this season than what Kansas City Chiefs veteran safety Eric Berry just accomplished on Sunday during the team's 29-28 victory over the Atlanta Falcons.
Berry, who grew up 25 miles southwest of downtown Atlanta in the community of Fairburn, is the NFL's reigning Comeback Player of the Year after beating cancer and being named an All-Pro less than a year later.
That's the story everybody already knew before Sunday, but Berry added another chapter to his amazing journey with his performance at the Georgia Dome, which sits just a few blocks from Emory University's Winship Cancer Institute, where Berry underwent his chemotherapy treatments.
In front of dozens of friends and family members and those who helped him through the biggest challenge of his life, Berry made two plays that will forever go on his career highlight film—the first was his second pick-six of the season and the other was a pick-2, which had never happened in an NFL game before.
"It's amazing," Berry said after the game of what everything meant to him—playing that well in this moment. "I'm just thankful. Going through so much in the city with my family and my friends – both cities: Atlanta and Kansas City. I've had so much support from my friends and teammates. Everybody just kept me focused and kept me locked in.
"They said this moment would come, and we're not done yet."
Berry followed up by saying that while the moments on the field will forever be remembered by his coaches, teammates and fans for what they did in leading them to a victory on Sunday—the feeling they provided his family—his support system—was special for him.
"I just wanted to show everybody that the support I had and the people that put everything on the line to make sure I was OK—that it wasn't in vain," Berry explained. "I was listening to them when they told me to keep pushing. I was listening to them when they told me to keep staying focused, and I was listening to them when they said that I'd be back one day and playing the game how I want to.
"That goes for my parents, my family, to number 50 [Justin Houston], to Ron Parker – we talked about this stuff in my living room right after cancer treatments. It's truly an opportunity that I'm thankful for and I won't take it for granted. I'm going to keep pressing and keep putting in the work."
With less than a minute remaining in the first half and with the game tied 13-13, Berry stepped in front of a Matt Ryan pass intended for Taylor Gabriel and picked it off, and once the ball was in his hands—Berry wasn't going to be denied in getting to the end zone.
Berry returned it 37 yards for the score and then promptly ran over and gave his mother the ball.
"I made my mind up before the game that I was going to give her the ball when I got it," Berry said. "I try to give her whatever, but it won't amount to the things she has given me, and my dad as well.
"I shed a few tears before the game, I shed a few during the game, and I shed a few after. I think I held it together pretty good, but it was a lot of emotions, so I just tried to contain them and let it show through my plays."
They did shine through, and Sunday was one of those days that nobody will soon forget because of how much those emotions transcended the game.
"You're talking about a man that's undeniably one of the best around," veteran defensive lineman Dontari Poe explained of Berry. "His work ethic and what he overcame to get to where he is right now – just the guy he is – and to see him come home and put on a show like that—it's special.
"When you're around EB, every game means a lot to him. There's really not too much of a difference, but at the same time, his family is out there watching him. I know he's really close with his brothers, his mom and his dad, so it's good to see him put on a show like that."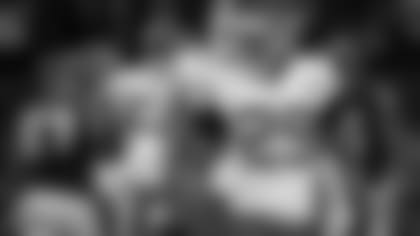 Berry's show continued after that pick-six.
With the Chiefs holding a 27-22 lead late in the fourth quarter, the Falcons offense found the end zone as Matt Ryan hit Aldrick Robinson for a 5-yard touchdown pass with a little more than four minutes remaining in the game.
After the Chiefs had led for most of the game, the Falcons had taken a 28-27 lead late and were attempting to make it a three-point game with a two-point conversion attempt.
As Ryan dropped back and threw to his left, Berry once again read his keys, made a break on the ball and stepped in front of the crossing pass for the interception—racing 99 yards the other way to give the Chiefs two points and the lead back at 29-28.
It's the first time since the NFL adopted the rule in 2015 that a two-point conversion was intercepted and ran back the other way for a score.
Leave it to Berry to do something that had never been done before, and in the context of giving his team the lead back with just over four minutes remaining in a key road game late in the season.
"I mean, it's a normal routine for us," cornerback Marcus Peters said. "We know what type of player [Berry] is, how dominant he is and how he leads this team. We're all on the same page of where we are and where we want to go.
"We all fight together – it's a family. For him to come home and do what he did, that's big."
For the fourth time this season, the Chiefs went on the road and beat a quality team.
They already have wins against both defending conference champions—the Denver Broncos and Carolina Panthers—as well as the division-leading Oakland Raiders (9-2), and now, the NFC South division-leading Atlanta Falcons.
"It's all about the process," Berry explained. "When you put in work and put everything into the process, the product is always going to be good. There's no reason to be surprised. We can clean up some things but there's no reason to be surprised or get too high about this win. We still haven't reached our ultimate goal, so there's no reason for us to act like we did.
"Yes, it's a step in the right direction, but we still have a lot of work to do."
Photos from the Chiefs Week 13 matchup against the Atlanta Falcons