When Kansas City Chiefs' safety Eric Berry speaks, people tend to listen.
Whether it be his teammates on the field at Arrowhead Stadium or an auditorium full of local kids, Berry's authentic passion for seizing life's hurdles commands the attention of those around him.
That was again the case this Tuesday at Turner Middle School as Berry surprised over 60 students to congratulate them on being named the national "Fuel Up to Play 60 Kickoff" winning school.  
"It's about getting kids active," Berry explained. "When I was younger, even when it was cold outside, I'd see kids in my neighborhood playing outside. You don't really see that too often nowadays…you see them inside or on their phone. So, anything I can do to promote kids to be active and have fun – that's pretty good."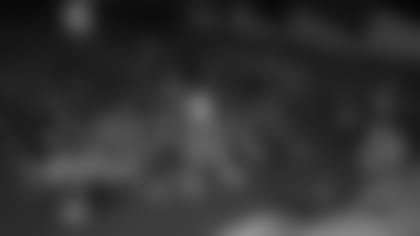 Fuel Up to Play 60 exists as a partnership between the NFL and the National Dairy Council that strives to encourage kids to embrace healthy lifestyles at a young age.
More than 2,500 schools participated in the initiative this past year, with Turner winning national recognition among its peers and a visit from Berry.
"Eric being here is huge," said Dottie Ryan, Vice President for Fuel Up to Play 60. "I'm a registered dietitian and I can talk nutrition all day long, but when a pro athlete, especially somebody with Eric Berry's inspirational story, comes in to a school and talks with kids, it really has an impact."
Berry's advice on being active was simple enough.
"Man, just do it more," Berry said. "It's OK to go outside, run around and get sweaty. You'll come inside smelling bad and your parents might say that you stink, but that's OK. Go out and have fun. That's where your friendships are built. Get off your computer or your phone and just get outside and have fun being a kid."
Berry certainly has authority on the issue, earning five Pro Bowl nominations all the while battling back from multiple injuries and a cancer diagnosis in 2014, paving the way for just about anything he says to have a lasting impact.
"Schools and teachers will tell us that days like this are the ones that their children will remember forever," Ryan said. "Having a pro athlete really helps give this program sizzle, and it makes kids realize that, 'Hey, maybe I should take care of my body if I want to do great things.'"  
Kansas City Chiefs safety Eric Berry and KC Wolf attended a Fuel Up To Play 60 event at Turner Middle School on Tuesday.