If the description of the player at the podium was that he had a huge smile on his face and cracked a couple of jokes with the local media before answering their questions, the first player you'd probably have guessed wouldn't have been Kansas City Chiefs left tackle Eric Fisher, but that was the case on Saturday evening following the team's first open practice of training camp.
He was relaxed, jovial and happy, and he had every reason to be after signing a contract extension earlier in the day that will keep him in a Chiefs uniform for the foreseeable future.
"First off, I'd like to thank the Hunt Family, (Chairman and CEO) Clark Hunt for giving me the opportunity to be a Chief potentially for life," Fisher opened at his press conference. "I'd like to thank head coach [Andy] Reid, (general manager) John Dorsey and his staff, my agent Joel Segal and Geoff Garmhausen for doing a great job getting this done."
It has been a whirlwind for Fisher over the past few years.
He originally joined the Chiefs as the No. 1 overall pick in the 2013 NFL Draft, and over the past three seasons has played in 46 games with 43 career starts.
In what could be argued as it being only a coincidence, the franchise-best 11-game winning streak last season for the Chiefs perfectly coincided with Fisher's move back to left tackle from the right side, where he had been for the previous four games.
While it's never about one player, the fact is the team won a lot of games with Fisher moving back to the left tackle position.
"I thought he continually got better last year," head coach Andy Reid explained. "I still think he has plenty of room to improve and I think he will continue to do that. He has a good work ethic."
Reid understands what this extension means on a deeper level for Fisher, who had to deal with some harsh criticism early in his career.
"He's kind of grown up before our eyes," Reid explained. "He was a young kid coming in from a small school and joined the National Football League. I know there are games he wished he could have back when he was young.
"He had a couple of injuries in there, but he persevered through it and he got rewarded."
Some of the people who witnessed the struggles for Fisher up close were also some of the happiest for him when they heard of the news on Saturday.
"I think that's one of the most special parts of the day," Fisher explained. "Seeing my teammates happy for me. I've had highs and lows in my career, and I've been with these guys for the last four years and to see them supporting me, it's a huge thing for me.
"Building these friendships and bonds over the last four years, we have a really tight knit group here and I'm looking forward to continuing the journey with them."
If there's one player who knows more than most as to what Fisher has meant to this team, it's quarterback Alex Smith.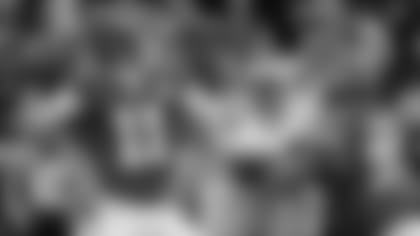 That's the guy Fisher is tasked with protecting, and he'll now be accepting that challenge for another few years.
"I think it's been a steady climb since his rookie year," Smith explained of Fisher. "I think he's continued to work hard in areas that needed to he's needed to work. He's never settled; he's never gotten complacent. He's been real with himself, he's continued to work on things and he's really just progressed.
"It's one of the hardest positions in football. There is no off week. Every single team has a guy on that side of the ball that can go get the quarterback. As a young guy it's hard, week-in and week-out. The guy makes two plays a game; you're in the paper. You can dominate him the rest of the game but he beats you twice and everybody knows it. It's a tough position and I think he's handled it really well, mentally and physically. I think he's matured in both of those areas.
"I think he's just continued to chip away at that and I'm happy that he's being rewarded for it."
Despite the ups and downs in his career, Fisher is excited to continue to call Kansas City his home.
"Over the last four years now, I've learned to love the city, love the people around the town," he said. "We're looking to do big things and the chance to be a Chief for my whole career?
"It doesn't get much better than that."
Photo highlights of Eric Fisher