Leagues from all over the Kingdom gathered at Arrowhead Stadium on Labor Day to host their drafts and assemble their teams for this year's Fantasy Football season.
From the comfort of their own private suite, on the Scout Investments Club Level, leagues were able to access Wi-Fi and create their squad. The Chiefs are the first NFL organization to open their stadium doors and host an event such as this for the community. Thirty-one suites were occupied with 315 enthused fantasy owners.
"The Chiefs are the only team in the NFL that offer this up for a fan base and we all come to the games anyways, so, we might as well come out here and have the ultimate fan experience in a suite, looking at the field and feeling a good vibe," Jason Bleich, fantasy football team owner, explained.
Chiefs general manager John Dorsey also stopped by, visiting a few suites to meet fans, assess teams and offer advice, even though the draft guru himself knows nothing about fantasy football.
"These are the fans that inspire us to do what we do and they represent the Chiefs," Dorsey commented. "I came here to pay a little thanks to them and really to learn fantasy football, because I know nothing about it. It appears to be a high success though and this goes to show you the passion and dedication of the Chiefs fans."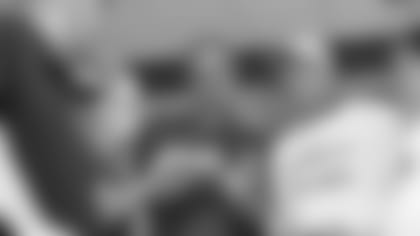 Each league received a draft package, which included a buffet, open bar, one game ticket to the October 27th game, an official NFL Fantasy Draft Kit and a personalized photo of their league.
"It's one of the most-unique draft situations one could get," Bleich noted. "You get a customized draft board to put your picks on and your team name, as well as a ticket to the Cleveland Browns game. It's great."
Many of the fantasy football team owners have been participating in their leagues for decades, but thought this draft was the best yet.
"We're having our twentieth draft and we're so excited to be here at Arrowhead," Chuck Pennewell, a fantasy football commissioner, commented. "What better way to do a draft than looking out at that great field? We're pumped. It just enhances the relationship the Chiefs have with the community so we are very grateful to have our draft here."
Another league that has been together for four years was also thrilled for this unique opportunity.
"It makes me proud to be a Chiefs fan, because they're the only stadium that does it," Kaitlin Ferris, back-to-back league champion, noted. "We're the only fans that can say we drafted at Arrowhead."
Check out more photos from the event here.