The Kansas City Chiefs bolstered their offensive line depth on Friday night by selecting TCU offensive lineman Lucas Niang in the third round (No. 96 overall) of the 2020 NFL Draft.
Here are five things to know about Niang.
1. He was a three-year starter for the Horned Frogs
Niang arrived at TCU at just 17 years old and went on to play in 44 games (27 starts) over his four seasons there, lining up at right tackle throughout his time on campus.
He made 13 of those starts in 2018, earning the highest pass-blocking grade among Big 12 offensive tackles (min. 300 snaps) according to Pro Football Focus and a Second-Team All-Big 12 nod.
Niang proceeded to make six starts in 2019 before a hip injury ended his season.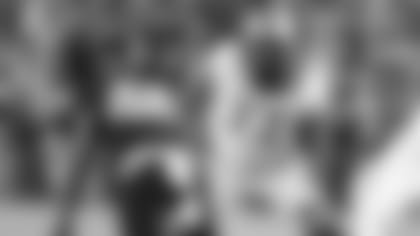 2. Remarkably, Niang didn't allow a sack over his last three seasons in school
According to Pro Football Focus, Niang didn't allow a sack in nearly 1,000 pass-blocking snaps from 2017-19. That achievement wasn't without its challenges, either, as Niang faced the likes of Ohio State pass-rushers Chase Young and Nick Bosa during that time.
Niang checks in at six-foot-six and 315 pounds. He's now the second-largest combination of height and weight on the Chiefs' roster, trailing only starting left tackle Eric Fisher, who stands at six-foot-seven and 315 pounds.
4. Niang spent part of his childhood in Switzerland
Niang, whose parents moved to the United States from France before he was born, relocated to Switzerland when he was young before returning to the United States two years later. He's also fluent in his parents' native French despite being born in New York City.
He took up football in the fourth grade and immediately displayed the competitive nature that still fuels him today, burning his second-place Pop Warner Trophy following one of his first seasons playing the game.
"From a young age, I was not OK with second-place," Niang explained in his web call following the draft.
5. He was a highly-touted recruit out of Connecticut
Niang attended New Canaan High School in New Canaan, Connecticut, earning First-Team All-State honors while helping his squad win three-straight state championships. He was high-school teammates with Arizona Cardinals' defensive end Zach Allen at New Canaan, making it back-to-back years that a New Canaan alum found himself picked in the third round of the NFL Draft.
And for Niang, he's now the newest member of the defending Super Bowl Champions.