The Kansas City Chiefs continued to reshape their offensive line on Monday by officially acquiring offensive tackle Orlando Brown Jr. from the Baltimore Ravens in exchange for a package of draft picks.
For reference, the Chiefs now own the following picks in the 2021 NFL Draft:
No. 58 (Round 2 – From Baltimore)
And here are five things to know about the newest member of the squad.
1. Brown has spent the entirety of his young career to this point with the Baltimore Ravens.
The six-foot-eight, 345-pound Brown appeared in 48 games (42 starts) over the last three seasons for Baltimore after the Ravens selected him in the third round (No. 83 overall) of the 2018 NFL Draft.
Brown took over as Baltimore's starting right tackle midway through his rookie campaign - starting the Ravens' final 10 games on the right side - and remained there through the 2019 season, where he started all 16 games. Brown continued in that role to begin the 2020 season, but an injury to All-Pro left tackle Ronnie Stanley provided the 24-year-old Brown with an opportunity to show what he could do on the blindside.
He took that chance and ran with it, starting the Ravens' final nine games at left tackle while establishing himself as one of the league's top players at the position. From Week 9 through the end of the regular season, Brown didn't allow a single sack or quarterback hit.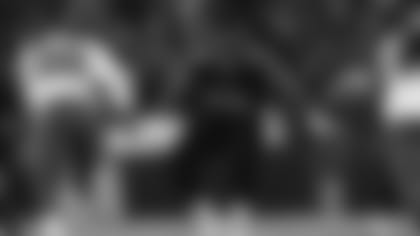 2. He's allowed just six sacks in 48 career games.
A Pro Bowl selection in each of the last two seasons, Brown has allowed just six sacks and five quarterback hits in his three years as a professional. According to the folks at Pro Football Focus, he's been the fifth-most valuable offensive tackle in all of football since 2018.
3. Brown is durable and has excelled as avoiding penalties, too.
No matter where he lined up, Brown has been reliable throughout his brief career. In fact, he was on the field for every offensive snap in each of the last two seasons. Additionally, despite all of that playing time, Brown was rarely flagged.
Players who exhibit excellent play, durability and avoid penalties are hard to come by, but Brown has shown that he certainly qualifies so far through his career.
4. Brown's father also played in the NFL.
A nine-year veteran, Brown's father – Orlando Brown Sr. – played for the Cleveland Browns (1994-95, '99) and Ravens (1996-98, '03-05) during his NFL career. An offensive tackle himself, Brown Sr. – nicknamed "Zeus" due to his massive size – was a monumental force in the younger Brown's life and football career before tragically passing away in 2011.
For more on their relationship, check out this piece by NFL Films.
5. He played his college ball at the University of Oklahoma.
One of the top offensive linemen in all of college football from 2015-17, Brown started 40 career games for the Sooners at left tackle while earning Big 12 Offensive Lineman of the Year honors twice (2016, '17) and unanimous First-Team All-America recognition in 2017.
Now, after three years on the east coast, Brown is headed back to the Midwest to join the two-time defending AFC champions.