The Kansas City Chiefs continued to remake their wide receiver corps on Thursday, adding veteran Marquez Valdes-Scantling via free agency.
Here are five things to know about the newest member of the squad.
1. Valdes-Scantling spent the last four seasons with the Green Bay Packers.
Originally a fifth-round pick (No. 174 overall) in the 2018 NFL Draft, Valdes-Scantling was an active member of the Packers' offense throughout his time in Green Bay. He racked up 123 receptions during his tenure there, tallying 2,153 receiving yards and 13 total touchdowns.
His best season was in 2020, when Valdes-Scantling hauled in 33 grabs for 690 yards and six scores. He also led the NFL in yards-per-reception (20.9) that season.
2. He can stretch the field with his speed and playmaking ability.
Simply put, Valdes-Scantling has some wheels. In fact, according to Next Gen Stats, Valdes-Scantling reached the top speed of any wide receiver on a single play this past season when he topped out at 22.09 miles-per-hour during a 75-yard touchdown grab. It was the 14th time since 2018 that Valdes-Scantling was clocked at 20+ miles-per-hour.
That play was indicative of Valdes-Scantling's ability to stretch the field vertically. He hauled in 13 passes (and six touchdowns) that traveled 20+ yards in the air over the last two seasons, per Pro Football Focus. Additionally, his average depth of target led the NFL in each of the last two years (18.4 yards in 2021, 18.2 in 2020). The man can stretch the field.
It's also worth pointing out that while his speed is intriguing, Valdes-Scantling also possesses a physical frame at six-foot-four, 206 pounds.
3. He was among the top free agent receivers available this offseason.
According to the free agent rankings compiled by Sheil Kapadia from The Athletic, Valdes-Scantling was the No. 55 overall free agent and the No. 11 wide receiver available this offseason. Here's what Kapadia wrote about Valdes-Scantling:
"He played in 11 games last year and had 26 catches for 430 yards and three touchdowns. In 2020, Valdes-Scantling had 33 catches for 690 yards and six touchdowns. He will interest teams looking to fill a very specific role: field-stretching deep threat. Valdes-Scantling has averaged a league-high 18.5 YPR over the past three seasons."
The Chiefs also signed Kapadia's No. 54 overall free agent and No. 10 wide receiver earlier this offseason in JuJu Smith-Schuster.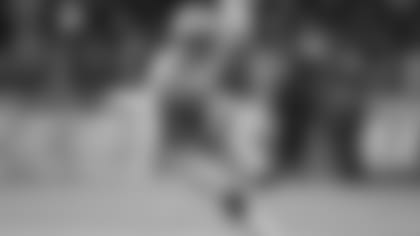 4. Valdes-Scantling played his college ball at South Florida.
A transfer from North Carolina State, Valdes-Scantling wrapped up his college career with two impressive seasons at the University of South Florida. He truly emerged as a star during his senior campaign, catching 53 passes for 879 yards and six touchdowns. In fact, that yardage total was a single-season school record.
5. He wasn't shy about what earning a second contract meant to him on Thursday.
We often get caught up in the larger-than-life nature of the NFL and its stars, but it's important to remember that every professional football player is working toward the fulfillment of a lifelong dream. It's hard to succeed in the NFL, and when guys find success – especially those who weren't immediately in the spotlight – it's worth celebrating.
Valdes-Scantling was sure to recognize that on Thursday afternoon.
That second contract now in-hand, Valdes-Scantling will look to become a major part of Kansas City's offense next season as the Chiefs look to get back to the Super Bowl.