The Kansas City Chiefs were forced inside due to lightning up at training camp on Wednesday about a third of the way through practice, but while disappointing for the fans in attendance, it was still a productive morning for the players.
Second-year running back Tremon Smith, in particular, was the big news of the day as the former sixth-round pick made the switch from cornerback to the offense.
And after two-straight days in pads – the first two such days of the entire offseason program - Head Coach Andy Reid broke down what the focus was on Wednesday at his post-practice presser.
"Today was a 10-10-10 practice – a lighter day – but a big mental day, as far as a big install last night that they had to indulge there and then come out here and function," Reid explained. "With 10-10-10s, we service each other. Offense services defense, defense services offense. You get into specific things that you want to work on that particular day. That's what today was."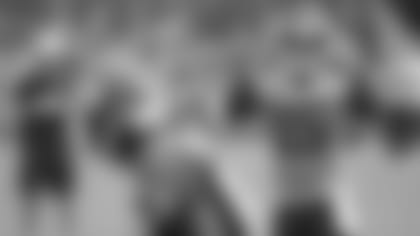 Reid also provided a quick injury update on the guys that didn't take the field on Wednesday. Those players were wide receiver Tyreek Hill (quad contusion), offensive tackle Mitchell Schwartz (back spasms), wide receiver Gehrig Dieter (back), safety Jordan Lucas (hamstring) and tailback Damien Williams (hamstring).
Reid added that cornerback Keith Reaser indeed suffered an Achilles tear earlier this week after undergoing further evaluation by the medical staff.
In addition to Reid, the players that spoke with the media on Wednesday were Smith, cornerback Bashaud Breeland and cornerback Kendall Fuller. Here are five things that stood out from their pressers.
1. With a few days in pads now under the players' belts, Reid was asked to speak to the level of talent up and down the roster at camp this year.
"Brett [Veach] has done a phenomenal job," Reid said. "We're teaching right now. We have a lot of new faces and we have some new coaches, so everybody is working this through. This is the defensive staff's first time going through this process. Lightning hits, where are we going? OK, we're going here. This is what we're doing. We don't stop, we just keep rolling. New players, same thing. We are not taking timeouts. We go and get it done."
Wednesday marked the fifth-straight day that the Chiefs hit the field up in St. Joseph. The team has a day off from practice on Thursday before getting back after it on Friday.
To check out a full training camp schedule, click here.
2. Reid was also asked to discuss Smith's move from the defensive secondary to the offensive backfield.
"Listen, he was the Alabama [3A] Offensive Player of the Year. We had a running back nicked up and I had messed with him last year that I was going to play with him a little bit on the offensive side," Reid said. "So, I moved him over today just to take a peek at him and we'll see how that goes. We know what he can do on the corner side, but I'd like to see him do some of the offensive stuff, too."
As Reid mentioned – while it has been a while - Smith is no stranger to playing offense. The Anniston, Ala. native was a First-Team All-Region selection at quarterback during both his junior and senior campaigns, earning all-state honors in 2013.
Smith also ran a 4.32-second 40-yard dash at his Pro Day a year ago, so it's no surprise that Reid wants to see how that speed can translate to the offense.
3. In fact, the idea of giving Smith a shot on offense isn't a new one.
"It was actually brought up last year mid-way through the season," Smith said. "I was doing [well] on kick returns and [Reid] brought it up. It's been thought of, so it hasn't happened overnight."
Indeed, Smith impressed with the ball in his hands last season. After taking over kick return duties in Week 5, the Central Arkansas product handled 33 kicks and averaged 26.8 yards per return. He brought three of those kicks back for 50+ yards, which included a 97-yard return against New England in prime time.
It all helped Smith earn Second-Team All-Pro honors as a return man according to the folks at Pro Football Focus, and now on offense, Smith mentioned one defining characteristic that he can bring to that side of the ball.
"Just a lot of speed," Smith said. "Me, Tyreek [Hill], Mecole [Hardman], [Damien Williams] – there's going to be a lot of speed on the offensive side and, hopefully, a lot of touchdowns. Being in Coach Reid's system, he's going to find miss matches and find a way to get you open."
4. On the other side of the ball, Fuller was asked to measure where he feels the defense is right now.
"It's been good. I think every day, we're just learning. One thing that we have been preaching is just trying not to make the same mistake twice. Knowing that we are not going to be perfect, but also trying to chase perfection," Fuller said. "Everybody's learning what they are doing, and also what the guy next to them is doing, and just trying to get better. Learning each other - learning each other's strengths and weaknesses - and things like that."
Members of the defense have consistently raved about new Defensive Coordinator Steve Spagnuolo and the approach that he brings to practice each and every day. Fuller's words on Wednesday seem echo that yet again.
5. And with that in mind, it's hardly a surprise that Breeland's thoughts on the defense carried a similar tune.
"I feel like we are on the verge of something special," Breeland said. "The start is what we wanted. The defense - the corners, the safeties and the linebackers - are all meshing together, and I think the defense is coming along pretty good. I think we're doing something special this season."
Considering how close this team was to the Super Bowl a year ago, the confidence the defense seems to be developing at camp is nothing short of exciting.