Alex Smith expects there to be a "smooth transition" in building chemistry with new wide receiver Jeremy Maclin.
When a quarterback first pairs with a wide receiver, it takes time to develop the relationship and timing to be effective, but Alex Smith doesn't foresee that as being too much of a problem.
"He's been in the system, he's learned his terminology," Smith said of Maclin. "None of this is brand new for either of us. So we can kind of come together and talk and I think just even from today, and obviously watching a lot of film. We watched a lot of film the last couple of years, obviously with him at the Eagles and smooth, smooth. Great body language, he's easy to throw to."
As part of Phase One in the offseason, quarterbacks are free to throw to receivers, and the two took early advantage of that this week.
Travis Kelce predicts big things for the Chiefs this season.
"In my mind, the sky is the limit," he said of the team's chances this season. "That is just the confidence that I have in the players, the team that we've been able to put together. I think we can go ahead and have one heck of an outstanding season.
"Whether that's me putting up big numbers, average numbers or whatever statistics that you want to throw out there, I think this is going to be one heck of a team going forward."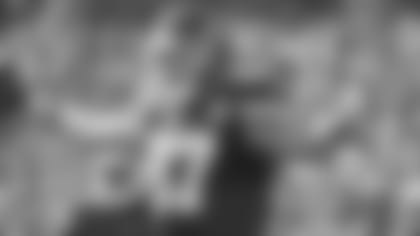 Center Eric Kush is preparing no different than he would for any other year.
Even as reporters pointed out that Kush is currently the only center on the roster, he said his training entering the year has not changed.
"There actually is no difference," he explained. "Every time you go through this thing you've got to prepare like you're going to start anyway. Like last season, anything could have happened with injuries and stuff like that. So every day, every offseason, even every week through the season you prepare like nothing is different. You've got to be ready 24/7."
New Chiefs guard Ben Grubbs was very impressed with the situation he came in to.
For players starting on new teams, the first day can sometimes mirror the first day of school. For Ben Grubbs, that was no different, but he was impressed with what he found.
"I really didn't know what to expect," Grubbs admitted. "But this is a wonderful place to be, I'm learning that. This is my second time in the building, I came when I signed and then today. I'm very impressed with how things are run here. Everything from the cleanliness of the locker room and the bathrooms to Coach Reid's talk this morning. I'm just ecstatic to be here."
Returning linebackers Derek Johnson and Mike DeVito helped each other out immensely in their recovery processes.
Everyone remembers how linebackers Derek Johnson and Mike DeVito left Week 1 with the same injury, a ruptured Achilles.
"[DeVito is a] big part of the reason why I'm here right now," Johnson admitted. "You definitely don't want to see another guy go down like that … But to have a guy of that caliber, mindset-wise, to actually be in an out of rehab with me every single day, I got even closer with him, his faith through God and everything that he brings to the table on and off the field.