For former NFL linebacker Scott Fujita, the three years he spent in Kansas City were fantastic.
He was selected by the Chiefs in the fifth round of the 2002 NFL Draft out of the University of California, and he was a key contributor early in his career, leading the team in tackles (111) in just his second season (2003).
After three years with the Chiefs, Fujita was traded to the Dallas Cowboys, with whom he spent just one season before signing with the New Orleans Saints as a free agent in 2006.
Fujita spent the next four years of his career with the Saints (2006-09), and it's a move that's forever altered his life.
Not long after he arrived, Fujita quickly became friends with safety Steve Gleason, who spent all eight years of his NFL career with the Saints (2000-07). Gleason had already been with the Saints for six years before Fujita came into the picture, and the two quickly began a friendship that still stands strong more than a decade later.
Before January of 2011, Gleason was most often remembered for the blocked punt that resulted in a touchdown for the Saints in their first Monday Night Football game back at the Superdome following Hurricane Katrina in 2006 against the Falcons.
It's a moment that transcended football and helped bring a community together, even if for a brief moment. The Superdome was used as a shelter of last resort for displaced families after Katrina, which made the moment Gleason blocked that punt even more special for those in the community.
There's now a statue honoring that play outside of the stadium, and it's titled "Rebirth."
But in January of 2011, Gleason would learn of a diagnosis that would forever alter the trajectory of he and his family's life—amyotrophic lateral sclerosis—more commonly referred to as ALS or Lou Gehrig's disease.
And in what began as just a video diary to his infant son because he was worried about how long he might be around, Gleason's messages all of the sudden turned into a full-length feature film, titled "Gleason," which portrays the real-life struggles of a family dealing with this terrible disease.
"To see Steve having video journals about how to skip a rock—how to ask a girl out on a date or how to get through a tough day or failed exam—these are all the things that the rest of us probably take for granted because we don't live like we have a timeline, but he does," Fujita explained of the film via a phone call last week.
This film is powerful, emotional and will relate to everyone. It's not just a film about ALS. It's not just about football. It's not even all about Steve as his wife Michel—the caregiver—takes a lead role in this powerful story that will hopefully draw the kind of attention to this disease that it requires.
In a recent phone interview, Fujita explained how he has spent much of his time over the past few years since retiring from the game helping his friend battle while raising awareness for ALS. He talks about his role in Gleason's life and shares his thoughts about the new powerful documentary, which is being shown with a special premier on Friday, August 12, at AMC Town Center 20 in Overland Park, Kansas.
Fans can meet Chiefs alumni, K.C. Wolf and some of the Chiefs cheerleaders as the ALS Association Mid-America Chapter holds this unique premier of the documentary on Friday night beginning at 6:30 p.m. CT.
Here's what Fujita had to say about the film during our phone call last week:
Question: When you first became teammates with Steve Gleason, what were your impressions of him?
"I first met Steve in 2006, not long after I signed with the Saints. I was the first free agent to sign there after Hurricane Katrina. First of all, everybody thought I was crazy for even considering going there at that time. My wife and I just felt kind of pulled, almost like a calling to going there—as corny as that may sound.
"It was the first week of offseason workouts, and I was in the weight room with the rest of my teammates, throwing weight around like a bunch of meatheads that we are, and I looked out into the indoor facility and there's one guy in there all by himself doing these freakish yoga positions. And I asked a few of my new teammates, 'Who is the guy in there doing yoga in the field house?' And they said, that's Steve Gleason, he kind of marches to the beat of his own drum. So I had a feeling right then and there that he and I were going to become pretty good friends.
"His girlfriend at the time, Michel—now his wife—just really embraced my wife and I into the city. They showed us everything the city had to offer and that was really the beginning of our friendship. So we began as friends and teammates, and it kind of grew into something much deeper."
Fujita spent four years with the Saints (2006-2009) before spending the next three years with the Cleveland Browns (2010-12). It was during Fujita's time with the Browns that Gleason was first diagnosed with this disease.
"Steve was diagnosed with ALS back in January of 2011. My uncle had it about 15 years before [Steve] got diagnosed, so I had seen firsthand what this disease is, what this disease does, so I knew what he and Michel were about to go through.
"It's obviously devastating for everybody involved, but he made a decision right then and there that he was not going to let this disease dictate how he was going to live his life. He had a group of friends and family and supporters around him and he built this family up called 'Team Gleason,' and we wanted to see if we could move the needle in some way forward around this disease.
"What he's accomplished today is nothing short of remarkable."
Question: What are some of the things you've done with "Team Gleason?"
"I think the cornerstone and the founding principles were Steve saying he wanted to help people in a number different ways. He feels like absent a cure for this disease—technology is that cure. So he wanted to make sure that 'Team Gleason' could outfit and equip patience with the technology they need to live purposeful lives. That was number one.
"Number two is to help fund what he calls his extraordinary life experiences, or expeditions. Not like Make a Wish-type trips, but things that show patients, 'Hey, you can still do things.'
"For instance, we funded a trip for a patient to go traveling around Italy with his family. We've funded trips to go to Machu Picchu and Steve and I participated in one of those with another patient. River rafting trips, people jumping out of airplanes, going to the Super Bowl and getting pre-game sideline passes. You name it, 'Team Gleason' has wanted to make one of those experiences available to other patients in a way where they can live a purposeful life, but also raise awareness around the disease. So that's kind of how things started, but then it's just grown and grown and grown, and the awareness has grown with Steve and then in many respects, I would argue that he's probably one of the more recognizable faces living with this disease in the world."
Fujita shared what he's most proud of accomplishing with "Team Gleason."
"We opened the 'Team Gleason' house for innovative living in New Orleans, and it's a place that ALS patients can go and live as independently as possible, controlling the room, the light, the doors, the television sets, pretty much everything in the room with their eyes, which is the way Steve lives as independently as possible.
"He drives his wheel chair with his eyes. So it's Steve being on the cutting edge and partnering with Microsoft to push the envelope around tech because for far too long, as Steve says, ALS patients have been more or less expected to fade away quietly and die, and that's just not OK. From a policy standpoint, the "Steve Gleason Act" was passed unanimously through congress and President Obama signed it into law about a year ago in July.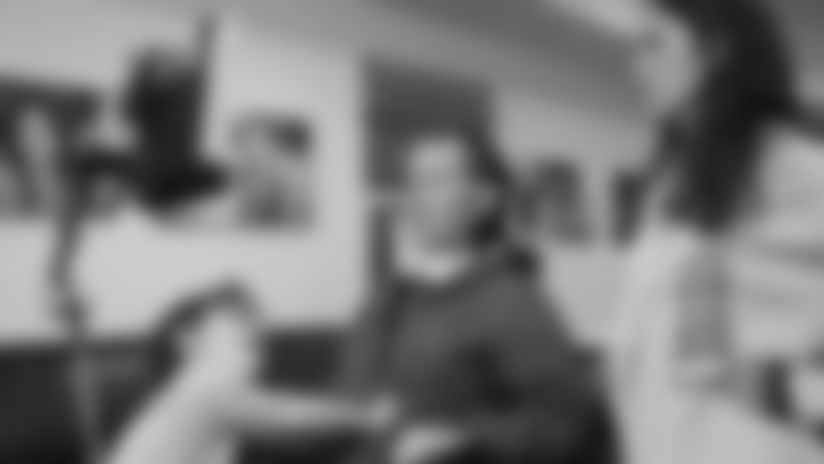 "What that did, Medicare in many respects was no longer going to cover what are called 'speech-generated devices.' So devices like Steve and many others with neuromuscular diseases use to communicate with their family and loved ones, which aren't cheap, were no longer going to be covered by Medicare. So Steve and the foundation embarked on this huge campaign to get that corrected and they did.
"For Congress to agree on anything nowadays is pretty significant and they did unanimously. So that's another area that we're super proud. Now with the film is a whole other conversation that's taken on a life of its own, but this is just another area of impact."
Question: How will this documentary help propel things forward?
"I think it just helps to continue to advance the conversation. It's a good time to be in the space because there is so much conversation in a way there never has been before. That comes from a number of things. I think Steve being so outspoken and upfront trying to move the needle the way he has. Pat Quinn is a good friend of ours and Pete Frates igniting the Ice Bucket Challenge that everybody heard about and most people participated in—that again advanced the conversation. There is so much conversation to be had, which is a good thing because it raised awareness, which leads to more money, which leads to more research dollars, and that's when you're going to change the landscape for this disease.
"So for us, this film is fascinating. It's not an ALS film, it's not a football film. It's not just about overcoming adversity. It's really all that plus a whole lot more. So I think it's connecting with people is so many different ways.
"It's raw, it's emotional, and it peels back the curtain."
"I think people are connecting with Steve and his Michel's humanness in the story. So I think there's a very entertaining aspect to it because you're going to laugh and cry your butt off for two hours at this theater, which is the response we've been getting across the board. The film, it really sticks on you.
"From an ALS and foundation standpoint, it's going to make more people aware of this disease—the realities of living with it, and then hopefully walk out of the theaters and want to do something about it."
Question: What was your reaction when you first watched the documentary?
"It was interesting because for most of us who are so close to the story, it's like seeing our best friend's life play out on screen. So when we first started developing it, it really began with Steve experiencing some of these symptoms in the fall-winter of 2010—not knowing exactly what was going on. He just turned the camera on himself and said, 'Hey, I don't know what this is, but I think I should probably capture this for whatever reason.'
"He gets diagnosed January of 2011 and about six weeks later Michel finds out she's pregnant with their first child. So then he thinks almost in a prophetic way that's what this is about, 'I'm supposed to be sharing my story and documenting this for my unborn child.'
"So it really started with that intention. The most heartfelt intention of wanting to have this legacy item for his unborn son.
"It grew into over 1,300 hours of footage with Steve jumping out of airplanes to celebrate the one year anniversary of his diagnosis—going to Machu Picchu and all these incredible and epic adventures, highs and lows of their journey.
"At some point, I think the family recognized there could be some impact with this story, and they decided to turn it into a feature length film. So they asked a few of us, myself, I had just retired from football, and Michel's best friend from college, who has a background in sports broadcast journalism and worked for Oprah, Dianne Sawyer, among many others. They asked the two of us and a few of others to have a team in Los Angeles, and the production company interviewed a bunch of directors, landed on director named Clay (Tweel), who just got it.
"He just got the story and he recognized the impact. It was Clay's job to narrow down that 1,300 hours of footage. The evolution of the process has been interesting. Again, coming from video journals for a child into something now that's going to be shared with millions of people, so while we're excited about it and super proud of the emotional response everyone's having to it, it's also this anxiety for everyone close to it is just like, 'Man, this really goes there and exposes a lot of vulnerability.'
"I'm just so proud of Steve and Michel for having the courage to put it out there and still have a sense of humor and grace and levity through this, because it hasn't been easy at all."
Question: How is your relationship with Steve and Michel and the work that you've done with "Team Gleason" changed you as a person?
"It's funny because, I think Steve, he's found a sense of purpose, and I think a lot of people are envious of that in some respect. We're all constantly searching. In many respects, like him, living in such a purposeful way and finding a way to give others purpose, in respect, he's giving me some purpose too.
"There's no doubt in my mind that's made me a better father because I think so many things that we take for granted with our kids, I like to think that I'm not doing that so much anymore. To see Steve having video journals about how to skip a rock. How to ask a girl out on a date. How to get through a tough day or failed exam. These are all the things that the rest of us probably take for granted because we don't live like we have a timeline, but he does. So I've got to think that in some respect improves the parent that I am.
"Also seeing Michel and her story get told in this way has been really, really exciting because it hasn't been easy for her, and for caregivers just in general. I think far too often their story's not told. So Michel to me emerges as this sort of, unsung hero. Seeing the response to her when they screened the film in front of ALS patients and the nurses and doctors, the response to her was overwhelmingly positive, because people thank her for sharing her story. The nurses stood up after the screening, applauded Michel. She says verbatim, 'Thank you for sharing my story. What you've done, it humanizes my patients for me again. I'm going to go to work tomorrow morning with the same excitement to why I stepped into this career. And I'm not going to treat my patients as a number on a card, but as a human being. So thank you for that.'
"That's the good stuff that's happening. It's a very heavy watch, but it's uplifting. People, if they walk out of this film feeling something strong, and probably struggling to articulate what the something is. They feel uplifted and inspired, sad and angry, but they also feel motivated to go out and do something. So the dad that may have lost contact with his son, needs to pick up the phone and make the outreach. That's great. Or the nurse who re-humanizes her patients—that's great. So it's touching so many people in different ways."