If there ever could be considered a "dream team" of a National Football League coaching and personnel staff coming together, the Green Bay Packers crew in the 1990s would be in that conversation.
They were loaded in all aspects of an organization, with the personnel side being led by recent Hall of Fame general manager Ron Wolf, and the coaching staff being led by Mike Holmgren, who has a case to be made for the Hall of Fame as well.
So, on Thursday afternoon in Houston, Texas, one of the assistants of that particular coaching staff, Steve Mariucci, who spent nine years as an NFL head coach and now works for NFL Network, spoke about what it takes to have success at this level.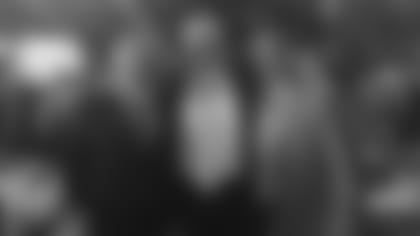 "When you look around the league, there's no blueprint or cookie-cutter way of doing things with anything – offense, defense, scouting or in the front office," Mariucci explained. "When I grew up in the league, I was with the Packers and I learned from and was exposed to Mike Holmgren and Ron Wolf working together. It seemed like a happy marriage to me.
"Did they always agree on everything? Heck, no. But somebody had the final say – Ron Wolf – and somebody had a plan on how to scout and how to build a team and how to play offense and defense. I saw great compatibility, and that's the key – compatibility."
Looking back, Mariucci has found memories of how this crew all came up together.
"It's so funny. It's crazy, because when we were together in Green Bay and we were all wet behind the ears, and you know who the coaches were, with [Jon] Gruden, Andy and I; but the front office was the same way," Mariucci added. "Ron Wolf brought a bunch of first-timer, young guys in. [Seahawks GM] John Schneider was an intern. They had [current Packers GM] Ted Thompson, (Kansas City Chiefs GM) John Dorsey and [Raiders GM] Reggie McKenzie.
"We were all in the same boat, like, 'Hey, you want to go to McDonalds for dinner?' We were just starting off. We all learned the coaching part of it from Mike [Holmgren] and they all learned the scouting, the salary cap and all of that from Ron. It's neat to see all these guys in the league doing so darn well. I know Ron is very proud."
In 1992, the Packers had five future NFL head coaches on staff in Reid, Jon Gruden, Dick Jauron, Ray Rhodes and Mariucci. They combined to win more than 550 games in the NFL.
Mariucci and Reid both joined the Packers that first year with Holmgren in 1992, and when asked his favorite memory of being around Reid was, there wasn't a hesitation, as Mariucci leaned back, laughed and proceeded to tell a story that many haven't ever heard before.
"We met each other in the hallway in our underwear," Mariucci laughed. "We were both hired, and I didn't know him. We had to come back and sign our contracts and they put everybody up at the Midway Motor Lodge – it's a heck of a place and a real vacation spot. I remember when everybody showed up at the airport – this is Green Bay, Wisconsin – our cars were loaner cars in the parking lot. The keys were in them and they were running so they could warm up and they were just sitting there in the parking lot. We came in at different times, so I went over to the hotel.
"At 1 o'clock in the morning, the fire alarm goes off. You're thinking that it's fake, somebody pulled it and is trying to wake us up, right? I finally got up after about two minutes of listening to that thing. I get up in my tighty whities and open the door looking for smoke or people jumping out of windows. I don't know what's going on.
"Then I look down and there's this big red head coming out of a door down the hallway. I say, 'Andy Reid?' He goes, 'Steve Mariucci?' 'Yeah!' We walked down the hallway in our underwear during the fire alarm. 'Hey, my wife is here, you want to meet her?' 'Let's go put a robe on first.'
"That's where we first met. We didn't go out and we didn't leave, that thing was going to go off sooner or later. It's one of many stories."
Reid and Mariucci were together for four years in Green Bay (1992-95) before Mariucci left to take a head coaching job at the University of California (1996), before a year later taking the head job with the San Francisco 49ers (1997-2002).
In 1997, Mariucci was offered the head coaching position ith the San Francisco 49ers, and he wanted Reid to be his offensive coordinator.
"I said no," Holmgren noted. "I blocked it and said, 'Look, I need you. I can't let you go.'"
At the time, the NFL allowed you to protect or stop one coach from leaving your staff.
"Andy was upset about it and I don't blame him," Holmgren, who was receiving numerous calls at the time from everyone in San Francisco about letting Reid join them, recalled.
When asked what he might have seen in Reid back then that doesn't make him surprised at the success Reid's had as a head coach, which includes moving into the top 10 in NFL history in wins as a head coach this past year, Mariucci proceeded to tell another story.
"So one time, we went to the Prime Quarter and we ate a 40 oz. streak, and if you ate it all, with the mashed potatoes, the garlic stick and all that, if you ate it all – 40 oz. – inside of an hour, you got your picture on the wall and your next meal free," Mariucci said. "[Reid] ate his in 19 minutes and I ate mine in 30.
"I learned that he's a good eater and that anything he does, he does at 100 mph. He does it very well. Players love the guy. They love the guy. He doesn't have that ego that's like, 'When I walk in, I want a red carpet.' He's a player's coach, he's a smart guy, he's tough enough to make the tough decisions, he knows what he wants, he's getting the most out of Alex Smith and he's going to be there every year. He's going to have a chance to win it every year because of who he is and what he's learned along the way. He's not going anywhere, he's going to win a lot of games before he's through.
"He's on the right track with that team. The Kansas City Chiefs are going to be a contender every single year with him."