Two Kansas City Chiefs running back hopefuls sat in a hotel room in the Adam's Mark in Kansas City a little more than three months ago.
The St. Joseph portion of training camp and the first cut that came with it was over. They had made it.
Unsure how the next round of cuts would go, they opted to room together as they searched for permanent housing in Kansas City.
One night, one running back turned to the other and allowed his imagination to run free.
"What if we were the one-two punch one day?" he asked.
Spencer Ware was talking to Charcandrick West.
During the next few days, West made the 53-man roster. The Chiefs added Ware to the practice squad.
From NFL hopefuls, they became starting lineup hopefuls, and as they encountered similar experiences, they grew closer together.
"We're great friends," Ware says of West. "Of course, it's gotten stronger since I've been here. I mean, since the first day I came in here in the spring, we kind of hit it off in summer workouts and it just built from there."
Ask Ware to talk about West, then ask West to talk about Ware, and the reaction is very similar. These are two players whose relationship extends beyond football.
"[Charcandrick is] definitely a character," Ware says. "He dances when we're on the practice field and the music's playing. He loves his job and that type of energy, that 'every day is a good day. You should be thankful and blessed that you get this opportunity.' He soaks it all up, so that's unique about him."
West says he dances to keep Ware and the rest of the team loose and having fun.
"Everybody approaches the game different, but it's still a game," West says. "I'm a kid out there having fun, so [when Ware] gets [tense] sometimes, I try to keep him calmed down, so it's good the relationship that we have."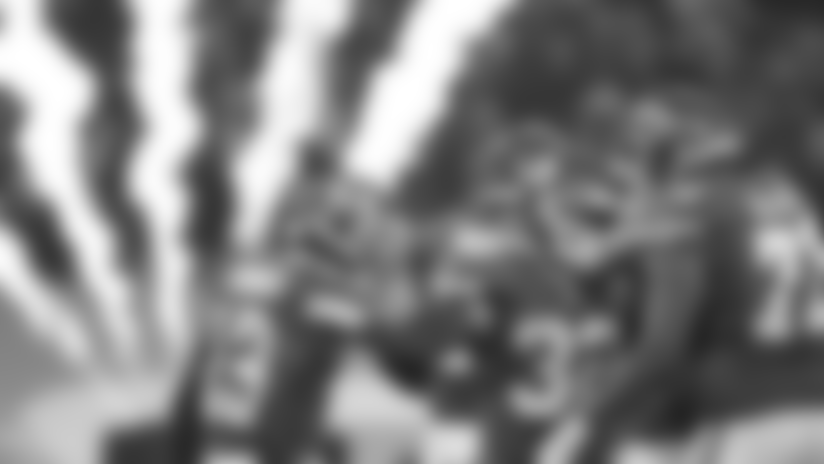 When Jamaal Charles went down with a torn ACL in Kansas City's Week 5 loss to the Chicago Bears, it shocked both the team and the fan base.
But if there was a bright side to such an awful situation, it's that it gave West and Ware an opportunity to showcase their ability to carry a team's running game on their shoulders.
Charles, meanwhile, as he rehabs and recovers from the injury, has been fully supportive of what the duo has been able to accomplish in his absence.
"You can't really put it in words and it's just his presence around that helps us," Ware says of Charles. "I know how much he wants to be out there and I'm pretty sure Charcandrick knows as well … He continues to have a smile on his face and he goes about his business.
"He's trying to get better and he's working and he encourages us, [saying] 'Don't get comfortable. Don't get contentious. Keep working and keep chopping away to get better.'"
Week after week, they appear to be doing just that.
Week 6 onward, they have combined for 620 yards rushing and 9 total touchdowns. West, in his second game as the primary back, rushed for 110 yards. When he couldn't go during Week 12, Ware rushed for 114.
During last week's game in Oakland, head coach Andy Reid chose to ride the momentum of both, seemingly splitting the snaps of the two based upon the given situation.
"You play off of everybody's strengths," Reid said. "You want to give the guys an opportunity to exploit their strengths out there as players, and then work on their weaknesses to make them into strengths as they go with age and experience."
West's strengths as a running back are quickness and the ability to out-maneuver a defender, while Ware could be described as more of a north-and-south bruiser.
No matter which number Reid calls, quarterback Alex Smith, who's in the midst of one of the best offensive stretches of his career, appreciates that they offer a variety of looks.
"They both have different strengths for sure and it's nice to be able to have both of them," Smith said. "They each bring something different to the table and at such a physical position as running back, you have that kind of depth.
"You have two guys that you really feel good about stepping into the game and it can do a lot to help you win."
The most impressive part of it all when you speak with each running back is their shared attitude.
There is no sign of selfishness, but rather, gratitude.
"It's really like a dream come true, but the dream isn't over," Ware says. "You dictate how long this dream lasts and the only thing that we ever wanted was an opportunity to help our team and we're getting that chance now."
As the Chiefs go for their seventh win in a row on Sunday against the San Diego Chargers, it must be nice for Ware and West to think back to that hotel room.
"What if we were the one-two punch one day?"