The Kansas City Chiefs and Jacksonville Jaguars are just over 24 hours away from kickoff at EverBank Field and there's nobody more excited than Chiefs QB Alex Smith.
During his introductory press conference in March, Smith's opening statement would foreshadow what Chiefs fans have seen over the last several months.
"I'm ready for this," Smith said. "I feel like because of what I've gone through, you grow as a player, you grow as a person. I'm ready for this. This is a new opportunity for me. I can't say how excited I am for it. I'm thankful for the opportunity and I'm here to get to work and make the most of it."
Fast forward through volunteer workouts, OTAs, minicamp practices, training camp, as well as the Chiefs preseason games and Smith's natural-born ability to lead became more and more evident. Before the team's QB plays in his first regular season game in a Chiefs uniform tomorrow, Smith took some time to answer this week's edition of "Four Downs", enlightening fans on the more personal side of #11.
First Down: Why did you choose to wear jersey #11?
"My brother wore #11, when I was little. I've always liked it. I wore #7 in high school, before an upperclassman wanted it. #11 was my next favorite. I've always been a fan of the number. I went to it in college and had a lot of success and then as soon as I got drafted, they had #11 waiting for me and I've been wearing #11 ever since."
Second Down: You're a proud husband and father; how have the responsibilities of each role helped you as a football player?
"I've become a more efficient worker. Fatherhood, and being a husband, taught me that. My time away from here is so much more valuable. With my time here, now I have to be a lot more efficient with it. I found myself wasting time here a lot; it's different now. I really work hard. I really try to be efficient with my time here, so I can still get home and be with my kids and my wife. In that aspect, I think I'm better at it. I'm a better worker. Kids are a life changer. They put things in perspective."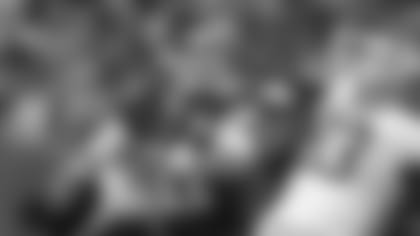 Third Down: How do you pass the time, before arriving to the stadium on game day?
"For afternoon games, like tomorrow, you get up and play. You get up and eat your pregame meal and all of a sudden, you're at the stadium and then you're in your pregame warm-up routine. So much of it, for a lot of football players, is all about routine. You do the same stuff, kind of the same schedule; you get to the stadium at the same time and go through the same thing."
Fourth Down: What do you think your emotions will be like on game day?
"I get nervous before every game; not in a bad way, but you definitely get anxious. You put in all this work all week and you only play once a week. There's a lot of buildup as the week goes on and the intensity builds. It starts Wednesday, then Thursday, then Friday and it builds. You start cranking your mind up as the week goes on and getting it ready for what's to come on Sunday. So, no question, I get nervous, but usually that first completion and that first hit, you get to sweating and you lose yourself out there and that's always a great feeling. You lose yourself in the game and go compete."