Days after signing a new contract with the Kansas City Chiefs, LB Frank Zombo addressed reporters, via conference call, to discuss why he chose to return to KC, his thoughts on the upcoming season and what it's like playing in the same position group that is filled with players like Pro Bowlers, Derrick Johnson, Tamba Hali and Justin Houston.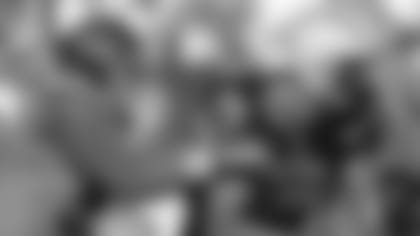 Q: What interests you about the situation in Kansas City that made you want to come back for another year?
ZOMBO: "Actually, (it is) another two years. The main reason I wanted to come back was obviously the people and the friends I made out there. Honestly, that was the number one reason I wanted to come back, just the people I've met. And then, honestly, it is a great place; I enjoyed going to work every day. I look forward to going to work every day. Kansas City is a great spot; it's a great work environment and obviously we have a great team. Those are the things I look forward to."
Q: When did you accept the Chiefs offer?
ZOMBO: "So free agency opened up on what, a Tuesday? It was Saturday, Friday night/ Saturday."
Q: So free agency had already started, is that right?
ZOMBO: "No, I don't know. How does that work? Doesn't free agency open up on a Tuesday?"
Q: Yes, free agency opens on a Tuesday.
ZOMBO: "Yeah, I did it Saturday, during the day before Tuesday, so three days before."
Q: So you were never actually a free agent then?
Q: I was going to ask you what other offers you had out there, but that is a moot point right?
ZOMBO: "Well, I wanted to stay in Kansas City extremely bad, and I think they knew that. I think all of the guys on the team knew I wanted to stay there. I had such a good time there, last year, so as soon as I got an offer, I wasn't playing games. I wanted to go with it, no matter what."
Q: What intrigues you most about the defense coming into 2014?
ZOMBO: "Obviously, we had a good year last year. Playing outside linebacker in that kind of scheme is always extremely fun (with the) different blitzes that we do and dropping in coverage and keeping the offense at stride. Obviously, my role was as a special teams player as well. Our special teams unit was a pleasure to be on. Guys played with a lot of pride. Our coach (Dave Toub) is, well it's awesome playing with him; I'd say he's the best special teams coach in the National Football League. It's always nice playing for him. Those two things, with special teams, I obviously know my role. I look forward to being a part of that group again."
Q: Can you talk about your relationship with John Dorsey?
ZOMBO: "Like I've said, the Chiefs organization is first-class all the way. John (Dorsey) is not like a normal general manager. He's close with his players; you can talk to John on a daily basis, where with other general managers, you may never see them, so guys respect him a lot. They enjoy playing for him and that's one of the main reasons, he was honest with me and it was one of the main reasons I've wanted to come back."
Q: Do you think you will continue to contribute as a backup outside linebacker?
ZOMBO: "They haven't talked to me about that yet. There was a little bit of talk about that last year, about that fourth linebacker spot, but I mean, you have three pro bowlers in those areas and I understand that. Those are three extremely good football players and I don't think Derrick (Johnson) gets enough credit for the things he does. I didn't even know much about Derrick before I got to the Chiefs and just watching him play, he's an amazing football player. Obviously, Tamba (Hali) and Justin (Houston) are great pass rushers. It's a hard linebacker core to crack into to get into that starting lineup. Being that number-three guy like I was last year and helping out if somebody gets hurt, that's kind of my role and I understand my role and I think I was able to do some good things last year."
Q: What do you plan on focusing on to continue to improve as a player?
ZOMBO: "I mean, obviously, it's nice to get more pressure. Sometimes you're based on how good of a football player (you are) by how many sacks you get or how many quarterback hits you get. What a lot of people don't understand is when I was in there with Tamba Hali, I'm in there with one of the best pass rushers to ever play the game, so when you have one outside linebacker rushing and another one dropping, the majority of the time I was that one dropping. Tamba would always be the rusher, whereas, when Tamba and Justin (Houston) are in there, they both rush and they both drop. Out of all of those plays I had, the majority of them, I was dropping. When I did get my chances at rushing, I had two sacks; I had another one against Philip Rivers on that third down on my first game playing that should have been a sack on third down and we didn't challenge it. I could have had three sacks in five starts, which I think would make anybody good statically. With an interception (and) forced fumbles, I did have good statistics for five starts. I dropped quite a bit. I thought when I was in there, I was able to contribute with a lot of tackles, with my physical play on the edges, stopping the run on the edges. Overall, I thought I had a pretty good season, but obviously I'd always like to drop better, pass rush better, but that's why I have another year there."