On red zone work today:** "I thought there were some good things on both sides. They kind of traded back and forth. We did all one-versus-one, two-versus-two [and] three-versus-three work, so I thought overall there were some good things. There are some things we need to work on on both sides."
On OL Zach Fulton: "Zach's a tough kid. Again, he's young. He's learning. But he sure is ahead of what you think a rookie would be ahead of."
On the offensive line as a whole:"They're working through it. We're rotating guys in [and] giving everybody opportunities at different spots, and then we'll come out with the five best guys and we're rolling."
On what he has seen out of wide receivers AJ Jenkins and Kyle Williams through seven days practices: "I like what I see. Now, AJ didn't finish practice today but Kyle did. He did some nice things. But AJ's been doing a consistent job, which is good. He's catching the ball well. I like what I see from both of them."
On what he likes in S Daniel Sorensen: "I like that he went to BYU. He was a good, solid player in college. Smart kid, tough, comes from a family of football players. He's the youngest of the bunch. Good, solid player—that's what I can tell you about him."
On Sorensen being a guy he thought would go undrafted: "I wasn't sure about that at the time, if he would get drafted or not. But at that position, [if] you could come in, you could be a good special teams player, a role player in the secondary, you could make somebody's team."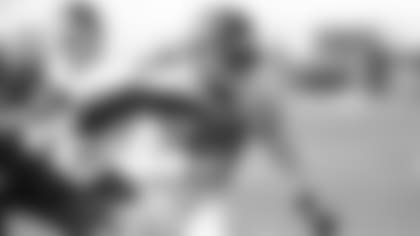 On who has stood out to him on the offensive line: "I'm very impressed with number 71 on our team (G Jeff Allen). He's able to play guard and he's able to play tackle and I'm going against him and he's stoned me a couple times. I'm very impressed with him."
On what makes a great pass-rusher: "The will. The will to be able to lose a lot of fights and get right back up and keep doing it. A lot of guys get discouraged while rushing because they can't win on this rush. You got to be very strong-minded and constantly plugging away because at one point, you got to kind of become a pain in that person."
On what he has seen out of LB/DE Josh Martin: "Josh and I, we've worked together this entire offseason. We went out to California. We ran sand dunes. The kid is gifted. He's very fast, very strong [and] very smart. He went to Columbia. He could do it all. It's just a matter of opportunity—getting his chance to rush the passer and he can prove it."
On the younger linebackers learning from him: "That's the future. Those guys are going to be around for quite a bit. It's good to be able to work with them. Their assets—I wish I had the speed Josh (Martin) has and was as strong as (Justin) Houston, but the knowledge I've acquired over the years, being able to pass it on to these guys, they could run with it."
On not being ready to pass the torch just yet: "No, no.  Of course not.  I love playing this game and I love playing for the Chiefs and I'll be here as long as my body lets me."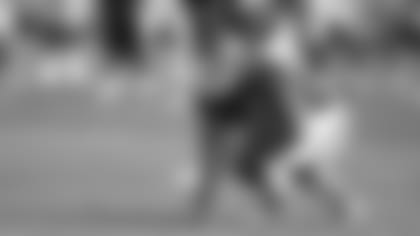 On year two of the offense: "This year we're a lot further along. It wasn't starting from square one during OTAs. We started from the basics, but then we could move a lot quicker, understanding our schemes and understanding what they want of us. And camp so far is definitely a little easier just because you're not in the playbook going 'What is going on?' every single day. You're taking steps forward in a quicker pace now than we were last year."
On how Coach Reid's offense is for fullbacks: "Coach (Reid) does a great job of putting any player in any situation. He always tells us that. He always tells us 'You don't just learn one position; you learn it all because we can mix and match you guys wherever we want to go." So, he does a great job of installing plays and having everyone understand what we need to do."
On whether he takes pride in RB Jamaal Charles' numbers: "Oh, absolutely. I mean he's one of the greatest running backs in the game right now and I think it's just an awesome experience to be with him and watch him work on a day-to-day basis. He's got one of the greatest work ethics around."