On today's practice: "Good work today. Glad we were able to get outside. Weather cooperated a bit with us. Good challenging throughout. Man, offense and defense—it was all ones working together, twos with the twos [and] threes with the threes. They competed [and] they challenged each other."
On CB Sean Smith cornerback situation: "What we're doing is we're rolling the three guys in there. So, (Sean) Smith's with the ones, he's rolling with the ones, and they're really getting an equal opportunity. It's great competition right now. And Smith is coming off a good game. He's playing good football right now and we got three or four of those guys and if we can get a fifth one that's even better."
On the insider linebacker position: "Well, Joe Mays, he's the guy in base. And JMJ (James-Michael Johnson) you see in there in nickel and Mauga, they're all kind of working in there and doing their thing. Nico (Johnson) is getting better everyday, which is fun to watch so, good competition in there too."
On potential possible fifth cornerbacks: "Well you see (DeMarcus) Van Dyke is playing good football. (Phillip) Gaines is playing good football. I mean these guys are getting better everyday. Again, that's a good thing and they're getting a lot of reps which is important right now. It's good players so I'm curious to see if they carry it over as they continue to get reps in games."
On RB De'Anthony Thomas's work with coaching staff:"I'm not going to say De'Anthony is a hybrid but he does a lot of different things. He did it in college at Oregon and he's still doing it here. Brad (Childress) works with him, David (Culley) works with him a little bit and EB (Eric Bieniemy) works with him probably more than anybody. So, the kid has got a lot on his plate and he's handling it very well."
On RB Jamaal Charles: "He's good. He works at it. A lot of those guys don't work at it. He wants to do everything the best and that's the part about him that you love as a football player. He spends a tremendous amount of time doing it. You see how EB (Eric Bieniemy) works these guys and it's not just on carrying the football. It's route running, it's blocking in the run game, it's blocking in the pass game—they got to do all of it."
On what he likes about G Ricky Henry: "He's a tough kid. I'm not telling you it's all pretty. He looks like Larry the Cable Guy and he plays like Larry the Cable Guy. He just gets in there and he's rough and tough and scrappy and all of that."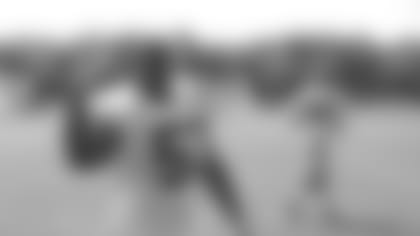 On whether he's looking ahead past training camp: "Nah. There's too much work to get done out here. Yeah, it's a couple days left and I noticed that but at the same time, you can't look ahead that many days because there's so much work we put in in one day. So we're out here almost three hours. We have a ton of stuff we install so there's a lot of work to do."
On whether it's hard to keep all the defensive packages straight: "It does get difficult at times. With me being the new guy, I try to know as much as I can, try to know every single defense [and] try to know what everyone is doing. So yeah, it can get difficult. My mind scrambles a little bit but that's the part of being a pro. Going back in and getting in your playbook. Making sure you ask the right questions so when you come out here on the field, you're always on the same page with your coaches and your teammates."
On having teammates like DT Dontari Poe: "Awesome. There are not very many guys in the NFL that big that can move the way that he moves. He's just one part of the piece, one big part of the piece. We have Tamba (Hali), we have (Justin) Houston [and] I got my man DJ (Derrick Johnson) playing right next to me so it's awesome, man. To be playing not only in the scheme that we're playing in but with the guys that I'm playing with, it don't get any better than that."