On WR Kyle Williams:** "We knew when we got him when he came in here that he was very good on the inside. He knew how to run the slot but he's a very good route runner in there [and] he knows how to uncover—he's got a good feel for it. Now, since the operation, he has started to get back to where he was physically—where he wasn't earlier in the camp. You can kind of tell he's starting to loosen up a little bit and he's starting to make some plays now."
On WR Albert Wilson: "Unfortunately, he hurt that ankle at the very end on special teams, but he's going to be OK. Albert has a nice skill set. We've been kind of seeing this from OTAs, all the way through training camp. He has a good skillset. He can play outside and play inside and hopefully when he gets back to where that ankle's ready, we can get him back and get him some really good time in these next three preseason games."
On Wilson and the grind of training camp:"They all struggle at this point in training camp with that grind, especially rookies, but he's fought through it. He could probably right now just say 'I'm not quite well, I can't do this,' but he's chosen to go ahead and fight through it and that tells us something about his toughness."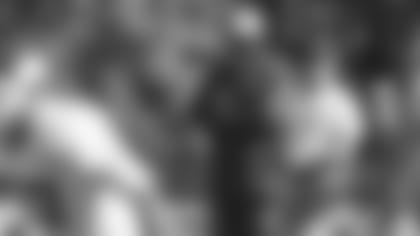 On what he teaches the defensive backs about press-man technique: "Start with their feet first. And then hands. And that's all it is. Look at the core of the receiver, move your feet, use your hand and be physical up there. You got to stop him. You got to get in the weight room and get strong so when you pop him, you move him and make him have to restart. That's the only thing about press. You got to make the receiver change his route."
On where CB Phillip Gaines is in his development: "The main thing is get stronger and get more acclimated to the pro game and the quickness and the speed that you get down after down at this level."
On RB De'Anthony Thomas' ability to block: "Obviously, we haven't put him in many situations as far as blocking, but you ought to see him on that one-man sled. He'll bite you now. He will bite you."
On RB De'Anthony Thomas' game:"He wants to be great at everything he does. He doesn't shy away from anything."
On RB Jamaal Charles: "Jamaal (Charles) is a prideful kid. He's a great kid. He's a competitive football player that has a desire to win at all cost. The thing is, obviously, do we want to overwork him? For me, yes we do want to overwork him. But, we got to be smart. One thing, the challenge is making sure as a staff—coach Doug (Pederson), coach Reid and myself—making sure we're putting him in the right situations to be productive, but also maintain his productivity throughout the course of the season and hopefully late into the playoffs."
On getting on the Chiefs staff with Andy Reid: "I played for coach Reid in Philly. Me, Doug Pederson, Al Harris—I mean all these coaches—this is why our chemistry is so well. Coach (Brad) Childress was a quarterbacks coach that first year. Coach (David) Culley was our receiver coach. Coach (Tommy) Brasher was a D-line coach. So, this is a familiarity. This is a family atmosphere. So, when the opportunity came about [and] coach Reid reached out to me, he knew my situation [and] my predicament and he gave me an opportunity. Who wouldn't cherish that opportunity to work for the big red man?"
On the opportunity with the Chiefs: "You always want an opportunity to do things that you strive for. But, like I said, at the end of the day, it was a great experience. I've learned more football over the past year from coach Reid and coach Pederson, just sitting in meetings, absorbing information and taking notes than I have in all my years of coaching."