On yesterday's practice change: "Yesterday, we had the lightning and we couldn't put the players out there obviously. And I know a lot of these people, they drive a long way to get here and we had the autographs and all that so I apologize for that, and we appreciate the people here today and thank them for coming."
On practice today: "We got some four-minute work today which we need. We're kind of cranking some situations, a couple extra situations down for the game. The way the game will probably play out here—I haven't talked to the players about this but I'll share it with you—the quarterbacks will each take a quarter and then we'll work from there."
On play calling in the preseason:"This is what you want to do in the preseason. You got a lot of young guys. You want your veteran players to be able to get back into game mode. You want your young guys to show the best they can show. So everybody will play in this game. Everybody is going to have an opportunity to play. Not everybody can make the team so if they don't make this team, they have some tape out there that they can show and you want good tape for them so they have an opportunity to make it somewhere else."
On LB Nico Johnson: "We really kind of like what Nico's doing right now. Nico is a very good run player. He's a big guy. So you expect that. [He's a] good first [or] second down knock-your-tail-off run player that has worked like crazy to make sure his pass game is right and he's getting it. Everyday he takes another step forward and we're liking what we see right there."
On CB Daniel Sorensen: "He did have a good day today. He had a lot of breakups and a pick or two there. He's playing good football. He's a good special teams player also, which is important in a backup safety role. He's making progress as we go. The thing what you see with young guys, rookies, is then you start packing good days together. So it's just not one practice. It's two [or] three practices and then you know they're kind of getting it right there."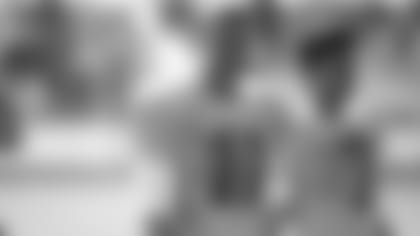 On what he wants to accomplish in the preseason game Thursday: "Score some points. [I want] to be effective. You're not game planning for any of this stuff. You're going out and playing. You're not sure what they're going to show. You're not sure what you're showing. So, it's a little different but no question, you're strapping the pads on. You're putting the jersey on. You're expected to go out there and play well. I mean that's the mindset, certainly for us and to go in a little different format in a sense that we split the reps up over the course of the game, but certainly the mindset is to go out and play well and get after them."
On WR Albert Wilson: "Albert has done a great job. For an undrafted rookie receiver to come in and not just mentally to grasp it, I mean we move him around and he really is physically gifted and [has] made a lot of plays out here. So, he's been impressive. He's had a great start to camp.  He's done some really good things. The next step would be, and the next step for all of us, is you're at preseason. Lets go out there and do it in the preseason game."
On the no-huddle offense: "We get a good mix here. Coach (Reid) does a great job. I feel we do a really great job of getting a little bit of everything. You have to be able to no-huddle at times; that's the nature of the NFL. So many games come down to being able to score points at the end of halves [and] the end of games. One-score ball games. Coach does such a great job of mixing it up, especially here in camp. We get a lot everything."
On how much he feels he needs to play in the preseason to be ready: "Whatever the coaches do, I'm all with it. I'm just going out there and trying to be out there with my teammates and support them. And, go out there, if I have to play, I have to play. It's my job to play football and I know that."
On whether he feels that the running back position is coming to an end: "I think it depends on what type of style of running back you have. [If] you have a power back, it's more like a lot of power backs can't catch the ball. And if you have a skilled back that's an athlete [who] can run and catch the ball like a wide receiver, I think that could bring the game back. I think the running back is the most important position on the field because we pick up blitz, we run the ball and we catch the ball."
On comparisons to Minnesota Vikings RB Adrian Peterson: "I might not be as strong as him but I know I can grind out and get five yards or get four to six yards and maybe I can bang it for a touchdown. AP is one of the strongest, [most] explosive running backs but I think I'm the same type of running back as him as well."
On what it takes to be a good blocker: "You just got to have motivation to do it, man. It's like you have to be hungry. You just got to go and feel like man, you got to go knock their head off before they knock yours off so I mean, that's my job. I love contact. I just don't like getting embarrassed when a linebacker tries to bull-rush me. If I have to do whatever, I tell them 'I'm a running back, man. This is the Jamaal Charles rule. Three-second rule. As long as you hold him (the pass rusher) up for three seconds, you're good.'"
On his pass-blocking mentality: "You got to have the will to do it. You got to have the will to go out there and want to knock somebody out. I don't like to get hit so I'm going to try to hit you before you hit me. So, whatever I got to do. I'm going to hold you, hold your jersey [or] hold your leg. You're not getting to the quarterback."
The Chiefs finish up practice on Monday at Missouri Western State University.