This is a re-post of an article written in late May that chronicled Senior Team Reporter Matt McMullen's trip to Frankfurt, Germany for an advance marketing trip. The Chiefs will play in Frankfurt on Nov. 5.
There is a city known for its sausages and Apfelwein in the west of Germany by the name of Frankfurt, which rests on the Main River and sits about two hours from the French border by car.
It's nearly 5,000 miles from Kansas City, but as I came to quickly understand, these two otherwise completely different places share one somewhat surprising commonality: the presence of the Kansas City Chiefs, and in the case of Frankfurt, an exponentially growing interest in the reigning Super Bowl champions.
My journey to Frankfurt began on a Thursday via a red eye flight across the Atlantic. This was the fourth advance marketing trip to one of Germany's largest and most important cities since the news broke that Kansas City would play the Miami Dolphins in Frankfurt on Nov. 5.
Our crew consisted of myself, Chiefs legend Dante Hall, our Director of Entertainment Teams Stephanie Judah, two Chiefs Cheerleaders (Cooper and Jordan) and Shawn Emerson, the most tenured lieutenant of Dan Meers – otherwise known as KC Wolf. Meers couldn't make the trip, so Shawn packed his rather large bag for Frankfurt. We also met up with Katie Kemmerer – the Chiefs Director of Business Operations – once we landed. Katie, who plays a large role in the Chiefs' international campaigns, was responsible for putting the entire trip together.
The itinerary included a content shoot, a rooftop party for German Chiefs fans and two military base visits, and through each endeavor, the overall goal of this trip was quite simple. Frankfurt – and the whole of Germany, for that matter – is much more than the location of the Chiefs' matchup with the Dolphins. Quite to the contrary, the Chiefs view this football-crazed country that once encompassed nearly all of NFL Europe as a budding part of Chiefs Kingdom itself. We may not share a language, and many of our customs differ significantly, but this part of the world is hungry for football, and the Chiefs are eager to deliver it.
This cohesive and surprisingly organic bond was ever present in Frankfurt, from digital advertisements in the subway to the numerous Chiefs fans we ran into during our travels. In fact, on only our first day in town, we stumbled into two different couples – one of which permanently lives in Frankfurt – who at one point called Kansas City home.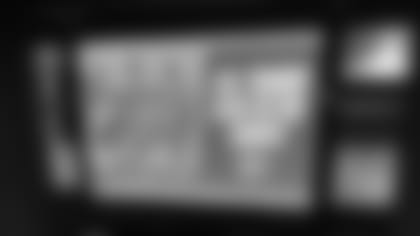 That first day consisted of a content shoot for the Chiefs' primary marketing campaign in Germany, which features the phrase, "All Trains Lead to the Chiefs." This plan was developed – and later implemented during our trip – in partnership with a marketing agency based in the country. After all, if the goal is to reach fans in Frankfurt and throughout central Europe, it only makes sense to team up with professionals who know the culture better than anyone.
The shoot lasted about five hours and sent us to various subway stations all over town, eventually culminating in a stop at Frankfurt Central Station. It was here that we drew the most eyeballs – from the confused to the enthralled. Generations of fans approached us throughout our time in the station, many of whom were excited to share their expertise in American football and the Chiefs in particular.
Those brief interactions served as a primer for what took place the next day, as more than 100 passionate German fans – each of whom was clad in red from head to toe – joined us for a rooftop party in downtown Frankfurt. The event was coined a "Schedule Release Party," but think of it as a slice of the Chiefs Kingdom experience dropped right into the middle of Germany.
It included numerous activations, from four replica lockers to some assorted games, but the main event was our stage show with Dante Hall, our Cheerleaders and two representatives from the Chiefs' business staff. I had the honor of hosting the event, and to be completely honest, I wasn't sure what to expect. This was my first venture representing the Chiefs abroad, but in short, I was completely and utterly blown away. Not only were the fans in attendance engaged and fired up throughout the presentation, but it was abundantly clear that our efforts made them feel seen and special.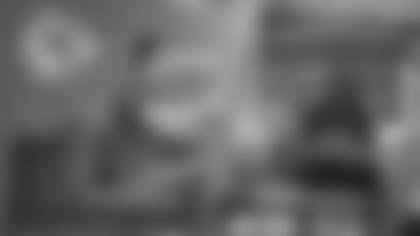 For example, whenever we played a highlight from Super Bowl LVII on the video screen, the crowd erupted. Additionally, at numerous times during our presentation, cheers organically began and spread throughout the audience. These fans – nearly all of whom have never been to Kansas City – not only know football, but they're seemingly just as dedicated as someone who grew up in Jackson County. This phenomenon was a remarkable thing to witness, and it was such a joy to personally meet and engage with all of them. I can't wait to do even more of it in the months and years to come.
The next two days of our trip encompassed a much different goal as we took the opportunity to meet and thank hundreds of our men and women in uniform stationed overseas. The United States has a significant military presence in Germany, and coincidently, much of it is located within a short drive of Frankfurt.
Our first visit was to U.S. Army Garrison Wiesbaden, which rests about 30 minutes west of Frankfurt. It was here that we met with troops assigned to Security Assistance Group – Ukraine and leadership of the U.S. Army – Europe & Africa before presenting jerseys to each group. The experience was nothing short of remarkable. As the day went on, Dante and our Cheerleaders had the honor of participating in a wreath laying ceremony intended to remember those who gave the ultimate sacrifice in the line of duty. The fact that this visit took place on the eve of Memorial Day made the ceremony all the more significant.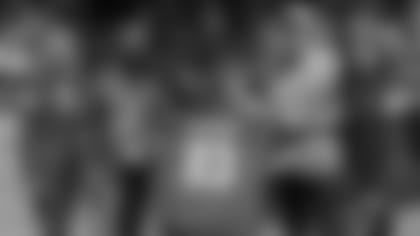 It's also worth mentioning that many of the troops stationed in Wiesbaden are there with their families. Hundreds of American kids are living on this post, and while it's a very nice place to be, they don't often have a chance to attend youth football camps presided over by former stars such as Dante. Fortunately, we were able to change that.
Dante, along with direction provided by some former football players in the area, led a flag football clinic for dozens of kids of all ages. Additionally, Jordan and Cooper ran a youth cheerleading clinic at the same time. Overall, the event was an amazing display that included children from various backgrounds and different nationalities all coming together for a really fun afternoon.
The next day featured about an hour drive to Ramstein Air Base, which is at the center of the largest U.S. community overseas. In fact, more than 50,000 American citizens live in the immediate area surrounding this massive installation. We had the incredible opportunity of meeting hundreds of those individuals at various points during our visit to the base, from touring an airfield to a "meet and greet" event at the BX Exchange on site.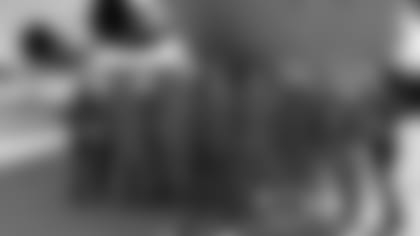 Our time there also included a chance to visit the USO Warrior Center, which provides a "home away from home" for those being cared for at Landstuhl Regional Medical Center. Due to the prominence of Ramstein, Landstuhl is a primary medical center for service members in need of care from around the globe. For example, I met a soldier who had been flown in from Kuwait just a few days prior. We encountered endless impactful stories during our time there, and it was truly an honor to spend Memorial Day alongside our nation's heroes – especially those who were injured in the line of duty.
Another interesting aspect of our time at both military installations was the abundance of Chiefs fans stationed on either site. This was obviously secondary – we were there to hear their stories, not necessarily share ours unless asked – but the lines at all three of our "meet and greet" events were full of individuals in Chiefs jerseys, hats and other gear. Many of them were either from the Kansas City area originally or had spent time at one of the installations nearby, including Fort Riley, Fort Leavenworth, Fort Leonard Wood and Whiteman Air Base. It was such a joy to bring a little slice of home directly to these individuals stationed so far away.
The visits to the military installations were also tremendous examples of how fortunate the Chiefs are to have brand ambassadors such as Dante, Cooper, Jordan and Shawn. We met with a lot of people during our visit, but no matter how long those days ended up being, that quartet made sure that the person they were interacting with felt like the most important individual in the room. That's a real gift, and the Chiefs were lucky to have all four of them representing the organization overseas.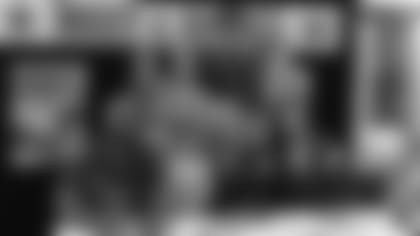 We departed Frankfurt the following morning and safely made it back to Kansas City on Tuesday afternoon. I can't emphasize enough what an impactful experience this was for our group, and after reflecting on our visit as whole – from the party in Frankfurt to meeting our men and women in uniform stationed over there – I am so proud that the Chiefs are building a presence in Germany.
Deutschland – which is the country's name in German – is a very special place, and while it may sit nearly 5,000 miles from Kansas City, it's eager to join Chiefs Kingdom. It was one of the honors of my career – and as a lifelong fan of this team – to see that desire firsthand.
I'll close with this: if our trip was any indication, the atmosphere on Nov. 5 is going to be nothing short of incredible.