On Monday, during his weekly press conference, Kansas City Chiefs Head Coach Andy Reid previewed what is about to take place tomorrow, the pivotal showdown with the Denver Broncos, for rights to first place in the AFC West.
"It should be a great atmosphere," coach Reid said. "You have two teams that are 9-2, same division, that's what it's all about."
Fast forward to Friday, when coach Reid described the task that stands in front of his team.
"We're looking forward to the challenge of playing Denver," coach Reid said. "They're a heck of a football team, and it will be a great atmosphere. We sure welcome them into Arrowhead, with our fans. Our fans will be on their 'A' game and welcome them in with open arms, and we'll go from there."
The Chiefs hold a 56-51 (.523) all-time advantage over Denver in their 107 previous meetings (106 regular season, one postseason). Both clubs have split their season series eight of the last 10 seasons, while Kansas City owns a 24-16 (.600) advantage against Denver at Arrowhead Stadium.
Coach Reid described the role Chiefs fans can play in Sunday's contest.
"When the Bronco offense is out there, just keep being you," coach Reid said in a message to Chiefs Kingdom. "Loud, loud, loud; it is a factor, an absolute factor."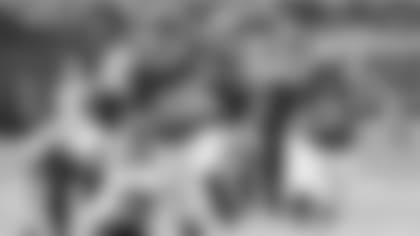 Speaking of factors on the field, while the team will be without Pro Bowl LB Justin Houston, who is recovering from a dislocated elbow, it may see the return of fellow Pro Bowl pass rusher, Chiefs LB Tamba Hali, who was forced out of last week's game against San Diego, with an injured ankle. While Hali is listed as questionable for Sunday's game, he says with or without him on the field, the Arrowhead crowd will make a difference.
"Let me say one thing," Hali said. "When we can get our stadium to be as loud as a couple weeks ago, they were loud last week as well, as long as they're that loud, it's going to be hard for the Broncos to triple-count, because their linemen won't be able to hear anything, same thing for the wide receivers; things become slower on the offensive side and that helps us, so we can execute."
As for the on-field must-dos, Chiefs Pro Bowl LB Derrick Johnson kept things simple.
"Play better defense," DJ said. "I just speak from the defensive side of the ball, make the plays we're supposed to make, challenge them more. They have great players on the offense, so we have to get to Peyton as much as we can to disrupt them as best as possible."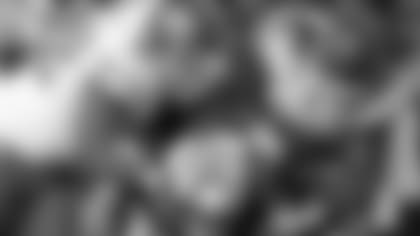 Playing in front of DJ and the Chiefs LBs is a defensive line that includes Tyson Jackson, who also stressed the need to get to Manning.
"Collectively, we're going to try to do a better job of getting after Peyton Manning," Jackson said. "Getting him off his spot a little bit more and force him into some bad passes, whether it be sacks, hits, knockdowns, whatever it may be; we're just going to try to affect him more this game."
Another vital role for the Chiefs defense is its secondary, including S Kendrick Lewis, who described the team's mindset for Week 13.
"We've put the last two weeks behind us," Lewis said. "We've worked so hard, through the week, to correct the mistakes we've made last week and the past week; so, our mindset is to go out there and play team ball, get back to playing great, complimentary football and being physical with their talented receivers, challenging them, competing every down, snap in and snap out. We have to compete full-time and make them have to make awesome plays and be in their face, playing hard-nosed football."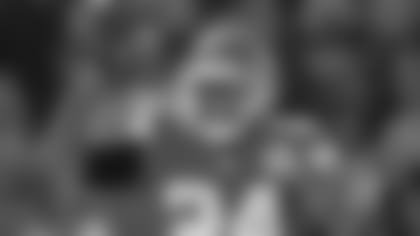 Joining Lewis in the Chiefs secondary is CB Brandon Flowers, who is very familiar with the potent Broncos receiving corps.
"They're talented," Flowers said. "We know the Broncos. We just have to go out there and play our A-game. If we have opportunities to turn the ball over, we have to do that and we have to get in the end zone against this kind of offense. They're very powerful; that's why they're the number one offense in the league."
While the Chiefs defense wants to put points on the board, so does the team's offense, led by QB Alex Smith, who threw for 230 yards and two TDs in Week 12 against the Broncos. The Chiefs signal-caller talked about playing the Broncos again, this time at home.
"I think with a divisional opponent, there is the home-and away-element," Smith said. "They got us there and we're going to go out and try to get them on our turf now. It's unique in a sense that they're only two weeks apart, so, it feels a little more fresh on your mind. I think everybody is kind of excited about it."
Helping Smith on offense is Chiefs offensive coordinator Doug Pederson, who highlighted some of what the team learned in Week 12, that could help the Chiefs on Sunday.
"Well, you notice that we put more guys in the ball game," Pederson said. "Guys like A.J. Jenkins are in there and now that Chad (Hall) is back, he is going to see more time. What it does is, number one, it gives guys rest, late in the game; late in the season, guys can play fast and fresh in the second half of a football game. Then, I thought it was great, some of the deep balls that Donnie (Avery) was able to get free on and make some plays down the field; Alex (Smith) was able to deliver the football."
In order for Alex to again be enabled to deliver the football, he'll need strong protection up-front; Chiefs OL Jeff Allen pinpointed the goals in Week 13, against the playmaking ability of the Broncos defense.
"Win your battles, win your one-on-ones," Allen said. "Run the ball well and stay in front of the chains, which starts with running the ball and just protect Alex. You can't get behind the chains with a group like Denver that has great pass rushers, great guys on the edge and inside; so, you have to stay ahead of the chains and when you get in predictable situations, you have to take advantage."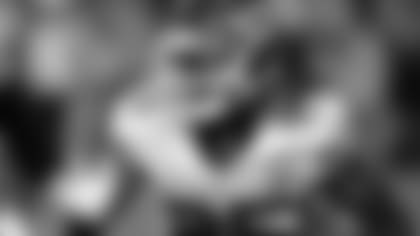 Establishing the run game with Pro Bowl RB Jamaal Charles, who has 200 carries for 918 yards and 8 TDs, along with 53 receptions for 425 yards and two scores, can only help the passing game; if that's the case, Chiefs WR A.J. Jenkins says the receivers need to be like the team's offensive linemen and win the one-on-one matchups.
"We have to be able to win our individual matchups and do so quickly, because they have great pass rushers, so, we have to win quickly," Jenkins said.
Chiefs TE Sean McGrath best summarized the pivotal matchup against the Broncos.
"Every week is big," McGrath said. "These games are so close and we don't take any of them for granted. It's a big-boy game and we have to play as such and come out and be real physical with them."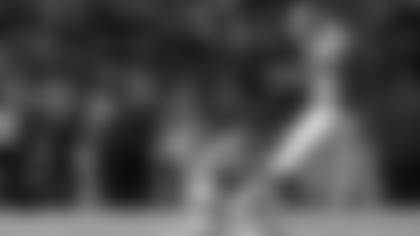 In the third and equally-important phase of Sunday's contest, the Chiefs special teams unit remains prepared for the dual threat of Broncos WR/return specialist Trindon Holliday.
"We have a big challenge, with Trindon, coming in this week," Succop said. "They do a great job with their kickoff returns. We really want to try to control him and kick well and hopefully, our guys will continue to cover the way they have been; they've been doing a great job, so, we'll just continue to stick to that."
The prep work is all but accomplished as we near the 3:25 PM CT kickoff on Sunday, followed three-some-odd hours later, when Chiefs fans hope their favorite team finds itself victorious and in sole possession of first place in the AFC West.
For the latest Chiefs injury report, click here.
For behind-the-scenes photos and vine videos, follow me on Twitter (@KCChiefs_Reid).