There have been a lot of firsts for the 2013 Kansas City Chiefs.
Their first OTA, first minicamp, followed by the team's first training camp, preseason and regular season debuts. Tonight, the team welcomes it's first Thursday Night Football game under head coach Andy Reid, who leads the Chiefs against his former team, the Philadelphia Eagles.
As early as his postgame press conference, following last week's win against the Dallas Cowboys, coach Reid made it very clear, this Week 3 matchup, reunion, or however you want to classify tonight's game, is not about him.
"I'm going to tell you this, right now," coach Reid said. "It's not about me; it's about our football team. That's the way it's going to remain throughout the next few days, when we have the opportunity to play them."
Days later, coach Reid emphasized how he's focused on preparing his team for tonight's matchup.
Buying into coach Reid's system has been the entire Chiefs team, including Pro Bowl LB Derrick Johnson, who spoke to the team's approach for tonight's game.
"Our mindset is, we're playing against the Eagles," Johnson said. "We're not playing against Eagles head coach Chip Kelly. We're Andy Reid's team and stand for what he stands for and we're going to go out there and try to give him a show."
It just so happens that the show takes place under the lights on a national stage, in the City of Brotherly Love.
"It's going to be one of the hardest places to play this year," DJ said. "It's going to be a prime-time game and the big-time players have to step up in this game. If we're going to win this game, everybody is going to be on their stuff, because the Eagles are a really good team."
The Eagles enter Week 3 with a 1-1 record, totaling 63 points in their two contests, led by QB Michael Vick.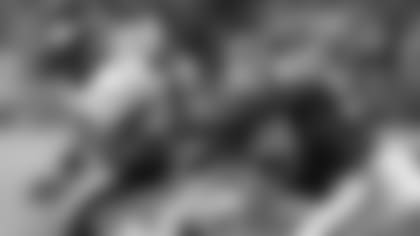 "The thing about (Michael) Vick is, he forces everybody to play honest," Chiefs CB Sean Smith said. "The guys up-front, they can't just rush up the field, because if you give Vick a lane, he's gone. In the back end, we're going to have to cover a few seconds longer, because Vick can definitely get himself out of a jam and they have some fast receivers over there; so, what could be a curl, could end up being a post and then a fade or whatever else it may be. We have to cover our guys as long as we can."
Also helping patrol the Chiefs secondary will be CB Dunta Robinson, who described the make-up of the high-flying Eagles offense and the required discipline to have success against it.
"Those guys are explosive, that offense is explosive," Robinson said. "From the running backs to the receivers to the quarterback, we know what we're facing. We have to play gap control. We have to understand our keys; we have to read our keys and we have to be ready to play. We can't make mistakes. We have to play fast and play physical and that's the way the Kansas City Chiefs play."
Chiefs S Quintin Demps returns to Philly, where he was drafted by Andy Reid. Demps described the best approach for slowing Eagles RB LeSean McCoy, who leads the league in total scrimmage yards (356) this season.
"Swarming him," Demps said. "He's special; everybody has to run to the ball and make the tackle.
Chief Pro Bowl safety Eric Berry agreed, emphasizing the point against all of the Eagles offensive threats.
"Everybody has to make sure that we get to the ball," Berry said. "They're going to make some moves and they're going to run; you just have to swarm as a team and know that once the ball gets to whoever has it, everybody has to swarm to get there."
On the other side of the ball, the Chiefs offense has been just as disciplined, studying film and its game plan for tonight. Chiefs QB Alex Smith described what he expects to see from the Eagles defense.
"They show a lot of different looks," Smith said. "They bring a lot of different pressures. They try to confuse you and give you a lot of unorthodox looks. They're very different from the defense we played last week. We have to be on our communication, in a loud stadium. Everybody is going to have to be on the same page. The protection unit and the outside are really going to have to be on top of the details."
Part of the Chiefs protection unit is OL Jeff Allen, who like his QB, emphasized communication and other factors for a successful night.
"Number one, execution," Allen said. "As far as us, as a unit, everyone doing his job and being on the same page against Philadelphia. Defensively, they have a lot of different looks, so it's just making sure we communicate."
As the offensive line gives Alex Smith time, he'll likely utilize several targets, including WR Junior Hemingway, who has two TDs in 2013. The former Michigan wide out previewed the Eagles secondary.
"They fly around," Hemingway said. "We just have to stay true to what we do with preparation and everything. We just have to go in there and handle business. We know that everybody's talking about the whole Andy Reid thing, but like coach says, it's not about one person, it's about team and going in to handle our business."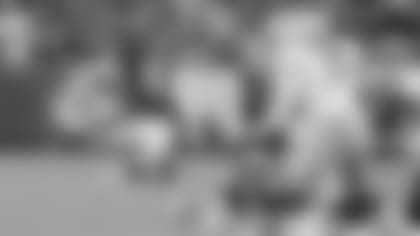 No game is complete without the special teams phase, which for the Chiefs has been spectacular, thanks to Chiefs K Ryan Succop and Pro Bowl Punter Dustin Colquitt.
"We're set-up guys," Colquitt said of himself and Succop. "We try to keep the game within reach, so our guys can play and play fast. Our job is to keep the field position battle lopsided, giving them a long field to work with, so our guys can throw everything at the Eagles offense that they can."
Colquitt went on to describe the Eagles specialists.
"Their return guys are brilliant," Colquitt added. "We've got to be very careful in that aspect and keep them in check and let our offense and defense take care of business, between the trenches, receivers, DBs, just everybody and set them up for great field position battles. It really is another game and a team that we have to beat, that stands in our way to open up this season 3-0. We're looking at it as an NFC team that we need to beat to continue on the path that we're going on."
In the end, coach Reid summarized tonight's contest the best.
"The guys have worked extremely hard," coach Reid said. "They've fought through a couple of (hot) games and they've done a good job with that. This will be a different situation; it's going to be cooler. The team who plays the best, ends up winning the game and that's how this one will work, I'm sure."
We'll soon find out as kickoff is just a few hours away.
For extra insight, pics, vine posts and updates, you can follow me on Twitter at @KCChiefs_Reid.