The forecast for today's Week 5 matchup between the Kansas City Chiefs and the Tennessee Titans is less than exemplary, unless you're a fan of rain, which began steadily falling this morning and could continue through the 12:00 PM CDT kickoff, just hours from now.
But, just like Chiefs head coach Andy Reid said earlier in the year, his team doesn't get concerned with factors beyond its control, instead just approaching each and every game the same way, with a good week of practice, under a strong and proven coaching staff.
In addition to his local media conference, coach Reid also addressed the Tennessee media, via conference call, sharing what he expects to see from the Titans, later this afternoon.
"Defensively, they fly around," coach Reid said. "They've got good coaching and good players. I'm happy for (Titans LB) Moise Fokou, a kid that I brought into Philadelphia. I have a lot of respect for him. They've got good players, there. Offensively, you can't say enough about the runner and their receivers are good. They've got good football players. Their offensive line is playing well. You got to make sure that you bring you're A game. They've got a good special teams group that flies around. They play fast and accurate. It's a good team that Mike's (Munchak) put together."
The Titans defense is among the league's best in several categories, including 14 sacks, tied for fifth.
Embracing the responsibility of blocking the tough Titans defenders is a Chiefs offensive line that will be without top-pick RT Eric Fisher, who is recovering from a concussion. Nonetheless, Fisher's teammates on the o-line are ready if and when they're called upon, including OL Donald Stephenson, who described the Titans defensive front.
"A bunch of big, physical guys," Stephenson said. "They like to get after you and they rush the passer really well and they're good against the run. They're also good, assignment-wise, so we have to bring a sense of toughness and be strong up-front."
The more time the Chiefs offensive line gives to QB Alex Smith, the better he'll be able to combat the ball-hawking skills of the Titans defense, which has nine takeaways this season, eighth best in the league. Smith talked about the strong correlation between protecting the pigskin and winning the game.
"I think it's just such a universal stat," Smith said this week, via conference call. "When you win the turnover battle, you've given yourself a good chance to win a football game. Just look at that stat—over time, in this football league, and there's a pretty-high correlation to winning. Mainly, we just need to go out there and execute and make plays. If you protect the football, you play sound football, you're going to put yourself in good situations, more than not. You know, you just look at the numbers and it speaks to it—getting (turnovers) on defense, not turning it over on offense, and then winning games."
One of Smith's many targets on Sunday, regardless of weather, will likely be Chiefs WR Dwayne Bowe, who is familiar with the Titans defense, including a former Chiefs teammate, safety Bernard Pollard.
"Having a former (teammate) in Bernard (Pollard), knowing his style of ball, (they are a physical defense). They can bring it and we can bring it too," Bowe said. "It's not going to be a finesse game; we'll have to come out and play with toughness and a little bit of aggression. They'll bring it and we'll bring it, too."
Regardless if the rain continues, today's game will feature blazing-fast running backs, Chiefs RB Jamaal Charles and Titans RB Chris Johnson.
Jamaal has been a dual-threat all year, rushing and receiving and also in pass protection, which he told "Voice of the Chiefs" Mitch Holthus that he's been taking pride in, all year.
"That's my job," Jamaal said. "It doesn't matter if it's pass protection, catching the ball out of the backfield or running the ball, we have to find a way to move the chains."
Also helping the Chiefs move the chains will be their TEs. Anthony Fasano remains listed as questionable (ankle/knee) for today's game; regardless if he is able to play or not, Chiefs offensive coordinator Doug Pederson says the team is confident in Sean McGrath and Kevin Brock.
"Sean and Kevin have done a tremendous job in the last couple of weeks," Pederson said. "Sean, as you saw, is a very tough competitor; he made some big plays for us. Kevin made some pretty big plays for us, this past weekend. I have 100‐percent confidence in both of those guys."
On the defensive side of the ball, the Chiefs will face a Titans team that is led by QB Ryan Fitzpatrick, who replaces their injured QB Jake Locker (hip).
"Fitzpatrick is a guy, who I'm familiar with, when he played in Buffalo," Chiefs CB Sean Smith said. "He definitely can go out there and sling it; so, it's going to be a good test for everybody, overall, up-front and on the back-end. We just have to be ready to go out there and compete."
Chiefs defensive coordinator Bob Sutton and defensive line coach Tommy Brasher have had an unbelievable impact on this team's defense, including DE Tyson Jackson, who described the Titans o-line.
"They're a physical group," Jackson said. "They have a lot of talent up-front; so, we're going to have to do a really good job of getting off their blocks and getting around to the QB and help with Chris Johnson."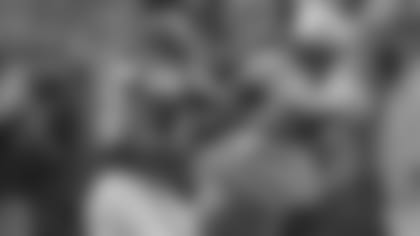 Chiefs two-time Pro Bowl LB Derrick Johnson has competed against Chris Johnson and described him as "super-fast".
Tyson Jackson agrees and detailed the 'must-dos' against "CJ".
"He's an all-around back," Jackson said. "He's a threat, no matter where they are on the field. We're going to have to be conscious of where he is at all times and do a good job of getting all 11 hats to him and getting him to the ground."
Jackson's buddy, Chiefs DT Dontari Poe spoke more to the plan of trying to contain quick-striking Chris Johnson.
"You have to do it as a team," Poe said. "You have to not let him get near the sidelines, make him cut back and let the cavalry come and team tackle him."
No game is complete without the special teams phase, which for the Chiefs has been revitalized, thanks to special teams coordinator Dave Toub and assistant Kevin O'Dea.
Much of the media attention throughout last week was on Chiefs WR Dexter McCluster, following his highlight 89-yard punt return TD, one week ago.
Dex spoke to challenge the Titans bring today.
"They're a great team on offense, defense and they have some good return men on special teams," McCluster said. "We just have to go out there and take care of business."
Hours of operation for the Chiefs on-the-field business today begin at noon.
To hear Mitch's complete interview with Jamaal Charles, listen to [101 The Fox](http://www.kcchiefsradio.com/common/page.php?pt=Chiefs Schedule - Tune in for the Pre-Game Show&id=223&is_corp=0).