After 10 long days of waiting, game day is finally here.
The Kansas City Chiefs have been working hard, studying and also patiently waiting to return to the field, since they defeated the Philadelphia Eagles on Sept. 19th, 26-16. Fast forward to 12:02 PM CDT today, when the Chiefs will kick off Week 4 against their third-straight NFC East opponent, the New York Giants.
I'm purposely staying away from mentioning the records of both teams, as the Chiefs have done the same thing, instead focusing on the Giants team that stands in their way of closing out the September schedule in victorious fashion.
Chiefs head coach Andy Reid addressed the local media this week, as well as the visiting team's media, via conference call, emphasizing his team's priorities, which don't include focusing on the Giant's win-loss record.
"I don't get caught up in that," coach Reid said, via conference call. "I know they're well-coached and I know they've got good players. We're studying the Giants and we respect the heck out of them, but we've got to get better as a football team. That's what we're doing. That's where our energy is going."
Speaking of energy, coach Reid's team will get an extra boost, playing in front of the packed-house crowd at Arrowhead Stadium.
"We look forward to bringing people into Arrowhead," coach Reid said. "It is a great atmosphere for a football game and our fans, they do bring it. I wouldn't expect anything less this week. I know our players feed off of that, which is a big thing, too. We look forward to that."
Also during the past week, Giants head coach Tom Coughlin spoke to the media, via conference call, describing what he sees from our Chiefs defense.
"I used to say the front seven," Coughlin said. "But now, I'm going to include the safety (Eric) Berry, as well. They certainly have gotten off to a great start. They're playing very, very good defense. Bob Sutton has done an outstanding job with them. They have many characteristics that he brought forth from his experience with the Jets, different personnel combinations and such. He also has very good personnel."
Speaking of Eric Berry, he provided some keys to success against the G-Men.
"We just have to do our job and compete," Berry said. "We have to compete, because they're definitely a great team. If you just look at their wide receivers, and their QB Eli (Manning), he knows how to make plays; he's been in the big games and he's done a great job for them. We definitely have to make sure that we come ready to play."
Berry and his defensive teammates, including Chiefs LB Akeem Jordan, have been focused all week on stopping the Giants, including the aforementioned two-time Super Bowl MVP QB, Eli Manning.
"He's poised in the pocket," Jordan said. "He knows how to read a defense and where he needs to go with the ball."
Chiefs DT Dontari Poe agreed and shared why the Giants are always a threat.
"Eli Manning, he's a great quarterback," Poe said. "He can throw the deep ball and make whatever throw they need him to make. It doesn't matter what their record is, they're the New York Giants and they have a great coach, coach Coughlin, and he'll have his players ready. We aren't taking them lightly."
On the offensive side of the ball, Chiefs QB Alex Smith was asked if the Chiefs opinion of the Giants changed, following New York's 38-0 loss, a week ago, to the Carolina Panthers.
"Heck no," Smith responded. "I think we're all very aware of the team we're facing. This is a high-character team that we're playing; a team that's been through bumps and a team that went through bumps and came out and won the Super Bowl the same year. It's a veteran team. We know this team is going to bring its best, week in and week out, and that's what we're preparing for."
Playing key roles on offense and special teams for the Chiefs is WR Dexter McCluster, who shared his film study thoughts about the G-Men.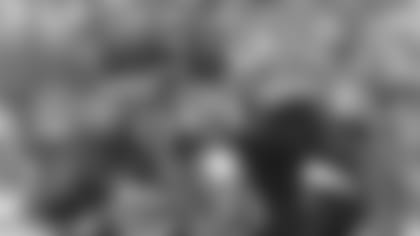 "The Giants defense plays fundamentally sound," McCluster said. "What we need to do is take what they give us and make plays when they're there."
Fellow WR Donnie Avery echoed Dex's game plan, saying the Chiefs need to, "eliminate mistakes and capitalize on what they give us," Avery said.
Chiefs WR Junior Hemingway also assessed the Giants team that he and his teammates are about to face, just hours from now.
"They have a chip on their shoulder," Hemingway said. "They have something to prove. I'm seeing a lot of good defense. They've been a good defense for a long time. The D-line is really good and the front four – they get a lot of pressure."
Protecting Smith from such pressure is the Chiefs offensive line, including bookend tackles, LT Branden Albert and RT Eric Fisher; each described what to expect from the Giants today.
"Their guys are going to come out hungry," Albert said. "They have a good front seven, a good defense. They have four down linemen that can get after the passer pretty well. We're going to have our hands full."
Eric Fisher reiterated that the Chiefs have not wasted time thinking about the Giants win-loss record.
"No game is already won by a record," Fisher said. "We're looking at every game the same; this is just the next one. We're trying to improve to 4-and-0 and keep this roll going."
Chiefs fans are hoping for the very same thing and will do their part by making noise that hopefully creates havoc, chaos and confusion for Eli Manning and the entire New York Giants team.