Depending on whom you ask, the latest version of Raider Week began hours after the Kansas City Chiefs defeated the Tennessee Titans 26-17 in Week 5. Chiefs head coach Andy Reid admitted to reporters that he "did take a peek" at Oakland's late-night matchup against the San Diego Chargers, which took place hours after the victorious Chiefs landed back home in Kansas City last Sunday.
Since then, he has been preparing his team for Sunday's matchup with Oakland, which happens to be the 109th meeting between the two clubs. Earlier in the week, coach Reid explained why rivalries are important to him and his team.
"You start it when you're in little league," coach Reid said. "You have rivalries there; then it goes into high school, you have rivalries, then in college, you have rivalries. There are few of those in the National Football League that are good and this is one of those. This is an exciting sport, but this allows you to get even a little more excited. That's just how it goes. Normally, these things take place with time. There are things that have gone on in the past and the history and all of that that go into it. But listen, the bottom line is that you need to prepare yourself as a football team, that's what you have to do. You have to put that part aside for right now and get yourself right and make sure you understand the game plan."
That very game plan includes stopping a Raiders offensive attack, spearheaded by their talented signal-caller Terrelle Pryor. In 2013, Pryor has completed 68.3% of his pass attempts for 845 yards and four TDs, while also leading the Raiders in rushing, with 229 yards.
"I think Terrelle is playing really, really good football, right now," Chiefs defensive coordinator Bob Sutton said. "He's taking care of the football really well. He's right at 68% completion and he has the other element that few guys have, great 'escapability'. We have to do a great job trying to contain him. Downfield, the term we use, we're going to have to plaster their receivers."
Chiefs DE Tyson Jackson is part of a talented defensive line that will look to stop the Raiders offense, which he described in one word.
"Explosive," Jackson said. "They can strike from anywhere on the field. They have a lot of real good positions on their team, a real big, physical offensive line, up-front. They can strike at any part of the field, so we have to mind our Ps and Qs, the entire time."
Lined up behind Jackson is Chiefs LB Derrick Johnson, who anticipates a strong dose of rushing attempts by the Raiders team that averages 130.8 rushing yards per game.
"They run the ball," Johnson said. "They've always been a team that can run the ball. They pride themselves on running the ball. It won't be anything different, when they come here. They're going to try to establish the run and hit us with a couple of boots here and there, with Pryor getting on the move. They're going to run the ball; Darren McFadden is top-notch."
In the back end is a Chiefs secondary that will try to plaster the Raiders WRs, who Chiefs CB Sean Smith said are lightning quick.
"Speed," Smith said. "All of these guys run 4.3 (40-yard dashes). Regardless of what defense you play, when you have a receiving group that can go out there and run 4.3s legitimately, it'll be tough. We're going to have to have tight coverage."
When Kansas City's defense gets the ball into the hands of the offense, Chiefs offensive coordinator Doug Pederson previewed what Alex Smith and company will see from the Raiders D.
"They're an active group, with multiple fronts up-front," coach Pederson said. "They're a high-pressure team, so we have to be really sharp with our blitz pickups. That's a big key. Jamaal Charles is a guy we have to get going. We have to get him going into the flow of the game. We have to get Alex into the flow of the game and try to keep the defense off balance. You saw the no-huddle last week and it kind of kept the Titans on their heels, a little bit; we just have to do those things to put our guys in the position to be successful Sunday."
While it's fun to watch Chiefs RB Jamaal Charles do his thing, running and receiving; Chiefs QB Alex Smith was asked this week about Jamaal's pass-blocking skills that will again be vital this week, against the Silver and Black.
"He's done a great job," Smith said. "It's tough to say for anything that has gone on in the past, but this year, he's done a great job with it. He's really taking a lot of pride in it, when he's called upon. He's done a great job of stepping up and setting the tempo. That's kind of one of those things that you put out there on film a couple of times and he's willing to step up and be physical. It really slows those guys down."
When Jamaal and the offensive line help give Smith extra time, he'll have several targets, including TEs Sean McGrath and Kevin Brock, who described the Chiefs-Raiders rivalry.
"Intense," Brock said. "I've only been a part of it for a short period of time, but I know that it gets no bigger."
The former Rutgers TE also said the Raiders defense is somewhat like Oakland's WRs.
"They're very fast," Brock said. "They're really athletic. It's one of the trademarks of an Oakland team; those guys play hard. They've got a few veterans back there; Oakland DE Lamarr Houston's played a lot of football and Oakland LB Nick Roach is new to the team, but he's played a lot of football. It's going to be a challenge."
Other targets for Alex Smith will be Chiefs WR Dexter McCluster, who will be facing the Raiders for the sixth time in his career.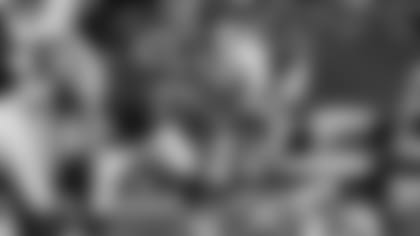 "The Raiders, they're really aggressive," McCluster said. "They play real good, hard-nosed defense. We have to be ready to respond. As far as special teams, they have some fast guys. They've got some guys that can run to the outside and run in and be disrupters, but all we can worry about is us."
Fellow Chiefs WR AJ Jenkins agreed with McCluster about the Raiders defense, emphasizing their veteran leader, Charles Woodson.
"They're a good team," Jenkins said. "They're a good coverage team. Obviously, they've got Charles Woodson; He's been in the league 16 years and they're playing at a very high level. The Raiders are always a good team, a rival and our first AFC West game, so it's going to be a tough battle."
Jenkins and his teammates are thankful for the extra advantage they have on Sunday, their fans, who are attempting to break a Guinness World Record.
"We've got a 12th man," Jenkins said. "We have a lot of people out there that are supporting us. They really help us with the false starts and whatnot. We need everybody out there for us, wearing red."