The Kansas City Chiefs began preparing for today's AFC Wild Card matchup against the Indianapolis Colts months ago, during minicamp and OTA sessions, sweating out hard work with a collective vision in mind. Fast forward through a record-breaking turnaround, equating to an 11-5 record, and Chiefs head coach Andy Reid led his very-focused team onto the field at Lucas Oil Stadium, playing for a ticket to next weekend's divisional round of the playoffs.
The Chiefs first drive of the game began on their 18-yard line, where RB Jamaal Charles took the first two carries, gaining 11 yards. Chiefs QB Alex Smith then used his arm, and later his legs to keep the drive moving. Smith found Chiefs WR Dwayne Bowe for 12 yards, then evaded a sack and tossed a completion to Chiefs RB Knile Davis, before running for 16 yards, one play later.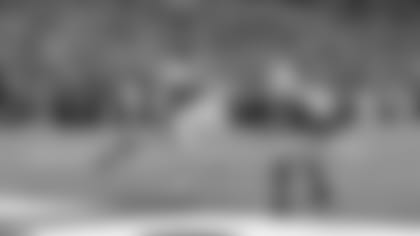 On the next play, Jamaal took a carry for seven yards, but suffered a concussion, after the hit and did not return to the game. In for Charles, Chiefs RB Knile Davis' first two carries covered eleven yards and later, Smith found Chiefs WR Dexter McCluster for a seven-yard reception to the Colts nine-yard line. Four plays later, Alex found Bowe for a six-yard TD. KC 7 IND 0.
Following the game, Bowe said that despite the Chiefs effort, the Colts played better football.
"They were great," Bowe said. "They were great today. They were the better team today. Like I said, we've just got to finish and that's what we are going to work on in the offseason, finishing for 60 minutes."
Scoring Drive: 14 plays, 82 yards in 6:49, ending with the six-yard TD reception by Bowe.
The Colts, led by QB Andrew Luck, responded in scoring fashion, using 3:37 to go 74 yards in seven plays, ending in a 10-yard TD pass from Luck to Colts WR T.Y. Hilton. *KC 7 IND 7. *
The Chiefs offense answered with a scoring drive of its own, thanks to a 63-yard completion from Smith to Bowe to the Colts two-yard line. Four plays later, Chiefs K Ryan Succop made good on a 19-yard FG. KC 10 IND 7.
Scoring Drive: 7 plays, 73 yards in 3:41, ending in Succop's 19-yard FG
The Colts started their second drive on their 30-yard line, where the Chiefs defense forced a three-and-out, thanks to pressure from the defensive line, including a tipped pass by Chiefs DL Allen Bailey.
Dex stepped back to receive the punt and returned it to the Chiefs 21-yard line, as the first quarter ended.
Facing a third-and-ten on the Chiefs next offensive drive, Alex Smith found Chiefs WR Donnie Avery blazing down the field, hitting him in stride, with a 79-yard TD pass.
Scoring Drive: 3 plays, 79 yards in :21, ending with the 79-yard TD pass to Avery. KC 17 IND 7.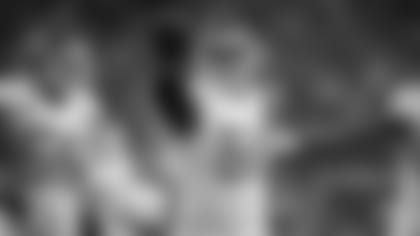 On the Colts ensuing drive, they looked for yards on the ground, but Chiefs Pro Bowl LBs Tambal Hali and Justin Houston had other plans. Hali stripped the ball away from Colts RB Trent Richardson, recovered by Houston.
Alex Smith converted the turnover into points, thanks to his five-yard shuffle pass to Chiefs FB Anthony Sherman for the score.
Scoring Drive: 3 plays, 17 yards in 1:23, ending with a 5-yard TD pass to Sherman. KC 24 IND 7.
On the ensuing drive, the Chiefs defense forced the Colts into a third-and-seven from the IND 23-yard line, when Luck found Colts WR Griff Whalen for a 17-yard completion. Later, on another third-down play, Luck went to TE Coby Fleener, who was stopped short of a first down. Facing fourth-and-one, Luck ran for 21 yards, to the Chiefs 30-yard line. Luck then went to Hilton for 11 yards, followed by two incompletions, thanks to tight coverage by both Chiefs CBs Marcus Cooper and Brandon Flowers. On third down, Luck's pass attempt was deflected by Justin Houston, leading to a 37-yard FG by Colts K Adam Vinatieri. KC 24 IND 10.
Scoring Drive: 12 plays, 61 yards in 3:51, ending with a 37-yard FG by Vinatieri.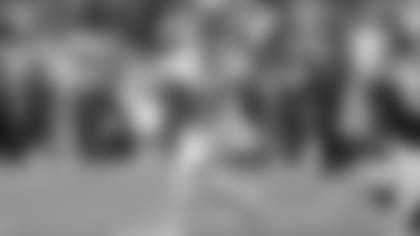 Knile Davis took the Chiefs next two carries and totaled eleven yards to the Chiefs 30-yard line. Alex laced up his running shoes and used three carries to cover 16 yards. Later in the drive, facing a third-and-five on the Colts 38-yard line, Smith went to Dex for 19 yards and a first down. Three plays later, the game clock hit the two-minute warning. After the timeout and a Colts personal foul (face-mask penalty), the Chiefs had the ball first-and-goal from the four-yard line, where Knile Davis powered his way into the end zone. KC 31 IND 10.
Scoring Drive: 15 plays, 81 yards in 7:23, ending with the four-yard TD run by Davis.
Trailing by 21 points, the Colts moved the ball to their own 35-yard line, with 1:02 to play in the half, when Luck found Hilton for the 22-yard reception. And then, Justin Houston made his Pro Bowl presence felt again, sacking Luck for a seven-yard loss, followed by an interception by Chiefs Pro Bowl CB Brandon Flowers.
The Chiefs went for the score, right before the half, but Smith's pass fell incomplete to Bowe, ending the second quarter.
**The second half began with the Colts on offense, starting from their 20-yard line, when Chiefs S Husain Abdullah picked off Andrew Luck, giving the Chiefs offense the ball right back.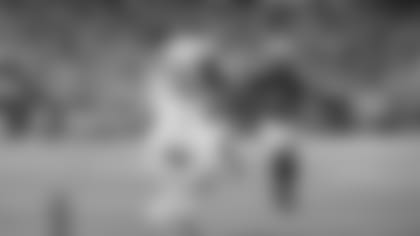 Again, coach Reid's offense responded; Alex Smith threw a 10-yard TD pass to Knile Davis, capping a scoring drive that lasted 3 plays, covered 18 yards in 1:15. KC 38 IND 10.
Following the game, Smith described what was going right on offense.
"We got into great rhythm," Smith said. "It's a combination of coaches putting us in great situations and guys making plays. I felt like we did get into a great rhythm in that sense, moving the ball on first and second downs, converting on third downs, and there in the red zone, we were pretty good there, early. I think all of those things."
The Colts scored quickly, using five plays to cover 80 yards in 1:52, on their ensuing drive, when Colts RB Donald Brown scored from ten yards out.  KC 38 IND 17.
Up by three scores, the Chiefs offense continued moving the ball, including a 17-yard completion to Chiefs WR Junior Hemingway. During the drive, Chiefs WR Donnie Avery was hit while trying to make a catch; the hit concussed Avery, who did not return for the remainder of the game. Later, Smith was hit from behind by Colts OLB Robert Mathis, who forced the fumble that was recovered by Colts ILB Kelvin Sheppard.
Luck went back to the air, connecting on two-straight passes to Hilton, before going to Colts WR LaVon Brazill, who took the ball to the three-yard line. The drive ended in Colts points, when Luck found Brown for the three-yard score. During the score, Brandon Flowers was hit near the goal line. The Chiefs evaluated Flowers for a concussion and he did not return to the game.
Chiefs LB Derrick Johnson described the defensive mindset, during the Colts late rally.
"We were up the whole time," Johnson said. "It wasn't panicking, but it was a sense of urgency at some point, because (Andrew) Luck got hot. We just lost the game."
Scoring Drive: 5 plays, 41 yards in 1:28, ending with a three-yard TD pass to Brown. KC 38 IND 24.
The Chiefs were forced to punt on their ensuing drive, when the momentum seemed to favor the Colts, until Hussain Abdullah added his second INT of the day.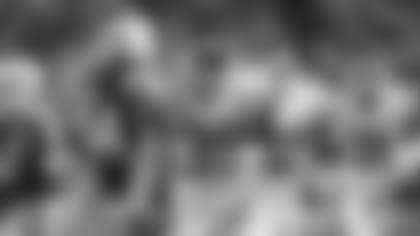 Looking to convert the turnover into points, the Chiefs offense faced a third-and-six, from the Colts 24-yard line, when Smith's pass attempt to Davis fell incomplete. Chiefs K Ryan Succop was called upon for a 42-yard FG, which he nailed.KC 41 IND 24.
Scoring Drive: 4 plays, 4 yards in 1:32, ending with the 42-yard FG by Succop
The Colts began the ensuing drive with a completed pass from Luck to Brown for 25 yards. Luck then went to Brazill for 30 yards, before his next pass was broken up by Chiefs CB Sean Smith. Brown took the next play for 13 yards, before a pass breakup by Abdullah. On the next play, Luck went to his TE, Coby Fleener, for the score.KC 41 IND 31.
Chiefs CB Sean Smith said the loss will drive the team right back to film study.
"We've definitely got to start back at the film," Smith said. "(And) see where we went wrong at, and correct some mistakes. There definitely had to be something that went wrong to blow a lead like that. You have to give those guys some credit. They went out there and played their hearts out and left it all on the field and finished the game. That's something that we definitely didn't do. We better go back and see what we did wrong, and just look at all the positives this year to go into next year, ready to go."
Scoring Drive: 6 plays, 80 yards in 1:41, ending with the 12-yard TD reception by Fleener.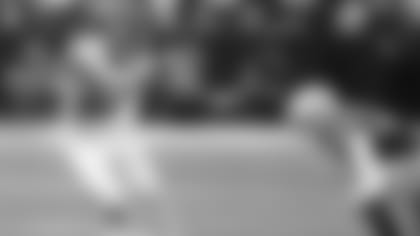 The Chiefs offense went right to the air on their next drive, when Smith connected with Bowe for 21 yards. Two plays later, Smith tucked the pigskin and ran for 13 yards. Dropping back for another throw, Smith went to Fasano, who was held, giving the Chiefs the first down.
Davis took the next play for a two-yard gain, when the third quarter ended.
The fourth quarter opened with two Chiefs incompletions, leading to a Dustin Colquitt punt that pinned the Colts on their 10-yard line.
Andrew Luck and the Colts proceeded to go 90 yards in 12 plays, using 4:02 off the clock, for the score. Chiefs Pro Bowl S Eric Berry forced a Donald Brown fumble that was recovered by Luck for the five-yard score.KC 41 IND 38.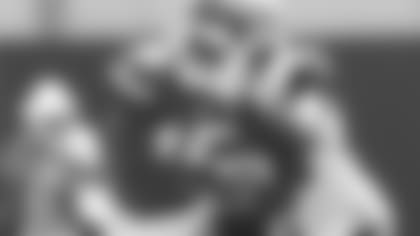 The Chiefs looked to respond on the ensuing drive, when they suffered another blow, losing Knile Davis for the game, due to a leg injury. Later in the drive, the Chiefs faced a third-and-five from their own 35-yard line, when Smith found Bowe for six yards and a first down. Later, again facing third down, this time needing seven yards, Smith found Chiefs WR A.J. Jenkins for a 27-yard completion, to the Colts 29-yard line. McCluster took the next play around the right side for a three-yard gain. On the next play, the Colts defense stopped Anthony Sherman for a four-yard loss. On third-and-eleven, Smith led the Chiefs up to the line and proceeded to complete a pass to McCluster for five yards, leading to fourth down and a 43-yard FG attempt by Succop, which he nailed. KC 44 IND 38.
Scoring Drive: 11 plays, 58 yards in 5:02, ending with the 43-yard FG by Succop.
Trailing by six, Andrew Luck's first pass attempt went to Hilton and fell incomplete. Luck then ran for five yards, before throwing an 11-yard completion to Fleener. During the play, Justin Houston was injured and did not return to the game. Luck tied the game, when he went deep to Hilton for a 64-yard TD pass, followed by the Vinatieri extra point.IND 45 KC 44.
Scoring Drive: 4 plays, 80 yards in 1:15, ending with the 64-yard TD reception by Hilton.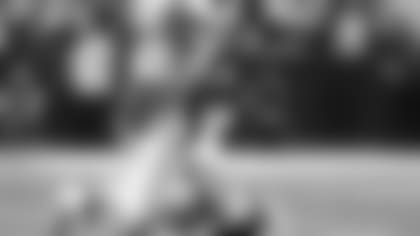 Trailing by one, Alex Smith went right back to Dwayne Bowe for a 25-yard completion, followed by another grab by Bowe for 13 yards. Cyrus Gray took the next play for three yards to the Colts 39-yard line. Kansas City was called for intentional grounding, leading to a third-and-seventeen from the IND 49-yard line. Smith went to McCluster for six yards, before the two-minute warning hit.
Facing a fourth-and-eleven, from the Colts 43-yard line, Alex Smith took the snap and threw a pass to Dwayne Bowe, who was ruled out of bounds, turning the ball over on downs.
The Colts milked the clock and left the field victorious.
FINAL SCORE: IND 45 KC 44
After the game, Chiefs head coach Andy Reid evaluated his team's performance.
"Not much to say, compliments to the Colts for coming back," coach Reid said. "They did a nice job, 35 points in the second half. We started kicking field goals and they started scoring touchdowns, but they deserve the win for the way they played. I'm proud of my guys for the season. We've got to work through the offseason to get ourselves better, so we can do better job against a team like this, right here."