During the bye week, everyone had the opportunity to step back and evaluate the first five games of the Chiefs season, including general manager John Dorsey.
He reflected on what he's seen from the team to this point.
"We knew going into the season, it was going to be tough. It was going to be challenging," Dorsey said. "I think the challenging part of this team is right now, you're down seven or eight starters, but the perseverance of the group, the leadership of the coaching staff, that's what I admire most. They've overcome a lot but it's that adage that we talk about: 'Next man up.'
"Those guys, they have fought game-in and game-out and will continue to fight game-in and game-out."
Under Dorsey's leadership, the Chiefs have had their depth challenged with multiple injuries to key players this year.
Starting inside linebackers Derrick Johnson and Joe Mays, defensive lineman Mike DeVito and offensive lineman Jeff Allen have all missed the majority of the season with various injuries.
Even Pro Bowl running back Jamaal Charles and safety Eric Berry have missed considerable time this year, while offensive lineman Donald Stephenson just came back a week ago after a four-game suspension.
But the Chiefs keep moving forward.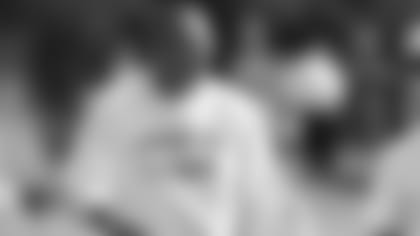 "It's comforting that we're moving in a proper direction," Dorsey said. "It's a comfort knowing that you're deeper than you were last year. Whenever you have a coaching staff, which we have assembled here, you know they're going to get quality coaching and teaching. That's all you can ask for and to me, the intestinal fortitude that this bunch has, it speaks volumes of where we're headed."
The coaching staff's ability to develop the players is never more evident than along the offensive line. Veteran center Rodney Hudson leads a group that has been pieced together well and gives the offense the ability to function at a high level every week.
The injury to Allen and suspension of Stephenson shined a brighter light on an already key area coming into this season, and the depth and additions this team made have been put into focus.
Dorsey drafted right guard Zach Fulton and he became the first sixth or seventh round pick to start a Chiefs season opener in more than 30 years. He signed free agent veteran Ryan Harris before camp and Mike McGlynn before the final preseason game. Even going back to the trade that sent Rishaw Johnson to the Tampa Bay Buccaneers for Kelcie McCray, Dorsey has showed an ability to add talent quickly.  
Johnson is no longer with the Buccaneers and McCray has played 102 snaps, predominantly on special teams, for the Chiefs so far this season.
All of these moves have been put into focus with the injuries the Chiefs have suffered.
Other additions Dorsey and the Chiefs have made since the beginning of the season are the signings of safety Kurt Coleman, defensive lineman Kevin Vickerson, linebacker Jerry Franklin and defensive back Jamell Fleming.
All of these players have combined for 691 snaps through the first five games, a major contribution from a group not thought to either produce this much or even be on the roster two months ago.
You also have to look at the four players brought in off the waiver wire last year: linebacker James-Michael Johnson, defensive lineman Jaye Howard, safety Ron Parker and cornerback Marcus Cooper. They're all starters and contributing right now for the Chiefs.
But two of the most surprising players for the Chiefs on the offensive side of the ball this season have been second-year players Knile Davis and Travis Kelce.
Both drafted in 2013, Davis and Kelce lead the Chiefs in rushing and receiving and display the kind of development Dorsey talked about when he said this team will be built through the draft.
Dorsey spoke about the evaluation process through the bye week. 
"I think the evaluation process is an ongoing process," Dorsey said. "Now this gives you a chance to step back, see where you're weak and strong, and see what you can begin to build for the future. As we all know in football, there is turnover every year, so now what we've always said is, our guys that are playing well, let's see if we can extend these guys."
He went even further in explaining his process. "You have to build that roster from the bottom up and get some star players that begin to make football plays," Dorsey said. "I think that's very important to achieving and staying true to your words when you first got here."